Anti-Abortion Bill Advances in Georgia Legislature, Life Definition Introduced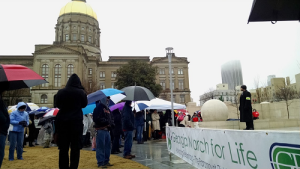 (APN) ATLANTA — Several anti-abortion bills have gained momentum during the first few weeks of the 2016 year of the 2015-2016 legislative session.
The legislation proposed includes commending Pregnancy Resource Centers (also known as Crisis Pregnancy Centers or CPCs) for their work, defining "life" in the Georgia Constitution, and other measures.
CRISIS PREGNANCY CENTERS
SB 308, a bill sponsored by State Sen. Renee Unterman (R – Buford) to provide funds to crisis pregnancy centers, has already passed out of the State Senate, by a vote of 38 to 16, in favor of the bill, on February 11, 2016.
SB 308 establishes the Positive Alternatives for Pregnancy and Parenting Grant Program.  This grant program would fund CPCs, to the tune of two million dollars.
CPCs, on their surface, provide much needed pregnancy tests and sonograms to low-income women, in addition to pregnancy "counseling".
However, CPCs are not medical clinics, and are not regulated as such.  They are not required to observe HIPAA laws, although SB 308 has some added privacy language.  Nor are they required to have certain medical personnel on staff, nor to ensure their buildings and equipment are appropriately maintained.
As previously reported by Atlanta Progressive News, support for CPCs, has been a key piece of the Senate Republican Caucus legislative priorities this year.
http://atlantaprogressivenews.com/2016/02/02/bipartisan-cooperation-on-health-care-in-georgia-but-not-medicaid-expansion/
Sen. Unterman sponsored SR 820 earlier this session, a resolution commending, "the life-affirming impact of pregnancy resource centers on the women, men, children and communities they serve…."
Before this legislation was introduced, State Sen. Greg Kirk (R – Americus), told attendees at the Georgians for a Healthy Future legislative breakfast that the Senate was working to make CPCs Medicaid providers.
"[CPCs] will have the opportunity to apply to become a Medicaid provider, so that they can be reimbursed for the services they provide," Sen. Kirk told APN in an interview, providing few details when asked about how the program would work.
SB 308 appears to be the mechanism the Senate will use to accomplish this goal.
The grants will give CPCs seed money that can be used to upgrade their equipment, staff, and practices.  With these investments, CPCs could become medical clinics and ultimately qualify for Medicaid.
CPCs are not equipped to diagnose and manage the array of health conditions that can come with or be aggravated by pregnancy, which is concerning when nearly half of all maternal deaths are considered preventable.
A quarter of Georgia counties outside the Atlanta region have absolutely no OB/GYN.  Even though CPCs are not a replacement for trained health care providers, they would be filling in part of this healthcare gap in places with no other options.
SB 308 likely has enough votes to pass in the Senate.
PERSONHOOD
HR 1091, sponsored by State Rep. Brad Raffensperger (R – Johns Creek), is a constitutional amendment that establishes "the paramount right to life of all human beings as persons at any stage of development."
Personhood would not only purport to effectively outlaws abortion–in contravention of the Supreme Court of the U.S.–but would likely impact some forms of birth control, in vitro fertilization (IVF), as well as certain kinds of bioscience research.
Personhood is a key part of the "right to life" movement.
In response to a question from APN about the impact of a personhood amendment on abortion, Rep. Raffensperger startlingly said only, "I don't know."
Joshua Edmonds, the Georgia Right to Life Director of Education & Legislation, clarified.
"What [personhood] would do, immediately, is courts would begin to interpret laws in Georgia based on the Constitution.  And if that [personhood] amendment is added to the Constitution later this year, then any court case dealing with human personhood, and anything that falls under that purview, would be heard and judged based on what's in the Constitution," Edmonds told APN.
As a constitutional amendment, HR 1091 would require two-thirds votes from the House and the Senate, before going before voters.
The legislation has been read twice and referred to the Judiciary committee.
(END/2016)