Protesters Shut Down Smyrna City Council Meeting, Demand Justice For Nick Thomas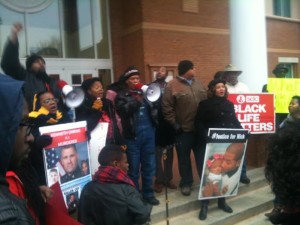 (APN) SMYRNA, Cobb County, Georgia — Smyrna City Council members fled their chamber when the family of Nick Thomas––an unarmed Black man killed by a Smyrna police officer––and at least one hundred supporters interrupted their meeting on Monday, February 15, 2016.
Sgt. Kenneth Owens killed Thomas in March, 2015 while the young man was working at a Goodyear in Vinings.  Owens had confronted Thomas with a warrant for violating probation and claimed Thomas tried to run him over with a car.
http://atlantaprogressivenews.com/2015/04/02/1000-demand-justice-for-nick-thomas-slain-by-smyrna-pd/
An autopsy later showed Thomas was shot in the back, raising questions as to whether he was in fact advancing toward Owens when he was killed.
Less than one year later, Sgt. Owens was scheduled for a promotion.
"You go out and kill somebody and then you're promoted… it just doesn't look right," Huey Thomas, the deceased man's father, told reporters.
"And these people sit up here like it's just another day," Thomas said of Smyrna City Council members.
February 15, 2016, was the first day Owens's promotion was effective, and the Smyrna City Council had plans to honor him.
That apparently changed when a large crowd gathered outside of Smyrna City Hall with signs and chants calling for justice for Nick Thomas.
When the Council Meeting convened, Mayor Max Bacon told the crowd of people, who had moved inside, "I'm a very patient man, but we do have an agenda tonight… and our agenda doesn't include any promotional items."
The agenda did include a proclamation in recognition of Arbor Day and a brief performance in honor of Black History Month.
Council Members proceeded through these agenda items with tight smiles and expressions of intensely exercised calm, even as protesters called out to them with pleas for acknowledgement, as well as blunt criticisms like, "F**k Arbor Day."
Finally, in the middle of a zoning hearing, protesters had enough of being ignored: they erupted from their seats with cries of, "No more business as usual!" and surged toward the Council.
As pandemonium set in and Councilmembers scurried out a side door, Nick Thomas's mother, Felicia Thomas, took to the podium microphone.
"Mr. Mayor, I see you are a coward today.  You hear me?  You are a coward!  You massacred my son and then you have the doggone indecency to give Kenneth Owens a promotion," she shouted.
Protesters demanded that Owens be arrested and his promotion rescinded, that the federal government conduct a full investigation into the shooting, and that the evidence go before a special grand jury with a special prosecutor.
A grand jury convened by Cobb District Attorney Vic Reynolds failed to return an indictment in July 2015.
Shortly thereafter, a U.S. Attorney for the Northern District of Georgia agreed to conduct a separate investigation, which is ongoing.
(END/2016)