Rep. Dudgeon, Sen. Ligon Introduce Township Model for Georgia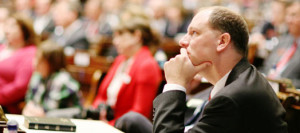 (APN) ATLANTA — State Rep Mike Dudgeon (R-Johns Creek) introduced HR 1051, a constitutional amendment to create a township form of governance in Georgia.
State Sen. William Ligon (R- Brunswick) introduced SR 724, an identical resolution in the State Senate.
The proposed amendment would create a township with limited powers and services.  Towns would have the power of zoning and regulation of land use and development, with property tax rates capped at 0.5 mills.
County governments would still provide police, fire, water, sewer, and other necessary services to the township.
http://www.legis.ga.gov/Legislation/20152016/154812.pdf
"I believe our state needs a township model where local citizens can vote to create a community and exercise zoning authority without taking on the services and tax burdens of a full city,"  Rep. Dudgeon said in a press statement.
ALTERNATIVE TO LEGALLY QUESTIONABLE "CITY LITE" MODEL
Proponents of local control in Metro Atlanta, who did not necessarily want new cities to take on several new responsibilities, had been pushing a "City Lite" model.
In "City Lite," not only does the City provide only the bare minimum of the three services that are required to incorporate a city, but the City's charter restricts the number of services the City may provide.
As previously reported by Atlanta Progressive News, legislative counsel for the State Senate had advised that these types of cities are unconstitutional because they are a limitation on the powers of a city adopted by way of local law, whereas the Georgia Constitution requires they be adopted by general law.
http://atlantaprogressivenews.com/2015/12/20/state-senate-house-study-committees-on-cityhood-annexation-release-reports/
Recently incorporated cities of Tucker, in DeKalb County; and Peachtree Corners, in Gwinnett County, have both been premised upon the City Lite concept.  Both cities provide only three services and are limited to such by charter.
Tucker's three services are planning and zoning, code enforcement, and parks and recreation.
Peachtree Corner's three services are planning and zoning, code enforcement, and garbage pick up.
In light of this legal opinion, the Georgia Senate Annexation, Deannexation, and Incorporation Study Committee, chaired by State Sen. Elena Parent (D-Atlanta), recommended prohibiting the city lite concept in further municipal incorporations proposals and that the charters of Tucker and Peachtree Corners be revisited.
The Sharon Springs area in unincorporated south Forsyth County has been pursuing a city lite route, but may find the township model a better fit.
If the House and Senate pass the township legislation, Georgia citizens would then vote on a referendum to amend the Georgia Constitution to allow the creation of towns.
(END/2016)