Atlanta Quietly Growing Through Annexation Petitions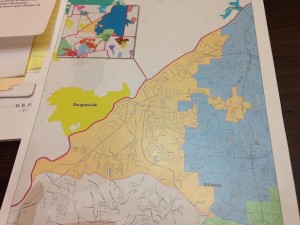 (APN) ATLANTA — Atlanta's boundaries are growing, as more unincorporated neighborhoods in DeKalb and Fulton Counties are successfully annexing into the City of Atlanta, opting to use the petition method provided for by Georgia law, instead of seeking voter referenda.
Most recently, the City of Atlanta annexed the community of South Oaks, a small residential area in south Fulton, as well as several properties in East Lake in DeKalb County.
Both measures passed through the Atlanta City Council Finance/Executive Committee with no fanfare, and the Full Council adopted them each with a twelve to zero vote on November 16, 2015.
About a month prior, on October 19, 2015, the Council voted 12-0 to grant a petition to annex Edmund Park, a neighborhood of about 250 homes in North Druid Hills, in DeKalb County.
http://atlantaprogressivenews.com/2015/08/06/dekalb-community-edmund-park-petitions-for-atlanta-annexation-as-south-fulton-petitions-still-being-processed/
Atlanta Progressive News broke the news that Edmund Park had submitted petitions for annexation, after two bills that would have made possible a much larger annexation of South Fulton and Druid Hills failed to gain traction in the General Assembly last year, in 2015.
In March of 2015, Atlanta officials prompted State Rep. Pat Gardner (D-57) to introduce HB 586, a story that APN also broke last year.
http://atlantaprogressivenews.com/2015/03/09/city-of-atlanta-proposing-major-southwest-expansion-to-legislature/
Rep. Gardner's bill sought to annex an area stretching from North Druid Hills Rd. as far south as DeKalb Avenue, and from Briarcliff Rd. east to the Medlock Park area of Scott Blvd., at its widest point.  Edmund Park was among the neighborhoods the bill proposed to annex.
The area also included several elementary schools, Emory University, and the Centers For Disease Control (CDC).
Gardner also introduced HB 587, which covered a swath of South Fulton ranging from just north of I-20, down to the border of the City of Union City.  It included South Oak, among other residential neighborhoods, and a significant stretch of Fulton Industrial Blvd.
The bills sparked tensions between public officials and never made it past a second reading.
Interim CEO of DeKalb County, Lee May, blasted HB 586 in a press release, saying that the legislators backing the bill had, "no legal authority," to annex the area, and that "no consideration [was] given to those residents in Druid Hills."
But State Rep. Mary Margaret Oliver (D-Decatur), whose district includes North Druid Hills, said her constituents had "clearly stated a wish to vote on whether to be annexed into the City of Atlanta."
"All citizens of the proposed annexed area in unincorporated DeKalb can engage in the democratic process through public conversation, asking questions about schools, taxes, and services, and decide how they wish to vote," Oliver said in a press statement.
State Rep. LaDawn Blackett Jones (D-62) ) took issue with HB 587, writing in an email obtained by the Atlanta Journal-Constitution newspaper that she was upset in part because the bill included an industrial area, which brings in high tax revenues.
Jones, whose district covers parts of South Fulton, told APN in a recent interview that as cities have "cherry-picked" areas with high tax bases to annex, impoverished areas are left to make up Fulton County's resulting revenue gap.
"It's the lowest income residential areas that are left… the economics of the situation will become unfeasible as long as the cherry-picking continues," she said.
Rep. Jones believes that incorporating a City of South Fulton would solve this problem.
Last year she sponsored a bill, HB 165, to put the issue on a ballot for voters to decide.  But the bill, which covered some of the same areas as the proposed South Fulton annexation, did not make it through committee.
http://atlantaprogressivenews.com/2015/04/15/city-of-atlanta-annexation-south-fulton-city-efforts-clash-fail-for-now/
Jones says she will take it up again this year.  It will be the third attempt to create a City of South Fulton.
Jones is also working on a backup plan.  She's been holding meetings with the mayors of several cities in South Fulton to develop a comprehensive annexation plan.
In lieu of a City of South Fulton, the plan would expand cities like Chattahoochee Hills, Union City, and College Park so that low income areas are not left unincorporated, and so that boundaries make sense, rather than being the result of an ad hoc process.
Actually, this process of annexation in South Fulton is already happening, as APN previously reported.
http://atlantaprogressivenews.com/2015/03/02/annexations-whittling-away-at-unincorporated-south-fulton/
Meanwhile, some of the neighborhoods that had a shot at annexing into Atlanta via Gardner's bills have taken an alternate route.
If sixty percent of an area's landowners sign a petition asking to be annexed, the City of Atlanta can opt to let them in.
The impacted counties have a chance to challenge the annexation, only if the City attempts to assign the annexed area a different zoning classification.
That's how Edmund Park and South Oaks managed to join Atlanta without waiting for a referendum that might never come.
Rep. Pat Gardner did not wish to comment on whether she will push HB 586 and HB 587 again this year.
Other neighborhoods covered by HB 587, including Sandtown and Loch Lomond, have submitted petitions that are pending.  Those neighborhoods appear to be more divided amongst people who wish to annex and those who do not.
The impact of annexation on tax rates and school governance are issues that have split communities.  Many Fulton County parents want their children's schools to remain under county control.
http://atlantaprogressivenews.com/2015/05/26/atlanta-councilwoman-bottoms-praying-for-annexation-opponents/
Mayor Kasim Reed has attempted to win them over by suing Atlanta Public Schools over its policy of taking charge of schools in newly annexed areas.  The lawsuit is pending.
Olmstead, a neighborhood within East Lake, has also petitioned for annexation.
The Atlanta City Council's Finance/Executive committee will hold a public hearing on the Olmstead annexation on February 10, 2016 at 1pm.
"It's surreal on some levels.  There's a wave," Councilmember Natalyn Archibong (District 5) who represents Olmstead, told APN.
She views the trend as connected to the cityhood movement.
As more areas seek incorporation, residents who do not want to be part of a new city are trying to avoid that fate by annexing to already existing ones.
"Newly established cities don't really have a track record of public services," Archibong says, surmising why many people would prefer annexation over incorporation.
Some communities are seeking annexation to fix the problem of oddly drawn boundaries, themselves often the result of other annexations.
Archibong's brother, State Rep. Howard Mosby (D-Atlanta), recently introduced a bill, HB 706, that he said would address jurisdictional problems in unincorporated DeKalb.  His bill proposes to annex a large area west of Moreland and south of Memorial.
Archibong, who is familiar with the bill, said that there's a Kroger in DeKalb County that has a parking lot within Atlanta city limits.
"If there's a shoplifter, who responds to the 911 call?" she asked.
HB 706 "would eliminate the 911 confusion and public safety situation that have been the byproduct of having fuzzy and funny lines," she said.
The online news service, Decaturish, reported on what they said were rumors that Mosby's intention had more to do with boosting Archibong in a hypothetical run for Atlanta mayor. Archibong said she is not entertaining that idea.
"C'mon.  No," she said.
But the impact of annexation on electoral politics is on a lot of people's minds.
In December 2015, Atlanta Magazine published an article positing that Reed's penchant for annexation is driven by a desire to maintain a strong, Black electorate, as the City's demographics take on a whiter hue.
Reed attacked the article in a press release, saying that it "perpetuat[ed] a form of bigotry."
(END/2016)