Sen. Jones Discusses Bill Reducing Cannabis Possession Charges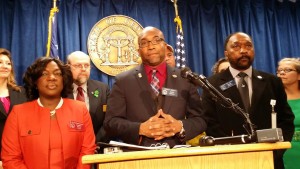 (APN) ATLANTA — On Wednesday, January 20, 2016, State Sen. Harold Jones ( D-Augusta) held a news conference at the State Capitol to discuss SB 254, which would change Georgia law regarding personal possession of over one ounce or more of cannabis ("marijuana") from a felony to a misdemeanor charge.  The bill does not decriminalize or legalize cannabis.
Under Jones's bill, a misdemeanor cannabis charge would still carry a harsh penalty of imprisonment for up to one year or a fine not to exceed one thousand dollars or public work not to exceed twelve months.
Currently, possession of over an ounce of cannabis is a felony that carries a penalty of up to ten years in prison and a maximum fine of ten thousand dollars.
http://www.legis.ga.gov/Legislation/20152016/154266.pdf
Sen. Jones and other legislators are concerned that young people and especially Black men are disproportionately arrested and convicted for felony marijuana possession, more often than Whites who use cannabis at the same rate.
Tom McCain, a retired law enforcement officer, said that during his career he saw too many young lives ruined over small amounts of cannabis, between one and four ounces.
"I always found it to be unfair and disproportionate because a Black male is four times more likely to be arrested than a White male," McCain said at the news conference.
A former federal Drug Enforcement Administration (DEA) agent, Matt Fogg, said in an earlier Atlanta Progressive News report that police go after the low-level offenders, the ones who cannot afford a lawyer and will take whatever deal is offered to them.  It makes their arrest numbers look good.
"If law enforcement officers enforce drug laws the same in Buckhead as in Bankhead, those officers will get in trouble," Fogg said.
http://atlantaprogressivenews.com/2016/01/13/activists-host-panel-on-georgia-gulag/
A felony drug conviction can end welfare benefits, food stamps, the HOPE Scholarship, college scholarships, the right to vote, eligibility to serve on juries, professional licenses, and potentially employment, with additional barriers to future employment and housing.
Georgia bars a person from receiving Temporary Aid to Needy Families (TANF) for life if convicted of a drug related felony.
These are some of the concerns that motivated Sen. Jones to write the bill.  "This bill will bring people out of economic and social prison," Jones said.
State Rep. Dee Dawkins-Haigler (D-Lithonia), Chairwoman of the Black Caucus, is sponsoring a similar bill in the House of Representatives.  She said it goes even further and makes cannabis possession only a ticket or citation
"This bill is a path to some justice in our state and in line with Gov. Deal's criminal justice reform package to reduce the non-violent offenders in our prison system.  Georgia has some of the toughest marijuana laws in the nation and they are contributing to the large prison population.  These laws do more harm than good," James Bell, Director, Georgia Campaign for Access, Reform and Education (GA CARE), said.
When asked about no limit on the amount of marijuana possession, Sen. Jones said that with any bill there may be changes.
As a former prosecuting attorney, Sen. Jones feels that a prosecutor can easily determine if the amount is for personal use or finds evidence of selling.
Selling even a small amount of marijuana is still a felony.
The bill is currently in the Senate Judiciary Non-Civil Committee chaired by Sen. Jesse Stone (R-Waynesboro).
Other co-sponsors are State Sens. Nan Orrock (D-Atlanta), Vincent Fort (D-Atlanta), Freddie Powell Sims (D-Dawson), Michael Rhett (D-Marietta), and Elena Parent (D-Atlanta).
(END/2016)