APN Capitol Journal: 2016, Week One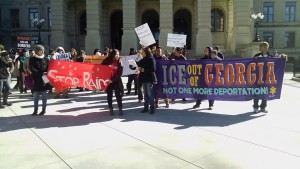 (APN) ATLANTA — This weekly Capitol Journal is a new feature Atlanta Progressive News is offering its readers, for the 2016 year of the 2015-2016 Legislative Session.
Legislative Session Day 1 (Monday, Jan. 11, 2016)
"First day of school," is how one lobbyist described day one.
The Legislature set the first thirteen days through February 01.
A protest to the recent U.S. Immigration & Customs Enforcement raids in Atlanta and detention of families fleeing violence made its way from the ICE offices downtown to the Capitol, with the approximately 40 protesters dispersing when asked by Capitol police.
Legislative Session Day 2 (Tuesday, Jan. 12)
The Atlanta Regional Commission presented on demographic and job changes in Georgia over the next 25 years to the Joint House and Senate Economic Development and Tourism Committee meeting.
Gov Deal made a big transportation announcement: http://www.gmanet.com/News-Grant-Opportunities/Breaking-News/Gov-Deal-announces-major-transportation-investment.aspx?platform=hootsuite
And legislative priorities are starting to be released. Check out the legislative agenda for the Georgia Chamber of Commerce: http://www.gachamber.com/uploads/2015_FINAL_Legislative_Priorities1.pdf
and the Georgia Senate Democrats: http://gasenatedems.com/sites/default/files/2016%20Legislative%20Preview.pdf
Legislative Session Day 3 (Wednesday, Jan. 13)
State of the State is today's big news.
Gov. Nathan Deal spoke extensively about education, saying he wanted the Legislature to consider all the recommendations the education reform commission made, including merit pay for teachers.  The recommendations also include a new funding formula that looks at individual student characteristics in deciding funding (like poverty).
Deal also proposed a three percent "pay raise" for teachers and all state employees, which amounts to little more than a COLA (cost of living adjustment) after pay freezes for many state employees during the Great Recession.
The funds from last year's big transportation bill (HB 170) will be divided up between repairs and maintenance on existing infrastructure (60%) and new projects (40%).  Nothing on transit in his speech.
He also spoke out against Medicaid expansion; great article on that here: http://www.georgiahealthnews.com/2016/01/deal-health-care-costs-tight-rein/
Legislative Session Day 4 (Thursday, Jan. 14):
And we're starting to pick up steam!  Where to begin?
Medicaid expansion is likely dead for the year, but there are some interesting bipartisan developments in other health arenas. (see forthcoming content on APN soon)
There is a proposal (not yet legislation) to allow Crisis Pregnancy Centers to receive Medicaid funding for the services they provide.  CPCs are like a pro-life alternative to pro-choice clinics, and are often run by Christian organizations with anti-choice agendas.
Georgia House Democrats offered up their legislative agenda:
http://atlantaprogressivenews.com/2016/01/17/house-democrats-emphasize-medicaid-expansion-military-families-in-legislative-rollout/
As did the Georgia Senate Republicans: http://www.senatepress.net/senate-republican-caucus-releases-2016-priorities.html
Mary Margaret Oliver announced her assault rifles ban, HB 731 www.legis.ga.gov/legislation/en-US/Display/20152016/HB/731
http://atlantaprogressivenews.com/2016/01/16/several-house-democrats-seek-assault-weapons-ban-in-georgia/
And there are two Religious Freedom Restoration Act (RFRA) spin-offs:
The "Pastor Protection Act" HB 757 www.legis.ga.gov/legislation/en-US/Display/20152016/HB/757
HB 756, The don't sell things for weddings or to religious groups for religious reasons act? www.legis.ga.gov/legislation/en-US/Display/20152016/HB/757
Legislative Session Day 5 (Friday, Jan. 15):
Everyone is antsy to get home for a three day weekend, with Dr. Martin Luther King, Jr., Day on Monday, Jan. 18.
Big news?  Budgets and the Legislative Livestock Showdown award.
More on budgets here:
http://www.gbpi.org/wp-content/uploads/2015/08/Georgia-Budget-Primer-2016.pdf
More on the Legislative Livestock Showdown: http://www.wfxl.com/news/local/local-legislatures-compete-in-livestock-showdown
What do you want to see in the 2016 budget?
(END/2016)