APN Overview of Policy Issues in Legislative Session, 2016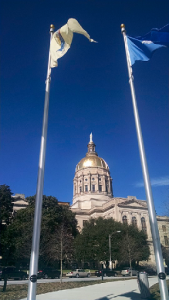 (APN) ATLANTA — The Georgia General Assembly breezed through the first day of the forty day session, on yesterday, Monday, January 11, 2016.
This year, Atlanta Progressive News has our biggest team of reporters at the Capitol to date coverage the Legislative Session, including Senior Staff Writer Gloria Tatum; Staff Writer and News Analyst, Anna Simonton; and the present writer.
Because this is year two of the legislature's two year cycle, bills from last year remain active and "carry over" to the 2016 year of the Legislative Session.
Below is an overview of several issues of public policy of concern that are expected to be considered by the Legislature this year.
RELIGIOUS FREEDOM
SB 129 / HB 218 – RELIGIOUS FREEDOM RESTORATION ACT
State Sen. Josh McKoon's (R – Columbus) controversial Religious Freedom Restoration Act is expected to return.  SB 129 passed the Senate by a vote of 37-15, but did not make it through the House, in 2016.
During House Judicial committee meetings, an amendment had been added to the bill, clarifying that preventing discrimination is a compelling governmental interest, and the bill was tabled.
HB 218 is State Rep. Sam Teasley's (R – Marietta) companion bill, that is presumed dead, although still technically active.
Full story on the most recent RFRA debates here:
http://atlantaprogressivenews.com/2016/01/09/sen-mckoon-jeff-graham-others-debate-georgias-rfra-bill/
ENVIRONMENT
SB 36 – UNDERGROUND WATER SUPPLY PROTECTION ACT OF 2015
This legislation will prohibit the injection of groundwater into the Floridian aquifer, calling on the Board of Natural Resources to "adopt regulations that provide for the protection and preservation of the Floridan aquifer," including "restrictions or prohibitions on aquifer storage and recovery where necessary."
SB 36 was introduced by State Sen. William T. Ligon, Jr. (R – Brunswick), the Majority Caucus Chair, during the 2015 year of the session.  It has already passed in the Senate, 48-3, and will need to go through the committee process in the House (assigned to Natural Resources & Environment), before achieving a vote on the House floor.
EFFORT TO AMEND "CWIP" NUCLEAR POWER TAX ON RATEPAYERS
Environmental organizations including Georgia Watch are pushing for the Legislature to stop putting Georgia Power ratepayers on the hook for cost overruns on the construction of Plant Vogtle.
Environmentals are working with legislators, including State Sen. Elena Parent (D-Decatur), Atlanta Progressive News has confirmed, to amend the Construction Work in Progress (CWIP) nuclear power tax that was enacted in 2009.
http://atlantaprogressivenews.com/2015/08/01/vogtle-nuclear-expansion-total-cost-is-65-billion-dollars-former-commissioner-says/
http://atlantaprogressivenews.com/2009/02/11/state-senate-approves-nuclear-power-layaway-for-consumers/
EDUCATION
SB 44 – IN-STATE TUITION FOR DACA RECIPIENTS
Sponsored by State Sen. Nan Orrock (D – Atlanta), SB 44 makes it possible for certain DACA recipients (deferred action for childhood arrivals) to qualify for in-state tuition.  Currently all undocumented students are ineligible for in-state tuition at any public university or technical college.
The bill is currently in the Higher Education committee, chaired by State Sen. Fran Millar (R – Dunwoody).
HB 135 – 'TOO YOUNG TO SUSPEND ACT'
This bill states: "No public educational institution shall suspend or expel a student in grades pre-kindergarten or kindergarten," except in fairly limited circumstances.
State Rep. Henry "Wayne" Howard (D-Augusta) introduced the bill in 2015, and it is currently in the House Education committee.
OTHER EDUCATION ISSUES
Education reform is expected to be a significant part of Gov. Nathan Deal's agenda this year, following on the heels of the Opportunity School District legislation in 2015. (http://atlantaprogressivenews.com/2015/03/28/georgia-school-takeover-plan-passes-despite-protests/).
Merit pay for teachers is expected to be a fairly contentious component.  Additionally, the funding formula used for schools will likely be considered for reform.
HEALTH CARE
SB 40 — END PROHIBITION ON STATE RESOURCES GOING TO ACA ACTIVITIES
SB 40, sponsored by State Sen. Vincent Fort (D-Atlanta) would repeal parts of HB 943, which passed in 2014.
That bill, among other things, established a "prohibition on expenditure or use of moneys, human resources, or assets of the State of Georgia," towards activities related to the Affordable Care Act ("Obamacare").  It is currently in the Government Oversight committee of the Senate.
OTHER HEALTH CARE HIGHLIGHTS
HB 990 was signed in 2014, to prohibit the expansion of Medicaid eligibility through an increase in the income threshold without prior legislative approval. It's unclear if legislators will be taking up the issue of Medicaid expansion, although advocacy groups continue to work on the issue.
IMMIGRATION AND XENOPHOBIA
SR 675 – ENGLISH AS OFFICIAL LANGUAGE OF GEORGIA
SR 675 would English as the official language of the State of Georgia, and prohibit the use of any language other than English in "Official actions of this state," including driver's license tests. It was pre-filed by Sen. McKoon (R-Columbus) at the end of 2015.
SB 6 – GEORGIA ROAD SAFETY AND DRIVER'S LICENSE INTEGRITY ACT
Sen. McKoon's massive bill not only eliminates a path to getting a driver's license for undocumented citizens, but implements a temporary permit system that would include the gathering of significant biometric data.
This bill was introduced in 2015, and is currently sitting in the Senate Public Safety committee.
OTHER IMMIGRATION ISSUES
There are rumors there may be a spin-off bill from McKoon's SB 6.  This bill would create some kind of driver's license-like permit for undocumented citizens, with a marker on it indicating the person was undocumented.
REDISTRICTING
HR 963 – REDISTRICTING
Sponsored by State Rep. Pat Gardner (D-Atlanta), this legislation attempts to eliminate gerrymandering from the process of establishing district boundaries for both state and national elections.
Gerrymandering is where legislators configure district boundaries in odd shapes that are designed to create districts that are more likely to vote for candidates who belong to the majority party.
This bill was prefiled at the end of 2015 and has not yet been assigned to committee.
SB 20 AND SR 23 – REDISTRICTING
State Sen. Parent is the sponsor of this legislation, introduced in 2015.  The Senate Bill creates a Citizens' Redistricting Commission, also an attempt to tackle gerrymandering.  The companion Senate Resolution lays out the constitutional amendment required to put the legislation into effect.
It is currently in the Reapportionment and Redistricting Committee of the Senate.
CITYHOOD AND ANNEXATION
There is currently legislation pending from 2015 by State Rep. Pat Gardner (D-Atlanta) and State Sen. Horacena Tate (D-Atlanta), allowing for City of Atlanta annexations of the North Druid Hills neighborhood of DeKalb County, and several neighborhoods in south Fulton County, including South Oak, Loch Lomond, and Sandtown.
http://atlantaprogressivenews.com/2015/04/15/city-of-atlanta-annexation-south-fulton-city-efforts-clash-fail-for-now/
Meanwhile, there are pending cityhood efforts for Greenhaven and Stonecrest in DeKalb County, and South Fulton in Fulton County.
In addition, the Legislature is likely to consider bills reforming the cityhood and annexation processes, following the recommendations adopted by a Senate study committee that met in the summer of 2015.
http://atlantaprogressivenews.com/2015/12/20/state-senate-house-study-committees-on-cityhood-annexation-release-reports/
CANNABIS / MARIJUANA
HB 722 — EXPANSION OF MEDICAL CANNABIS (MARIJUANA) PROGRAM IN GEORGIA; ALLOW IN-STATE CULTIVATION
As previously reported by APN, State Rep. Allen Peake (R – Macon) pre-filed HB 722 just last week.
http://atlantaprogressivenews.com/2016/01/10/rep-peake-sen-jones-introduce-cannabis-related-bills-in-georgia/
It expands on his medical cannabis legislation from last year, by allowing for the in-state production and distribution of the cannabis oil, expansion of medical conditions for which cannabis can be prescribed in Georgia, and other changes.
http://atlantaprogressivenews.com/2015/03/15/georgia-senate-passes-pitiful-medical-cannabis-research-bill/
Peake recently stepped down as one of Gov. Deal's floor leaders over disagreement about this issue.
SB 254 — ENDS FELONY PROSECUTION FOR CANNABIS POSSESSION OVER AN OUNCE
Under current law, possession of cannabis over an ounce is a felony.  SB 254, sponsored by State Sen. Harold V. Jones II (D-Augusta), would strike the quantity limitations in the current law, making cannabis possession of any amount a misdemeanor under state law.
This bill was pre-filed at the end of 2015, and has not yet been assigned to committee.
GUNS
HB 543 – GEORGIA CONSTITUTIONAL CARRY ACT OF 2015
This bill will allow handguns to be carried in public parks, historic sites, and other public places, although it will still be illegal to bring fireworks.  It also allows for "the carrying of weapons by certain persons and in certain places without a licensing requirement."
Sponsored by State Rep. Heath Clark (R-Warner Robins), it is currently in the House Public Safety and Homeland Security Committee.
HB 544 – CAMPUS CARRY
HB 544 allows for licensed gun owners to bring their weapons onto campuses.  Also sponsored by Rep. Heath Clark, this bill was introduced during the latter part of 2015, and is currently in the House Public Safety and Homeland Security Committee.
http://atlantaprogressivenews.com/2015/09/04/decatur-church-hosts-panel-on-gun-reform/
OTHER POLICY ISSUES
HB 81 – CHANGES TO TAX LIEN LAWS
HB 81 deals with tax lien and foreclosure proceedings, creating a way for property owners to pay a "redemption price," to recover property from creditors and tax proceedings.
This bill was recommitted on the last day of the 2015 year of the current legislative session, and is now in the House Ways & Means Committee, sponsored by State Rep. Scot Turner (R-Holly Springs).
DEKALB COUNTY GOVERNANCE
There is expected to be legislation introduced to alter DeKalb County's charter, by eliminating the CEO position and creating a professional manager position that is elected by the voters.
http://atlantaprogressivenews.com/2016/01/07/what-would-eliminating-ceo-role-mean-for-dekalb-county/
(END/2016)