Cannon, Long Responses to HD 58 Special Election Questionnaire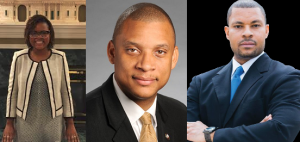 (APN) ATLANTA — Former State Rep. Ralph Long (D-Atlanta), Park Cannon, and Kwame Thompson have qualified for the House District 58 Special Election taking place on January 19, 2016.
As previously reported by Atlanta Progressive News, former State Rep. Simone Bell (D-Atlanta) resigned to take a position with Lambda Legal.
Rep. Long previously served in the Legislature and was redistricted by Republicans into the same district as Rep. Bell following the 2010 Census.  The two both sought the Democratic nomination in 2012, and Bell prevailed.
In 2014, Long's wife, Erica Long, challenged Bell for the nomination and lost.
Cannon is a women's wellness advocate for the Feminist Women's Health Center, and is Rep. Bell's hand-picked successor.
Thompson is an attorney who was active in the Michael Brown protests in Atlanta, and who ran unsuccessfully for the Democratic nomination for Fulton County District 5 in 2014.
APN sent out the questionnaires to Long and Cannon, who both announced early, and their responses are printed below.
Thompson, who just qualified on Friday, was sent his questionnaire today, and APN will publish it once it is completed and returned to APN.
DO YOU BELIEVE ALL HOUSE AND SENATE COMMITTEES SHOULD KEEP MINUTES, AND THOSE MINUTES SHOULD BE MADE PUBLIC?  DO YOU HAVE ANY ADDITIONAL IDEAS FOR TRANSPARENCY AND PUBLIC PARTICIPATION IN THE LEGISLATIVE PROCESS?
CANNON: Absolutely. Transparency is invaluable and the public deserves it.
LONG: Yes, I believe all legislative committees should keep and post minutes of their proceedings.  During my service in the Legislature, it always struck me as unfortunate that so much of our work was done without transparency. I believe elected officials should be fully accountable to their constituents and that the only way to make this accountability real is to lift the veil off of our work.
In addition to keeping Committee minutes, Committee testimony, questions and answers should be transcribed and available for public dissemination.
Georgia would have better Legislative outcomes if there were more, not fewer, opportunities for public participation in and analysis of the lawmaking process.
WHAT IS YOUR POSITION ON NUCLEAR POWER?
CANNON: I believe nuclear power was an important alternative in the ongoing effort to try to break our country's dependence on fossil fuels.  Thankfully we now have significantly more productive, safer, and more cost effective options.
LONG: Nuclear power is an energy source worth exploring, but I share the concerns about safety and costs held by many.  I hope we can trust the U.S. Department of Energy to give us an honest assessment of the pros and cons of nuclear energy.  Here at home, I have been concerned for years about whether consumer rights have been protected with regards to the costs of expanding Plant Vogtle.
WHAT ARE YOUR PLANS, IF ANY, TO EXPAND WIND AND SOLAR IN GEORGIA?
CANNON: I am a huge solar and wind energy supporter.  I believe we should incentivize every Georgian to use it.  I would fight against the utility companies efforts to make using solar more expensive for Georgia families.  I believe in creating more tax credits for homeowners to install solar panels.  It's good for all of us.
LONG: I believe in alternative energy sources and encourage full exploration of these options. I'm not comfortable with wind energy in the form of wind mills unless there are protections for birds. I prefer turbine-generated wind energy instead.
The average consumer of electricity needs to be educated about solar power/panels. Brochures about solar panel cost and installation should be available to homeowners at closing, so that consumers can budget for installing solar panels in their homes. The goal is to get LEED certified points in more homes so that people can eventually put energy back onto the grid.
WOULD YOU SUPPORT REDUCING PETITION REQUIREMENTS FOR INDEPENDENT AND POLITICAL BODY (MINOR PARTY) CANDIDATES FROM THE CURRENT ONE PERCENT STATEWIDE, FIVE PERCENT NON-STATEWIDE REQUIREMENT?  IF SO, WHAT SHOULD THE NEW REQUIREMENT BE, IF ANY?
CANNON: I believe anything that allows more voices to be heard in the Georgia political process is a good thing.  I would support reducing onerous petition obligations for third party and independent candidates, but would prefer to hear from voters and citizens directly on how they would like to see that done.
LONG: Yes, I support reducing the petition requirements for independent and minor party candidates. We should start with cutting the petition requirements in half – moving to ½ percent for statewide offices and 2 ½ percent for non-statewide.
WOULD YOU SUPPORT ADDING A VOTER VERIFIABLE PAPER AUDIT TRAIL TO ELECTRONIC VOTING SYSTEMS IN GEORGIA?
CANNON: Yes.  Unfortunately, Georgia voters have learned they have reason to be afraid of long-term politicians passing legislation to suppress voter turnout, including voter ID laws, changing election dates, and a lack of paper audit trail.  I absolutely support implementing one.
LONG: Yes, Georgia voters deserve to confidently and securely cast their ballots, and a voter verifiable paper audit trail adds to voter confidence.
WHAT IS YOUR POSITION ON THE REFERENDUM TO CREATE A STATEWIDE OPPORTUNITY SCHOOL DISTRICT TO TAKE OVER SO-CALLED FAILING SCHOOLS?
CANNON: While I absolutely support parental choice in schools, I am incredibly concerned about the avalanche of for-profit schools that have successfully pulled public school money away from our kids' schools, adding to the crushing budgetary gaps created by Republicans.  Before we push for-profit schools even farther along I would rather see a frank and honest discussion about how to limit the scandals and problems we are seeing now in charter and for-profit schools.
LONG: I am opposed to the creation of the Governor's Opportunity Schools District and will vote against the referendum in November.  I believe Governor Deal's plan is merely a scheme to continue starving local school districts of the resources they need to educate our children.  In my opinion, the best recipe for improving student achievement must include allowing local boards of education and school superintendents to do the jobs we have elected and hired them to do.  An OSD superintendent, accountable only to Governor Deal, has no better plan for improving our schools than the local school districts.
However, I am glad that a spotlight has been put on schools that are perennially under-achieving. My own son's school is on the list of schools eligible for takeover. While I am very confident in the mission and vision of Atlanta Public Schools (APS) and the work being done to improve student outcomes, I believe this discussion of an OSD is a much-needed jump start towards meaningful school improvement.
DO YOU SUPPORT AN EXPANDED MEDICAL CANNABIS PROGRAM (IN-STATE CULTIVATION, FULL PLANT MEDICINE, EXPANDED LIST OF CONDITIONS)?  DO YOU SUPPORT DECRIMINALIZATION?  DO YOU SUPPORT LEGALIZATION?
CANNON: Yes.
LONG: Yes, yes, and yes.  The science demonstrating the medicinal benefits to cannabis is clear.  From a public policy standpoint, we are spending too many resources, and wasting too many young lives, on prosecuting marijuana possession. I believe that marijuana should be legalized and classified as any other legal, but harmful, product available to adult purchasers.
WHAT IS YOUR POSITION ON CITYHOOD AND ANNEXATION IN GENERAL?  DO YOU BELIEVE GEORGIA'S CITYHOOD AND ANNEXATION LAWS SHOULD BE CHANGED?  IF SO, HOW?
CANNON: Since the majority of cityhood efforts in Georgia in the past decade have passed, while I believe the laws governing them are onerous I'm less concerned about changing the laws and more concerned about making sure constituents have their own voice in the process. I'm a huge fan of the new wave of cities and annexations in Georgia and believe in the power and purpose of localized government.
LONG: I have my concerns about the rapid rate of cityhood and annexation proposals. Ideally, voters are making these decisions with full and accurate information available to them.  Issues surrounding putting together new governments should not be taken lightly.  I worry that there is too much politics in the annexation questions and not enough public administration.
WHAT IS YOUR POSITION ON THE PROPOSALS FOR NEW CITIES IN DEKALB COUNTY, SUCH AS STONECREST?
CANNON: I fully support the people of Stonecrest in voting on the measure and having their voices heard. I do not personally have a position on whether Stonecrest should become a city or not as I am not a Stonecrest resident, I am a longtime Old Fourth Ward resident and I believe that is and should solely be left up to the residents of the area.
As our next State Representative I would be a strong ally for any group seeking to make their wishes heard and calling for a vote on similar proposals.
LONG: I hope the voters in these communities are equipped with accurate and realistic information about the consequences of their choices.
WHAT IS YOUR POSITION ON THE PROPOSED CITY OF SOUTH FULTON?
CANNON: This question has been asked and answered at the ballot box.  I am not a South Fulton resident but was troubled at this particular election.  Too many outside voices, too much outside money tainted the process, made it dirtier than the election had to be and lined the pockets of too many consultants living outside of South Fulton.  South Fulton residents should be in charge of their own futures, and it would not surprise me to see this on the ballot again.
LONG: I hope the voters in these communities are equipped with accurate and realistic information about the consequences of their choices.
DO YOU SUPPORT GMO LABELING?
CANNON: Absolutely. I personally have used GMO labeling to make healthier choices, and while I believe some GMO food can be healthy and viable options I believe a better informed public is good for everyone.  Parents trying to make better choices for their families will find a strong ally with me as our next State Representative.
LONG: Yes.  I am very concerned about food safety and security. As a father, it is important for me to have as much information as I can about what I feed my son.
DO YOU SUPPORT ANY OF THE RECENT PROPOSALS REDUCING THE EARLY VOTING PERIOD, OR ALLOWING LOCAL JURISDICTIONS FLEXIBILITY TO REDUCE EARLY VOTING?
CANNON: Absolutely not.
LONG: I oppose any effort to limit or reduce early voting periods. We have better electoral outcomes when more people vote.  I would prefer that federal Election Days are national holidays and that early voting periods include weekend voting.  I also support automatic voter registration for every adult with a license or state-issued ID.
DO YOU SUPPORT A U.S. CONSTITUTIONAL AMENDMENT IN RESPONSE TO THE CITIZENS UNITED RULING, CLARIFYING THE ABILITY OF CONGRESS TO REGULATE CAMPAIGN CONTRIBUTIONS?  (THE STATE COULD EITHER CALL FOR SUCH AN AMENDMENT BY RESOLUTION OR CALL FOR A CONSTITUTIONAL CONVENTION.)
CANNON: I strongly believe Citizens v. United should be repealed, and would support legislation limiting its impact on campaign contributions.  I'm the only candidate in this race to publicly say I do not have a personal PAC nor will I create one.  I think it's incredibly important to be completely transparent with voters and continue to call on both of my opponents to make the same pledge.
LONG: Yes.
(END/2015)