Mayor Reed Refuses to Budge on Peoplestown Demolitions for Remaining Two Families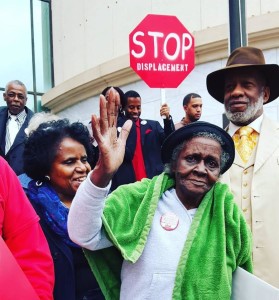 (APN) ATLANTA — Mayor Kasim Reed remains determined to force Peoplestown residents out of their homes in order to build a stormwater detention pond and park.
On December 01, 2015, homeowners who have been fighting to save their houses from demolition convened at City Hall for meetings with the Mayor that were scheduled after a sit-in at his office in November.
http://atlantaprogressivenews.com/2015/11/14/peoplestown-homeowners-get-meetings-with-mayor-reed-after-holding-sit-in/
For Peoplestown residents Tanya Washington, Robert Darden, and Bertha Darden, the meetings did not amount to much.
"With the waiting room packed full of supporters, Mayor Reed was over an hour late to meet with residents," Occupy Our Homes Atlanta, an organization which has supported the residents, said in a press statement.
"The Mayor told Tanya Washington that he planned to move forward with the plan to acquire her home to build a park and a pond, despite that fact that her home never floods.  Bertha and Robert Darden were also told that the Mayor intended to develop a park and pond on top of their house, but said he would consider their concerns," the statement said.
Earlier this year, Mayor Reed responded to public pressure by unilaterally altering the original pond plan to save the home of 93 year-old community leader, Mattie Jackson.
http://atlantaprogressivenews.com/2015/10/08/victory-as-mayor-reed-declares-mattie-jackson-can-stay-in-her-home/
Jackson joined her neighbors at City Hall to support them in their efforts to remain in their homes.
Other neighbors have settled with the city and demolition has begun.  Those are houses that have had serious flooding problems.  Washington and the Dardens say flooding has not been an issue for them.
The Mayor's office also released a press statement after the meetings:
"Today, I had the privilege of meeting with three homeowners from the Peoplestown community. While the overwhelming majority of impacted homeowners have negotiated the sale of their homes, I believe it is important that we continue to work with the remaining families.  I remain hopeful and we will use our best efforts to reach a satisfactory conclusion for these three families," Reed said in the statement.
"For decades, residents in the Peoplestown community have endured severe flooding.  In many instances, the flooding has damaged homes permanently; in others, homes have been entirely destroyed," Reed said.
"My Administration believes the proposed $65 million, best-in-class solution will benefit Peoplestown and the surrounding neighborhoods for years to come.  I look forward to completing this important project as we address an issue that has gone unresolved for decades," he said.
Washington and the Dardens say that, in the past, the City threatened to use eminent domain to take their homes if they refuse to settle on a buyout.  So far, the City hasn't sought legal action.
"Residents left the meeting very disappointed, yet committed to fight for their homes, making it clear that they would leave under no circumstances," OOHA's statement concluded.
(END/2015)