MARTA Privatizes Paratransit, Despite Public Outcry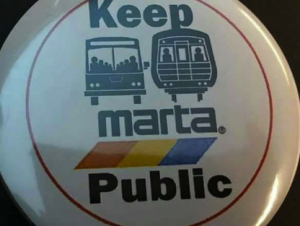 (APN) ATLANTA — Despite public outcry, MARTA Mobility, the paratransit service for Atlantans with disabilities, will soon be run by a private company instead of the local transit authority.
On November 05, 2015, the Board of Directors for the Metropolitan Atlanta Rapid Transit Authority (MARTA) unanimously to approve a three-year, 64.9 million dollar contract to MV Transportation Inc. to take over paratransit services in Atlanta.
If MARTA and MV renew the contract for two more years, the total award will be 117 million dollars.
"This is not about cost savings; it is about improving service," Board Chair Robbie Ashe said during a packed public meeting.
It is true that MARTA Mobility is riddled with problems.  For example, the agency is already subject to court monitoring for failing to meet standards set by the Americans With Disabilities Act.
Passengers are often left waiting for indefinite periods of time for their van service to arrive, with little or no recourse.  One passenger told APN that calling MARTA to check on the van's status "only makes it worse."
But David Ates, a lawyer representing MARTA's disabled clients and one of its judge-appointed monitors, says outsourcing to MV is unlikely to fix that.
"We don't think there's enough incentive provided to MV to reach certain on-time performance levels," Ates told APN, referring to the problem of paratransit drivers failing to pick up clients on time.
"There's a provision that if they go below 85 percent on-time performance they'll be hit with penalty.  If you don't get hit with a penalty until you go below 85 percent, why would MV spend more money to get from 85 to 95 percent?" Ates asked.
Last year, in 2014, MARTA considered, but rejected, a similar privatization proposal.
Atlanta Progressive News previously reported that MARTA's decision to consider privatization was based on the findings of an international consulting firm that the agency hired to address budget shortfalls.
http://atlantaprogressivenews.com/2014/11/05/marta-workers-fight-privatization-of-paratransit-face-retaliation-update-1/
A report by the Center for Sustainable Urban Development at Columbia University challenged those findings, concluding that "privatization of public transit through competitive bidding serves to reduce the standard of living for workers and diminish the transportation service provided to communities."
The Columbia University report cited numerous studies that support this conclusion, including one sponsored by the Federal Transit Administration.  Ironically, the committee in charge of that report included MARTA's current CEO, Keith Parker.
The study that Parker oversaw found a direct link between low wages and high turnover, and between high turnover and poor paratransit service.
The study also concluded there is a significant gap between wages and benefits offered by public versus private operators, indicating that private companies are less likely to provide quality paratransit services.
MARTA's paratransit workers will not only face lower wages, they stand to lose pensions, healthcare, and for some, their jobs.
The same day of the Board vote, Parker announced the credit rating agency Moody's had upgraded MARTA's bond rating.
"With ongoing input from the Board of Directors, the Authority continues to demonstrate that we are good stewards of the public's trust and financial support," Parker said in a press release.
Atlanta Progressive News reviewed a 52-page proposal put forth in November 2014 by the Amalgamated Transit Union, which represents MARTA employees.
The proposal offered detailed recommendations for fixing MARTA Mobility's problems without outsourcing the service to a private company.
Simple things like having a person review computer-generated schedules, could make routes more efficient by reducing the amount of time drivers spend on the road without passengers.
Upgrading MARTA's eight year-old scheduling software was also on a long list of solutions.
"This is not rocket science.  MARTA could have done this internally, they could have fixed these problems, and they chose not to," Paul McLennan, a retired MARTA bus mechanic of 32 years, told APN.
"The people who know the service the best are the riders and the workers.  The answers to any of these problems can be found by listening to the people most affected… Instead, the board made a decision that serves the interests of a private sector company and that is not the job of a public institution that's supposed to be accountable to the people.  You've got this corporate business model operating in a public setting, and from a democratic point of view there's no input despite repeated attempts."
APN asked a MARTA spokesperson whether the Board had considered the ATU's recommendations.
The spokesperson responded with the following statement, which, as is often the case with MARTA, did not actually respond to the question posed:
"In a unanimous vote, the MARTA Board of Directors has reaffirmed the agency's commitment to continued improvement in the delivery of paratransit services.  The decision to sign a contract with a third-party vendor is intended to improve the quality, efficiency, and overall experience for mobility customers," MARTA stated.
"For the past several years, MARTA's Board and management has been very clear about the agency's transformation plans and the desire to provide best-in-class transit service to the Metro Atlanta region, particularly its most vulnerable residents," MARTA stated.
"MARTA management will work in concert with our new paratransit vendor, customers, and employees to make this transition as seamless and successful as possible," MARTA stated.
In the lead up to the board meeting, MARTA received nearly 200 letters decrying privatization.
During the meeting, the public comment period lasted forty minutes and was overwhelmingly comprised of speakers opposed to the privatization plan.
State Sen. Vincent Fort (D-Atlanta) spoke, pointing to MV Transportation's dismal track record in California.
"Between 2008 and 2010, the company was fined 295 times by local transit officials [in Fairfield, California where the company is headquartered] for poor performance, including too many accidents, missed bus runs, and late buses," Fort said, quoting an article by California Watch.
http://californiawatch.org/money-and-politics/private-contractor-struggles-deliver-public-bus-service-records-show-18823
McLennan likened the Board's actions to the process by which Grady Hospital was privatized.
"They drive a system or institution into crisis, deny the resources it needs, and then say, 'Surprise we need to privatize!'  It's a pattern we've seen," he said.
(END/2015)