African Americans for Hillary Clinton Event disrupted by Song, Chants of "Black Lives Matter"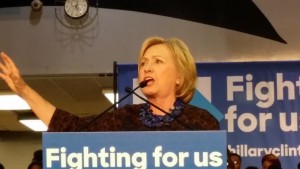 (APN) ATLANTA — On yesterday, Friday, October 30, 2015, thousands gathered at Clark Atlanta University's Epps Gymnasium to hear Presidential candidate, and former Secretary of State, Hillary Clinton speak, as she rolled out her African Americans for Hillary campaign at the historic Black college.
Clinton took the stage and acknowledged and thanked prominent Civil Rights Movement leaders from the 1960's for their contributions.  She agreed they were right to organize, mobilize, and politicize using nonviolence.
About five minutes into her speech, about a dozen young Black students from Atlanta University Center (AUC), which includes several historically Black colleges, walked in front of the stage, with fists raised and chanting Black Lives Matter
Clinton nodded her head in agreement and said, "Yes they do, Black Lives Matter."
The students wore t-shirts that read "I'm Not Radical, You're Behind," and held signs in honor of Anthony Hill, Kevin Davis, Nick Thomas, and other victims of police murder in the Metro Atlanta area.
To date, no police officer has been held accountable or indicted for the murder of these unarmed Black men, a situation that exists nationwide.
The students also sang the song "Hell You Talmbout," by Janelle Monae.
When the students (#AUCShutItDown) continued to chant and did not leave, Clinton continued with her speech, with both seemingly competing to be heard over each other.
After about fifteen minutes of dueling chants and Clinton's speech that few could hear, the audience begin to shout, "Let her talk."
A security officer came and escorted the students out.  They left peacefully and were not arrested.
Clinton said she had been meeting with activists from the Black Lives Matter movement and plans to talk with them more.
Institutionalized racism is not behind us in the U.S., Clinton said, naming more Black citizens who have been killed by police.
"We need to restore balance and fairness to our criminal justice system… African American men are far more likely to be stopped and searched by police, charged with crimes and sentenced to longer prison terms than White men convicted of the same offenses," Clinton said to loud applause from the audience.
"We need reform that can be felt on our streets and our courthouses, our jails, our prisons, and our communities," Clinton continued.
She promised to work to rebuild trust between law enforcement and communities of color; for police departments to wear body cameras; and to end racial profiling and mass incarceration.
"As President, I will make sure that federal funds for state and local law enforcement are not used to buy weapons of war that have no place on the streets of our country," Clinton promised.
Clinton called for an end to private prisons and detention centers that should never be outsourced to unaccountable for-profit corporations.
The U.S. has five percent of the world's population and 25 percent of the world's incarcerated population.
http://atlantaprogressivenews.com/2015/02/12/national-conference-on-mass-incarceration-held-in-atlanta/
"We have to work together to keep more non-violent drug offenders out of prison.  Keeping people in prison does little to reduce crime and it tears apart families and communities.  One in every 28 children are growing up with a parent in prison," Clinton said.
It costs more to keep non-violent drug offenders in jail, than it would cost to send them to community services, as previously reported in APN.
http://atlantaprogressivenews.com/2015/06/08/activists-officials-take-fact-finding-trip-to-seattle-for-lead-program/
Georgia alone has over 30,000 people going to jail annually for minor charges related to cannabis (marijuana).
"If you don't care about the families and you don't care about the over-incarceration, then think about the 28 billion dollars saved because we no longer incarcerate people who should not be in prison in the first place, " Clinton said.
"Over 600,000 prisoners re-enter society every year and up to sixty percent face long-term unemployment.  This is a problem for everyone because it leads to repeat offenders," Clinton said.
She is encouraged by the Ban the Box movement that gives former prisoners a chance at employment by delaying information on their criminal history until later in the hiring process.
Clinton wants to implement this inside the federal government and with federal contractors.
Clinton has proposed the New College Compact that will make college more affordable and allow students to refinance their college debts.
She supports raising the minimum wage and equal pay for equal work for women.
Clinton talked about current Jim Crow efforts to suppress the vote, like the strict voter ID laws that are so popular with Republicans in Georgia and other U.S. states in recent years.
Clinton's platform on voting rights includes support for universal, automatic voter registration at age eighteen.
She wants U.S. Congress to repair the Voting Rights Act, expand absentee and mail voting, provide online voter registration, and cut waiting time to vote.  [The federal government can regulate how states conduct federal elections, which states would most likely also apply to state and local elections.]
Clinton talked about President Obama's accomplishment, the Affordable Care Act.  This Act has extended healthcare to 18 million U.S. citizens; created 13 million new jobs and cut unemployment in half; and established tough new rules on insurance companies, Wall Street banks, and polluters.
Her policies on the economy include revamping the capital gains tax to reward farsighted investments that create jobs and discourage short-term trading.  She wants companies to see the benefits of investing in their workers and communities for the long term.
In an email from her campaign dated October 08, 2015, Clinton has said: "To confront the phenomenon of 'Too Big to Fail,' her plan would impose a risk fee on the largest banks and financial institutions and require firms that are too large and too risky to manage to reorganize, downsize or break apart."
https://www.hillaryclinton.com/p/briefing/factsheets/2015/10/08/wall-street-work-for-main-street/
Currently, however, she has not gone so far as to specifically reinstate the Glass-Steagall Act that was repealed in 1999.  The Act put a firewall between commercial banks and prohibited them from participating in investment banking and Wall Street speculating.
"I will fight to defend the progress we've made under President Obama and build on it and go even further," Clinton promised.
After the event, #AUCShutItDown issued a press statement explaining their actions.
"Legislation that enabled broken windows policing, school to prison incarceration, racial profiling, school resource segregation, and mandatory minimum sentencing CANNOT end through rhetoric," states the release.
"What Black Lives Matter did today was in keeping with the tradition of Black people standing up for freedom, justice, and equality.  [U.S. Rep] John Lewis was doing the same thing fifty years ago.  I'm proud of them," State Sen. Vincent Fort (D-Atlanta) told Atlanta Progressive News.
APN asked former Mayor of Atlanta Shirley Franklin and Dr. Rev. Raphael Warnock, Senior Pastor at Ebenezer Baptist Church, what needs to happen in Georgia to elect Hillary Clinton.
"I think we have a tough job ahead of us because a lot of people don't know her as a Presidential candidate and we have a lot of young people who moved into the state.  I think if we can get a coalition of voters from all backgrounds and we respect everyone's point of view, we have a good shot at Hillary winning," Franklin told APN.
"I think we need a coalition very similar to the one that elected President Obama, nationally.  The potential for that is certainly here in Georgia.  We need young people, voters of color, working people, single women; and this new emerging American electorate is already present.  I think from the message we are hearing from Hillary Clinton today, that's entirely possible," Rev. Warnock told APN.
(END/2015)