Peoplestown Residents Camp at City Hall To Save Their Homes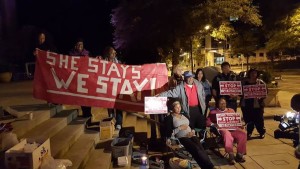 (APN) ATLANTA — Residents of Peoplestown who are fighting to save their homes camped out at City Hall with supporters on October 22, 2015.
They are neighbors of Mattie Jackson, 93, a community leader whose home was facing demolition to make way for a park and water retention pond conceived by the Atlanta Department of Watershed Management as a solution to flooding problems in the area.
http://atlantaprogressivenews.com/2015/09/05/city-of-atlanta-threatens-mattie-jackson-93-whole-peoplestown-block-with-eminent-domain/
Jackson recently won a concession from Mayor Kasim Reed, who promised to preserve her home so she could stay there as long as she likes.
http://atlantaprogressivenews.com/2015/10/08/victory-as-mayor-reed-declares-mattie-jackson-can-stay-in-her-home/
But five remaining households have yet to settle with the City, which has already bought many of the houses on their block.  Some of those families are refusing to leave.
"I'm not settling. They will have to send a bulldozer there with me in it," Robert Darden told Atlanta Progressive News.
Darden and his wife, Bertha Darden, have lived in their home on Atlanta Avenue for nearly thirty years.
They say their house is on the edge of the floodplain, and if the City can figure out a way to save Jackson's house, which is more prone to flooding, then surely theirs is salvageable too.
"I can look at my house and just reminisce on my children, and now my grandchildren, playing in our backyard," Ms. Darden said.
"Those memories are dear to us.  If we lose the house, what other house can we say our children was raised in, our grandchildren played in?" she asked.
Mr. Darden said he's adamant about keeping his home, in part because their predicament exemplifies how different neighborhoods receive different treatment from public officials.
Mr. Darden was a sanitation worker for the City of Atlanta for many years.  He remembers one time when there was flooding in Buckhead.
"They didn't take over no houses then.  They fixed the problem," Mr. Darden said.
Now Peoplestown is becoming more like Buckhead, with home prices shooting up.
"If they force us out, we can forget about that neighborhood because they are building half million dollar homes there now," Mr. Darden said.
State Sen. Vincent Fort (D-Atlanta) and State Rep. "Able" Mable Thomas (D-Atlanta) attended the sleep out.
Rep. Thomas decided to attend because she remembers sleeping in that same spot when the Coalition to Save the Soul of Atlanta protested an anti-panhandling ordinance the City Council was considering in 2005.
"I know the experience.  I know what it takes," she said.
She agrees the Mayor should work with the Watershed Department to augment the plan.
"I believe that with the expertise the engineers at the City of Atlanta have, they can come up with another creative way.  It might be more costly, but what we're talking about human lives and families being disrupted," Rep. Thomas said.
More than fifty people came at different times throughout the night.
In the morning, the group held a press conference and delivered a petition with over five thousand signatures to Reed's office, along with a letter requesting that he meet with them.
The Mayor refused to meet.
To be sure, his actions touched many hearts earlier this month, when he agreed to save Mattie Jackson's home, deviating from the City's plan in order to do so.  Activists are asking the Mayor to extend the same benignity to the remaining families.
The residents fighting for their homes remain unfazed by the lack of a meeting.
"We're in it for the long haul.  The only way to win a fight is to stay in it," Mr. Darden said.
(END/2015)