Angela Moore Disqualified in SD 43 Race; Apparent Perjury on Address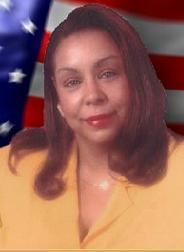 (APN) ATLANTA — Angela Moore–who apparently created a fictitious campaign manager in 2010 to avoid a campaign debt to Atlanta Progressive News–has been disqualified from the November 03, 2015 Special Election for Senate District 43, for not living in the District.
"On October 20, 2015, Judge Michael Malihi of the Office of State Administrative Hearings issued an initial decision finding that Angela C. Moore is not qualified to be a candidate in the November 3, 2015 special election for Georgia Senate District 43.  Secretary of State Brian Kemp has issued a final decision adopting Judge Malihi's findings," according to a notice posted of the Secretary of State's website.
"Since there is insufficient time to strike Angela Moore's name or reprint ballots of the election, a prominent notice shall be placed at each affected polling place advising voters of the disqualification of Angela Moore. Pursuant to O.C.G.A. § 21-2-5(c), all votes cast for Angela Moore shall be void and shall not be counted," the notice states.
"She lives very close to District 43, but her address is not in the district," David Dove, assistant deputy Secretary of State and legal counsel, told the On Common Ground News newspaper.
"We checked her qualifying paperwork in our system, as we do with all candidates, and the address she listed on her paperwork is actually in Senate District 10," Dove said.
In September 2015, after Moore announced her candidacy when State Sen. Ronald Ramsey (D-Lithonia) received a judgeship position, Atlanta Progressive News reported on the bizarre circumstances of Moore's having apparently in 2010 created a fictitious campaign manager in Kentucky who went by two different names and could not even remember their own purported name.
APN also spoke with her former campaign manager from 2006, Kristina Cates, who said that Moore had never paid her, and that Moore had called another candidate a "raghead."
http://atlantaprogressivenews.com/2015/09/20/sd-43-candidate-ms-angela-created-fictitious-person-to-avoid-campaign-debt-apparently/
Moore responded by threatening a defamation lawsuit, which was never filed.  Moore's campaign sent a letter from a purported attorney named Bianca White, who does not exist in the State of Georgia.
http://atlantaprogressivenews.com/2015/09/26/ms-angela-threatens-apn-with-lawsuit-using-fictitious-attorney-apparently/
Meanwhile, the Secretary of State's office discovered that the address she listed as her qualifying address was not within the District.
In an instant message conversation with George Chidi of Peach Pundit blog, forwarded to APN, Moore appears to admit she does not even live at the address she listed, which is not in the District.
"And for the record, My dad lives there with my son.  I own the property," Moore said.
"If you don't actually live there, you've committed an act of fraud.  It is the address from which you (attempted) to qualify for public office," Chidi replied.
"There are many circumstances that you are not aware of and my attorneys are taking care of the issue.  Also, there are other people that have run and have gotten a waiver to run outside of their dst.," Moore replied.
"No.  There are not," Chidi replied.
"Ok," Moore replied.
It is not immediately clear whether her "attorneys" on the residency issue are as fictitious as her last purported attorney, "Bianca White."
"If you're unwilling to discuss this, in public, now, then you're not a serious candidate for public office.  You lack the necessary respect for transparency," Chidi said.
"I am the most honest person you will ever meet and I assure you I have not a thing to hide so stop it," Moore said.
According to Rockdale Citizen, Moore claims that she never received notice that the district was re-mapped in 2010, even though someone running for the Legislature should be familiar with the redistricting process that takes place each decade.
Moore claims that she voted in Sen. Ramsey in 2012; however, this claim seems bizarre given the fact that, if she no longer lived in the District, Ramsey's name should not have appeared on her ballot.
However, even if she received no notice, and she voted for Sen. Ramsey in 2012 despite being ineligible to do so, that does not qualify her to run for office in a district in which she does not live.
"I am not claiming that I live in the dist. sir," Moore wrote.
"Well then.  What in the world are you arguing?" Chidi wrote.
"[T]here is far more to this then you know.  Again, for legal issues I can not discuss.  It will all be of public record soon," Moore said.
Moore told the Rockdale Citizen that she did not receive "notice" of the administrative hearing, even though she did receive notice.  Moore's theory is that, because she requested a continuance, and she was allegedly not informed that it was not granted, she was somehow not responsible for attending the hearing.
"I was not given due process.  They violated my rights, and we are challenging it," Moore told the Rockdale Citizen.
However, "Before the hearing was even scheduled, we reached out to her to let her know.  She was informed," Dove told On Common Ground News.
"The Georgia Secretary of state has held a hearing without me and without giving me proper notice," Moore said.  "I have a legal team who is aggressively defending my candidacy.  I am hopeful that the issue will be resolved before Election Day, but if not, we have to ask for the election to be voided."
(END/2015)