Clayton Activist Charged with Illegal Speech, Making Terroristic Threats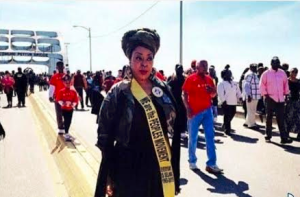 (APN) CLAYTON COUNTY, Georgia — In a case that raises serious concerns about citizens' free speech rights under the federal and state Constitutions, Latausha Nedd, a Black woman from Clayton County, is charged with criminal solicitation and terroristic threats for talking about killing White people in videos she posted online.
The charges seem disproportionate, considering that White supremacist Dylann Roof was not charged with terrorism for actually killing nine Black people in a June 17, 2015 shooting at a Charleston, South Carolina church.
The charges Nedd is facing could potentially result in a sentence of five to ten years in prison, or a 50,000 dollar fine, or both, in Georgia.
Nedd made the videos in response to members of a right-wing vigilante group, called "No Theifs Allowed" [sic], who harassed her online and in person, according to her family, friends, and colleagues.
"Latausha is a well-loved and committed community activist who has worked with several local organizations over the last ten years.  She is an artist, a musician, a singer, and an organizer," Project South, an Atlanta-based organization, said in a statement.
"We stand with Latausha because, if her words and expressions of rage are allowed to be criminalized or called terrorism, not only is her life and well-being threatened; the future of community activism is threatened," the statement read.
Nedd was arrested at her home by the Joint Terrorism Task Force, the Federal Bureau of Investigations, and Clayton County law enforcement on September 24, 2015.
A team of reporters from WSBTV Channel 2 television news was there; someone apparently tipped them off to the arrest beforehand.  The station has had exclusive access to the court proceedings since then.
The federal government quickly dropped its charges, but Clayton County Magistrate Court Judge Wanda Dallas upheld state charges and refused bond in a tense hearing packed with more than thirty of Nedd's supporters on October 15, 2015.
Clayton County Detective Brian McKay testified about receiving an anonymous email with links to clips from Nedd's videos, along with her name and address.  He maintained that law enforcement was unable to determine who sent the email.
"I don't think they want to find the sender's identity," Gerald Griggs, Nedd's attorney, told Atlanta Progressive News.
"They want to focus on my client as some domestic terrorist, when in fact she is the victim of terror," he said.
Under questioning from Griggs, McKay acknowledged that the video clips he saw were not the complete version of the videos Nedd produced.
"These were clips.  They were not viewed in their entirety," Griggs said.
"The entire factual context must be included in order to determine the true threat," he argued, citing a recent ruling by the state Supreme Court in Harrell v. Georgia, which sided with a man who made threatening comments on Facebook.
Assistant District Attorney Sheryl Freeman countered that the ruling says to "look at the surrounding circumstances and the reactions of the listeners."
Detective McKay said in testimony the department issued a Homeland Security memo after discovering the videos.
"The police officers took this threat seriously," Freeman said.
Freeman's conclusion doesn't go far in considering the surrounding circumstances, such as the actions of No Theifs Allowed, or the broader backlash against the Black Lives Matter movement.
http://atlantaprogressivenews.com/2015/08/08/stone-mountains-neo-confederates-target-anti-racist-activists-with-violent-threats-online/
The government's action in this case represent what some advocates call "preemptive prosecutions," which they say have proliferated since the attacks of September 11, 2001.
Support And Legal Advocacy for Muslims (SALAM) and the National Coalition to Protect Civil Freedoms defined preemptive prosecution in a 2014 report.
"Preemptive prosecution is a law enforcement strategy, adopted after 9/11, to target and prosecute individuals… based on suspicion of the defendant's perceived ideology and not on his/her criminal activity," the report said.
The report shows that 94.2 percent of all the terrorism-related convictions the Department of Justice lists between 2001 and 2010 have been either preemptive prosecution cases or cases that involved elements of preemptive prosecution.
Nedd is not the only Black person in Georgia angry about police brutality to be charged as a terrorist.
A woman from East Point is facing the same charge for writing, "All black people should rise up and shoot at every white cop in the nation now," on her Facebook page.
And in Maryland a 20 year-old man is charged with making threats of mass violence for tweeting, "Kill all the white ppl in the town of La Plata."
Groups like No Theifs Allowed fuel preemptive prosecution.
According to its website, the group's mission is to: "expose the tactics of Occupy, domestic terrorists, and other groups that work to undermine the essence of America… We maintain a databank of video, document, and audio files that are used as evidence… in enlightening concerned citizens and law enforcement."
In her statement to police after her arrest, Nedd said members of the group had come to her house, dressed as police officers and tried to lure her outside.  No Theifs Allowed had posted her home address online.
A No Theifs Allowed member named Kevin Cook was especially involved in targeting her.
In one of the videos reviewed by Clayton County Police, Nedd speaks to Cook on the phone.
Cook had asked her why she wants to kill cops.
"I don't want to kill cops, I want to kill you, bitch," she replied.
Despite Nedd clearly stating that she didn't intend to kill police officers, Judge Dallas determined that she did intend to do just that.
The judge based her conclusion on statements made in other clips, like one where Nedd wields a guns and says Black people should declare "open season on cracker cops."
"I do find a true threat here.  I find a threat made to a specific group of people.  White people.  And specifically, white people doing their jobs.  Law enforcement officers," she said.
The judge went on to deliver a lecture that appeared to be driven by her own personal convictions.
"There is clear division in this country.  [We] have an allegation of domestic terrorism when we need to be more united against other forms of terrorism… I sit here having seen disparate treatment.  But do we want to become as culpable as those who have threatened us?  Do we want to incite acts of violence and harm?  Does that fix the harm or does it cause more harm?"
She even suggested the prosecutor add the charge of committing a terroristic act.
Nedd remains in jail under unusually strict conditions.  She can only have one visitor per week. Her lawyer has tried to make an exception for her father, who himself is a police trainer from New York.
He told APN he does not view his daughter's videos as posing a real threat to law enforcement.
Project South has called for supporters to pack the courtroom at Nedd's next hearing.
The hearing will be held at 8am on Friday, October 23, 2015 in Room 201 of the Clayton County Magistrate Court.
(END/2015)