Georgia Medical Cannabis Commission Hears Benefits of THC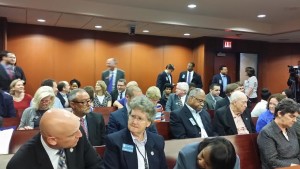 (APN) ATLANTA — On Wednesday, September 30, 2015, the Georgia Commission on Medical Cannabis latest hearing erupted in debate between two Commission Members on whether Tetrahydrocannabinol (THC), one of the chemical components of cannabis, is harmful or beneficial.
Dr. Yong Park, a neurologist with Georgia Regents University, and Dr. Cynthia Wetmore, Hematologist/Oncologist, with Children's Healthcare of Atlanta, disagreed with each other regarding THC.
Dr. Park stated THC was not good for the brain, nervous system, or for seizure control and that this information was scientifically proven.
"There is no conclusive evidence that THC causes damage to the brain and I beg to differ with Dr. Park," Dr. Wetmore responded.
"Most of the drugs we give children with cancer and seizures is far more harmful than marijuana.  Many of the drugs we use are not FDA [U.S. Food and Drug Administration] approved for children," Dr. Wetmore said.
"If you give a rat eight hundred gallons of Diet Coke, they are not going to do well.  If you give a mouse huge amounts of THC or CBD or anything, you can cause damage to the nervous system, " Dr. Wetmore said.
It is well-known that THC has many medical benefits.
What does damage the brain and nervous system is multiple sclerosis (MS) and severe childhood epilepsy.  As these conditions progress, even more damage is done to the brain and nervous system.
Dr. Park advocated for GW Pharmaceutical's synthetic cannabis products for seizures; and against natural THC, which he considers not useful and damaging.
"I think the hearings are going well and we are going in the right direction but I'm concerned about Dr. Park's presentation.  I felt that he has a bias in favor of GW Pharmaceutical and their products,"James Bell with Georgia Campaign for Access, Reform and Education (CARE) told APN.
"I think he presented information to the Commission that was unfounded when he said THC has no use and no medical value, that is misinformation.  I question a person with a bias like this serving on a Commission and trying to influence decision-making," Bell said to APN.
Park said his other concerns were his belief that physicians did not know the correct cannabis dosages to use; and that medical cannabis does not have FDA approval.
"A lot of these kids did not have time to wait for FDA approval.  I know that goes against the grain of the medical practice, but kids are dying while we were waiting," State Rep. Allen Peake (R-Macon) said.
Dr. Mandy Reece, a pharmacist on the Commission, shared with the Committee members that the State of Minnesota has a medical cannabis program that has specific dosage algorithms.
"They are using the natural product, not synthetic THC.  They have specific dosing algorithms for cancer, epilepsy, and HIV," Dr. Reece said.
Cannabis has been used throughout history for thousand of years.  Medical research and literature on cannabis has been available for decades all over the world for anyone wanting to find it.
Benefits of THC were cited in Dr. Wetmore's presentation.  She explained that opiates can't control most cancer pain or neuropathic pain.  A blind trial supported the use of THC and CBD with other medications to control pain not controlled by opiates.
There are over one hundreds different cannabinoids contained within the cannabis plant and THC acts on two receptors, CB1 and CB2.
Investigative researchers are stimulating the CB1 and CB2 receptors with THC and CBD to fight tumor growth with some success.
Wetmore tells the Commission that the infusion of THC and a small amount of CBD prevented a harmless brain tumor from invading the normal tissue and seems to decrease tumor cell migration in lung cancer in animal studies.
"In conclusion, there is research that THC and CBD or some combination does provide relief from pain and possibly even kills cancer cells," Rep. Peake said.
Additional information was given to the Commission by Dr. Steven Morris with Atlanta Gastroenterology Associates.  They serve over three thousand patients with Crohn's disease.  There is no cure for Crohn's disease but many of the symptoms can be helped with medical cannabis.
"We know that medical cannabis has great benefits in reducing pain, increasing appetite and reducing nausea,"  Dr. Morris said.
Morris cited Israel as having the most advanced research in the medical use of cannabis.  The most common illnesses they treat with cannabis are cancer, chronic pain, childhood epilepsy, Crohn's, and Post Traumatic Stress Disorder (PTSD).
The commission heard from two retired veterans ,Sully and Ruth Chainey, from Blue Ridge, Georgia.  Ruth has multiple sclerosis (MS) and her spasticity and pain was helped by using cannabis.
They wanted to control the quality of the product and started growing it to treat her medical condition.  A few months later, a drug task force arrested and indicated them.  Eventually the charges were dismissed mainly because of Ruth's MS and the fact they were veterans with a clean criminal record.
It is important for this Commission to come up with a way to grow the product in State, so citizens no longer have to break the law and risk incarceration to treat their medical conditions.
The next Commission meeting is scheduled for October 28, 2015, when they will hear the concerns from law enforcement.
(END/2015)