Tiny Home Movement Arrives in Atlanta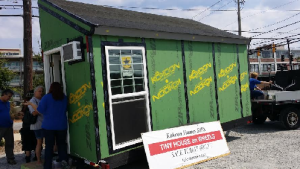 (APN) ATLANTA — The Tiny Home Movement is rapidly spreading across the country from Washington State to Florida.  A tiny home is anything under 500 square feet.
Atlanta is beginning to join the Tiny Home Movement, in part due to the work of Will Johnston.  He hosts monthly meetings to advocate and educate the public and politicians on the benefits of tiny homes.  
"Tiny Homes will benefit millennials and the elderly.  We are working on allowing millennials to live within areas close to their work.  Also seniors can downsize and stay within the neighborhood they want to live in.  It will allow people to build tiny homes in their backyard to live in and rent out their home," Johnson told Atlanta Progressive News.
People are moving to tiny homes for economic and environmental reasons: freedom from expensive traditional home mortgages, having an easier time heating and cooling their homes, the freedom to be on or off the grid, having a smaller environmental footprint, having fewer possessions, having less stress and more time to enjoy life, and having the ability to move your home.
The City Council of Atlanta has taken notice of this downsizing trend and passed a resolution, 15-R-3803, on August 17, 2015, to conduct a feasibility study on the use of tiny homes and micro unit apartment housing in the City of Atlanta.  It passed thirteen to zero, with Keisha Lance Bottoms (District 11) and Michael Julian Bond (Post 1-at-large) not voting.
Current building code requirements in Atlanta, as in many other cities, will need tweaking to allow for homes less than five hundred square feet inside the City of Atlanta.   
Many other U.S. cities have already joined the tiny home movement to provide homes for the homeless people, students, senior citizens, and others who can't afford or don't want to be burdened with a huge mortgage, or burdensome rental payments.
There are a number of tiny home builders in Metro Atlanta and many people have shown an interest in building a tiny home.  A few are tinyhomebuilder.com , tinyhouseofthesouth.com , and  http://www.wyn-box.com/ .
One builder, Kokoon Homes out of Toccoa, Georgia, attended Johnson's meeting and brought a model tiny home on wheels for display at Trees Atlanta on Chester Avenue.
It was their smallest model, 7×18 feet or 126 square feet, that can be towed by some sport utility cars.  The cost for this shell model is under eight thousand dollars.  
The buyer can finish the interior for between five to twenty thousand dollars, depending on how thrifty and how much of the work one can do themselves.   
The next step up is a 8×20 or 160 square foot model for 12,900 dollars; and size and price goes on up to full size homes.
Kokoon Homes are not residential vehicles (RV's); they are constructed to the standards of the National Home Builder Association.  They use steel beams, which are lighter and stronger than wood.  
The insulation is a soy based foam that expands and is strong and durable.  The entire cocoon or shell is fire retardant, mold and mildew resistant, very energy efficient, and rated for a 120 MPH wind load.
Carolyn Kayne with Lakewood Environmental Arts Foundation (LEAF) was present to get more information about tiny homes.  
"We are building a sustainable living community for artists on ten acres next to the Swann Nature Preserve.  We have 22 buildable lots and part of that property will be made into an area where tiny homes can be parked," Kayne told APN.
(END/2015)