Atlanta's Midtown to Get Rainbow Crosswalks, but Only Temporarily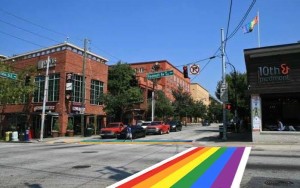 (APN) ATLANTA — The temporary installation of Atlanta Rainbow Crosswalks passed the Atlanta City Council at the Full Council meeting on Monday, September 21, 2015; and they are set to be installed in time for Atlanta's gay pride weekend for 2015.
Much to the dismay of supporters, however, the language of the resolution was changed to make the art installation a temporary, rather than permanent, fixture at Tenth Street and Piedmont Avenue in Atlanta's Midtown community.
"The big picture in this case, unfortunately, is there are some snags between Public Works and the Law Department," Atlanta City Councilman Kwanza Hall (District 2) said in an interview.  
"Well, from the Public Works Department, the issue was raised that they felt there was a safety component.  That is their opinion, there is a safety component to putting actual bright colored paint on the ground as opposed to the brick pavers," Hall said.
Robert Sepulveda, Jr., founder of The Atlanta Rainbow Crosswalks, scoffed at the concerns.
"The City states safety concerns, but there are other crosswalks in the city that are different, that are not the norm… if they have safety issues why are they doing it for two weeks anyway?" Sepulveda told Atlanta Progressive News, after Monday's City Council meeting.
During the meeting, a resident identifying himself as James Allen, Jr., spoke out against the rainbow crosswalk.
"I will go along with that artwork being put there temporarily.  Put it there until they have their celebration, but when the celebration is over remove the paint," Allen said.
"Once we've set a precedent for one, any particular initiative, it could become a precedent for other groups complaining they haven't had the right to do this as well," Hall said, giving the example of a group wanting to put the Confederate flag in a prominent location in the city.
The Atlanta Rainbow Crosswalks will continue working to make the installation permanent.  The crosswalk is currently set to be installed by October 3, 2015.
(END/2015)