Stewart Detention Center On Lockdown as Detainees Protest Inhumane Conditions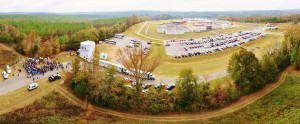 (APN) ATLANTA — Detainees at Stewart Detention Center in Lumpkin, Georgia were apparently met with retaliation for protesting inhumane conditions this week.
"We are deeply concerned for people currently detained at Stewart.  As communication in and out of the facility has been limited, it has been difficult to monitor the situation," Silky Shah, co-director of the Detention Watch Network, said in a press statement.
The trouble came to light on September 04, 2015, when guards at Stewart ceased allowing visitation.
"I personally met a family that had driven over 900 miles from Chicago to visit a loved one," Anton Flores-Maisonet of Georgia Detention Watch said.
"How heart wrenching to see a sister of someone detained, travel such distance only to be turned away without explanation and with her concerns only heightened," he said.
Georgia Detention Watch was able to determine the lockdown was sparked by protests, though they haven't released further details.
In the past, detainees at Stewart have initiated hunger strikes and work stoppages to protest what they say are: lack of due process, poor food quality, inadequate medical care, overcrowding, and unhygienic living conditions.  
Complaints have ranged from being served rotten food, to showering in water that caused rashes.
In response to this most recent protest, Stewart officials not only cut off phone access and visitation, they also suspended religious services and regular meal service, according to Georgia Detention Watch.
Stewart Detention Center is owned and operated by Corrections Corporations of America, the largest owner of for-profit prisons and immigration detention facilities in the nation.
According to the Center For Media and Democracy, CCA's revenue in 2013 was 300 million dollars, the entirety of which came from taxpayers via government contracts.
"Immediate investigative action should be taken and Corrections Corporation of America, the Stewart County Commissioners, and ICE should publish findings from their investigation as a first step toward ensuring transparent management of the facility," Shah said.
(END/2015)