Activists, Mother Demand Video in Alexia Christian Police Killing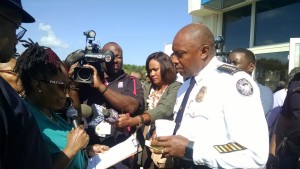 (APN) ATLANTA — "No justice, no peace!  No tape-hiding police!" came the chant outside a west Atlanta IHOP restaurant on the morning of Tuesday, September 1, 2015.
In April 2015, two Atlanta Police Department (APD) officers shot and killed Alexia Christian in highly questionable circumstances.
APN has previously reported on the police killing in depth:
http://atlantaprogressivenews.com/2015/05/15/atlanta-citizens-review-board-gets-on-activists-last-nerve/
http://atlantaprogressivenews.com/2015/08/22/its-bigger-than-you-holds-one-year-anniversary-march/
http://atlantaprogressivenews.com/2015/09/01/rcp-black-activists-feud-on-twitter-as-janelle-monae-performs-in-atlanta/
Family, activists, and several community organizations gathered to pressure APD Chief George Turner to release the dash cameras and surveillance videos from a nearby parking garage that would shed light on what happened.
"They dehumanized [Alexia] on television, they made her look so bad.  She has two children that are going to be raised without her now.  Chief Turner had no regards in calling me, in saying anything to me or my family, about my daughter's death… I ask that Chief Turner come out here, on my grounds, and talk to me and the public," Felecia Christian, Alexia Christian's mother, said.
"What are you all investigating?  It is apparent that she was shot ten times by the police, she wasn't shot once so that she could recuperate and do her time, if indeed she did commit a crime," Christian added.
After almost forty five minutes, Chief Turner did briefly step out.
Christian requested that, in addition to the video tapes, that APD release "the full complaint and discipline histories of Officers [Jeffery] Cook and [Omar] Thyme," and all documents involved in the case, including "all versions and drafts of the initial police report and incident report."
Chief Turner rejected the requests, explaining, "There is a process we have to finish up, and the judiciary system has to have that evidential information to make a determination whether to move forward with any charges."
[Editor's Note: Turner appears to have violated the Georgia Open Records Act, at least with respect to the officers' disciplinary histories, which would not be covered by the ongoing investigation exception.  However, activists would have to submit the request in writing to be able to challenge the denial of records in court.]
Christian and her family ultimately agreed to sit down with Chief Turner and have a private conversation.
At a press conference held later that day, Christian announced that Chief Turner had turned the case over to the District Attorney.
"What that means is the DA will look over the case to see if there is just cause to charge the officers involved criminally," Elizabeth Espy, APD's Director of Public Affairs, said via email.
APD is largely remaining quiet about Christian's case and the demands of the family.  However Chief Turner has publicly stated he is "committed to having more dialogue."
Christian continues to ask for the video tapes and other requested information to be released to her family and the public.
"Unfortunately, he did not agree to our reasonable requests.  Which means we will keep up the pressure, keep up the fight until we get him to do what he should have already done.  Chief Turner pretends that he could not release the tapes.  But he is the Chief of Police, there is absolutely nothing that can prevent him from releasing the tapes if he chooses to," Christian said.
"It is entirely at Chief Turner's discretion to release those tapes.  His lawyer may advise him not to, but that has nothing to do with whether the possess the power to do so," Dean Stead, with Women on the Rise, stated at the press conference.
[Editor's note: Indeed, while the Georgia Open Records Act provides for exceptions for certain categories of records, these exceptions allow, but do not, in and of themselves, prohibit, agency officials from releasing those records.]
State Sen. Vincent Fort (D-Atlanta) attended the press conference and spoke out about the Christian family's ongoing fight for answers.
"We extend our sympathies to the family of Alexia Christian… We will not sleep, we will not rest, we will not back down until we get this information… The community cannot have confidence in the police, the community cannot have confidence in the justice system, if they don't believe the police have as their objective the truth," Sen. Fort said.
"As a mother, I deserve to know what happened to Alexia.  Every mother and father should deserve to know what happens when those who pledge to protect and serve instead shoot your child dead in the backseat of a patrol car," Christian said.
(END/2015)