Transgender Activists Take Issue with MARTA, APD; Say Black Trans Lives Matter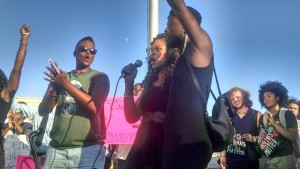 (APN) ATLANTA — Atlantans joined with activists in other U.S. cities for Trans Liberation Tuesday on August 25, 2015, with nearly one hundred supporters gathering at Underground Atlanta for the event.
Organizers of the event spoke with Atlanta Progressive News about problems with the Metropolitan Atlanta Rapid Transit Authority (MARTA) and the Atlanta Police Department (APD) the transgender community has been trying to address for years.
Trans Liberation Tuesday came out of a call from the Black Lives Matter national committee for there to be a day of action.
In 2015, there have been over twenty reported murders of transgender women, predominantly transgender women of color.  August 2015 alone has seen four transgender women killed: Amber Monroe, Kandis Capri, Elisha Walker, and Tamara Dominguez.
"We are beautiful, we are valuable, we do deserve to live, and we are powerful, and we are here to take back our voices, our lives, and our experiences," organizer Raquel Willis told the crowd.
"We're here in front of the MARTA station, in front of the Underground, because just two weeks ago a Black trans woman was harassed and a victim of violence on the MARTA train.  And so we're bringing awareness that this happens all the time, and we are demanding that it stops," Toni-Michelle Williams, one of the organizers, said.
According to the organizers of the event, there have been five incidents on MARTA in the past year involving the harassment of Black trans women.  
In May of 2014 there was a particularly egregious event where three women were taunted, yelled at, kicked, and punched, and one woman was pinned down and stripped naked.  The incident was caught on a cell phone camera; however, neither other riders nor MARTA officers took any immediate actions to intervene.
Micky Bradford, one of the organizers, said she would like to see, "a release of policies that clearly address trans and gender nonconforming people that ride MARTA."
Atlanta Progressive News reached out to MARTA to determine if there were any existing policies in place.  While MARTA did not affirmatively admit it lacked such policies, it responded to several requests for copies of any and all said policies as follows:
"MARTA's policies and procedures are in place to ensure the safety and security of every customer.  We neither condone nor tolerate acts of abuse or mistreatment on our transit system and will continue working with the LGBT community to identify areas for improvement, whenever possible.  I'm unaware of the incidents you're referring to and any specific complaints or concerns should be directed to MARTA's Office of Diversity and Inclusion or reported to the MARTA Police Department for investigation," Lyle V. Harris, Chief Spokesperson for MARTA, said in an email.
Harris provided a list of LGBTQI-related community events that MARTA has attended, including several centered around transgender issues.  It is not immediately clear how those meetings did not result in adoption of transgender policies by MARTA.
On the other hand, last year, in October 2014, the APD passed a new set of Standard Operating Procedures – SOPs – that inform how officers are supposed to interact with trans and gender non-conforming individuals.
However, those SOPs were created without any involvement from the trans community, and after outcry from leaders and activists, the APD held two community town halls and one smaller meeting with select leaders before releasing a slightly revised set of SOPs in May of 2015.
The revised SOPs, provided to by the APD to APN, include:
"Employees will treat transgender, intersex, and gender nonconforming individuals in a manner appropriate to the individual's gender identity, which may be different from the sex that the individual was assigned at birth or listed on their official government-issued identification;"
"Employees should use pronouns that match the gender identity of the individual (e.g., "she, her,
hers" for an individual whose gender identity is female; "he, him, his" for an individual whose
gender identity is male);" and
"Employees shall not refer to any person in a derogatory manner because of their gender identity
or gender expression."
One shortcoming of these policies is that many of the APD's rules regarding use of an individual's preferred name and pronoun, do not include address written documentation.
Changing the name and sex marker that appear on government-issued documents can be both expensive and legally difficult for many transgender individuals, so this exclusion has broad impacts.
"I will say that although those SOPs have been passed, they are not the most progressive SOPs. So, they do not include the language of the trans community, it is not inclusive of our language," Williams said.
Trans leaders from around the country drafted model SOPs, which can be found here:
http://www.rjactioncenter.org/sites/default/files/files/Model%20Trans%20SOPs%20Atlanta.pdf
These model rules were presented to the APD at the two community meetings; however, key areas, like prisoner transport, bathroom use, searches, specific demeaning language, and handling of complaints, were either never included or included with different language.
"What I can tell you is all of our recruits and all of our officers receive our LGBT diversity class. And in that class we go over language uses, terms, pronouns, searches, we cover everything that you're talking about," Officer C.J. Murphy, APD LGBT Liaison, said in an interview.
Officer Murphy also stated that some of the concerns raised by the trans community are addressed in other SOPs, and are simply not present in the LGBT SOPs to avoid redundancy.
"Transgender women are four times more likely to experience police violence and six times more likely to experience physical violence when interacting with the police," when compared with overall victims of police violence," according to a recent report by the Transformative Justice Law Project of Illinois,
"There are so many stories here just in Atlanta of Black trans women who engage in survival sex work who have been approached by police officers… being asked for sexual favors, and the incentive is to not be jailed or not to be imprisoned… And so, what we are actually doing as a coalition, Solutions Not Punishment Coalition, is developing surveys for Black trans folk in Atlanta who have had these experiences," Williams said.
Officer Murphy said she was unaware of such complaints, and that, "If anybody does have a concern or complaint, they can contact us directly, we will handle it."  She gave the phone number (404) 546-LGBT for community members to use.
"If the most marginalized of us is not safe, how in the world is any of us safe?  These rules can be flipped on any one of us at any time, but the most targeted are Black trans women.  It is our duty to hold every single institution accountable, to both the leadership and safety of black trans women," Bradford told the crowd.
"Laverne Cox [popular transgender actress on the series, Orange is the New Black] has come out saying we're in a state of emergency, because it's been so real out here for Black trans women.  We are dealing with a lot of discrimination when it comes to violence and murder, of course, but then housing discrimination, discrimination of course in education, job discrimination.  And then we can't even use basic facilities without people coming after us," Willis said.
In Georgia, and 31 other U.S. states, it is legal to deny employment on the basis of gender identity.  An astounding 97 percent of transgender people report experiencing harassment or discrimination on the job, according to the U.S. Human Rights Network.
Startlingly: the average life expectancy of a Black transgender woman is just 35 years old. According to the Youth Suicide Prevention Program, "more than 50% of Transgender youth will have had at least one suicide attempt by their 20th birthday."
"We're your children, we're your aunties, your uncles, your cousins, your sons, and your daughters.  We are in your lives.  We are on the MARTA with you, we are walking on the street with you, we just want us to have a safe space in your space.  We want to be able to share this space in this beautiful world that God has created for us together in unison, in love, in peace, in power, and in liberation," Williams said.
"This our time to make sure we are heard, to make sure that we get policies that protect us, that keep people from using the trans panic defense as a means to say it's okay for us to be killed, to be killed by lovers, to be killed by community members, to be killed by strangers," Willis said.
"The main thing I want people to know is the conversation isn't going to stop here.  It doesn't stop at rallies, and protests, and actions, that conversation has to keep going.  It's something that you have to live with every day, so you have to make sure with language and mis-gendering people that you are respectful of people, it's the little things, it's educating other cis* people on how they can be more aware and more educated and better allies to our community," Willis said.
[Editor's note: Cisgender is a term that has gained in popularity over the last couple years, which refers to people whose gender identity is consistent with their assigned sex at birth.]
(END/2015)