NAACP Marches Through Atlanta on 860 Mile Journey to D.C.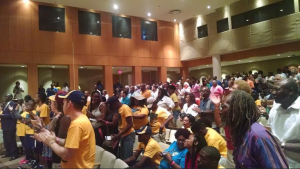 (APN) ATLANTA — The National Association for the Advancement of Colored People's "America's Journey for Justice" mass meeting garnered nearly two hundred attendees on Friday, August 14, 2015 at the King Center.
Atlanta marked mile 234 of a planned 860-mile march from Selma, Alabama, to Washington, D.C.
The catchphrase "Our Lives, Our Votes, Our Jobs, and Our Schools Matter," echoed throughout the evening.  The NAACP's America's Journey for Justice agenda centers on reform in four key areas: criminal justice, voting, jobs, and education.
"We find ourselves at a crossroads of history, between crisis and controversy," Cornell William Brooks, President and CEO of the NAACP, said in his remarks at the King Center.
"We can lie down and capitulate… or we can stand against injustice, stand against bigotry, stand against racism, stand against sexism," Brooks said.
Black men are "21 times more likely to lose their lives at the hands of the police than their White counterparts," while one in four Black men "report being racially profiled in a given month," Brooks said.
Many at the event spoke out against the proposed Opportunity School District constitutional amendment advanced by Georgia Gov. Nathan Deal and passed by the Legislature this past session.
The amendment, which allows the State to take over low-performing schools, will be up for a vote during the November 2016 elections.
"The Opportunity School District amendment is wrong for the children of Georgia.  There is no language in this amendment to improve schools, there is no language in this amendment to boost any achievement for the children… It is going to silence your local school boards, it's going to silence the parents, it's going to silence the teachers," Remonia Toombs, speaking on behalf of the Georgia Federation of Teachers, told the crowd.
"This amendment is based on failed attempts in other parts of the country," referring to similar policies in Louisiana and Michigan, Toombs said.
The NAACP opposes the Opportunity School District amendment, and further calls for "federal action to ensure every student has access to safe, high quality education."
"The NAACP stands for well-funded, high quality educational opportunities, pre-k through 12th grade, and then post-high school opportunities… that are affordable and accessible.  Anything that puts an obstacle in the way of the citizenry achieving that, we are against," Rev. Dr. Francys Johnson, President of the Georgia NAACP, said.
"The government, which hasn't done such a good job running our schools at this point, should take them over and give them to private companies who don't have the public good incentive… we don't see that as the solution to the crisis we have in public education.  The Opportunity School District is the wrong policy solution," Johnson said.
"I would tell the Governor that we need a 21st century education model… Let's look at some real solutions that would make sense today.  Let's look at how we fund our schools… We need a wholesale reevaluation of how we educate," Rev. Dr. Johnson said.
The NAACP's complete America's Journey for Justice agenda can be found at:
http://action.naacp.org/page/s/our-agenda
State Sens. Vincent Fort (D-Atlanta) and Nan Orrock (D-Atlanta) both were in attendance.
"We are sometimes embarrassed and ashamed for what happens under the Gold Dome… We have a lot of work to do, but the beginning is here," Sen. Fort said.
Marchers' next stops include Athens and Augusta, Georgia, before heading to South Carolina in the upcoming weeks.
The march will culminate in a final rally and advocacy day on September 16, 2015 in Washington, D.C.
(END/2015)