Atlanta Councilman Receives Threat after Stone Mountain Resolution Passes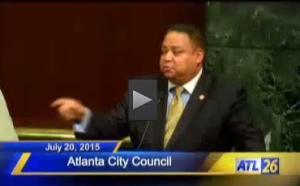 (APN) ATLANTA — On July 20, 2015, the City Council of Atlanta approved and adopted 15-R-3870, a resolution by Councilman Michael Julian Bond (Post 1 At-Large), calling for Georgia Gov. Nathan Deal to approve and implement a study group to determine what additions, if any, could be added Georgia's well-known icon, Stone Mountain.
The carving there depicts three figures of the former Confederate States of America: Stonewall Jackson, Robert E. Lee, and Jefferson Davis.  The Confederate flag is also flown there.
Activists including the Atlanta Branch of the National Association for the Advancement of Colored People (NAACP) have in recent weeks been calling for the carving and the flag to be removed.
The Atlanta Council resolution, however, discusses making additions to the carving; not subtractions.
The memorial is protected by OCGA 50-3-1(c), which states: "the memorial to the heroes of the Confederate States of America graven upon the face of Stone Mountain shall never be altered, removed, concealed, or obscured in any fashion and shall be preserved and protected for all time as a tribute to the bravery and heroism of the citizens of this state who suffered and died in their cause."
The vote was nine to two, with Councilmembers Howard Shook (District 7) and Alex Wan (District 6) voting nay.
Councilmembers Yolanda Adrean (District 8), Keisha Lance Bottoms (District 11), and Cleta Winslow (District 4) were absent; and Councilwoman Mary Norwood (Post 2 At-Large) was away.
Following the vote, Bond received a threatening email that has he has forwarded to the Atlanta Police Department.  "The only good (n*****) is a dead (n*****)," the email said.
Bond tells Atlanta Progressive News that his family also has a history of facing oppression from racists including the Ku Klux Klan.
"Ever since I was a kid… my dad [former State Rep. Julian Bond (D-Atlanta)] ran across the KKK… there were lots of threats.  We were stalked over the years, by a lot of strange characters.  It almost feels almost routine, but it's not routine.  You have to take every instance extremely seriously.  It's a tragedy it happens so often," Bond told APN.
"What we are asking him [Gov. Deal] to do is a study group, commission, or even a blue ribbon panel, and look at and explore how it [additions] can be done.  It can be carved, but what are the logistics and cost?  The cost should be raised privately…  Technology in stone working has changed quite a bit; it would only take three to five years, according to similar projects in other states, to add to the face of the mountain," Bond told APN.
"This is good for a headline, a lot of people will respond in a negative way… we get further apart, not closer together," Councilman Shook said at the meeting, in opposition to the resolution.
"I grew up in Stone Mountain, I don't know if a lot of you know that.  I echo what Councilman Shook says.  I would be supportive about an affirmative statement, in general, about our position on symbols that could be perceived as being racist.  But this is a bit of stretch for the Council to be doing at this time and I'm not sure this has the positive effect that we should be taking on this issue," Councilman Wan said at the meeting, in opposition to the resolution.
"I guess depending on where you grew up, you have a different perspective.  I was born in Butler, Alabama, in the Black Belt of Alabama and for those of us that grew up in the Black Belt of Alabama, [we] liken this symbol as the Nazis did with the swastika," Councilman Ivory Lee Young (District 3) said.
"When you talk about people that would just disappear without notice, when you've come from an area where there are people you've heard about, my cousin they don't know where he is, he just disappeared.  When you see people literally going into neighborhoods, Black neighborhoods, carrying this flag, feeling they have the license to speak to, to disrespect, to treat in an inhumane way, a group of people out of sheer hate, what follows the hate?  Always the symbol," Young said.
"The Stone Mountain Park Memorial is supported by tax dollars from a broad spectrum of citizens.  The memorial that is placed there does not represent my cultural perspective, but it is supported by my tax dollars; and Stone Mountain being an icon in the State of Georgia, ought to reflect all of Georgia, if a portion of it will be supported by tax dollars," Bond said at the Council Meeting.
"There have been proposals to remove that side of the mountain; that would only leave Stone Mountain with an ugly scar just like the Civil War has left America with an ugly scar.  But it's not beyond appeal to adapt that large granite face with more artwork and more interpretation," Bond said.
Bond believes the carving should include "other individuals like Georgia's only President James Carter or his fellow Nobel Prize winner Dr. Martin Luther King, Jr.  The Civil War was only four years of Georgia's 250 year history," Bond said.
(END/2015)