Deputy Indicted, Lied for No Knock Warrant in Baby Bou Bou Case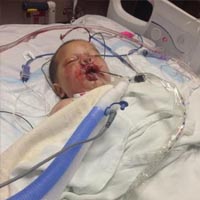 (APN) ATLANTA — A former Habersham County Deputy, Nikki Autry, has been indicted by a federal grand jury on four counts of criminal civil rights violations for providing false information to obtain a "no-knock" search warrant.
The no knock warrant allowed a police raid on the Phonesavanh family's home that resulted in their 18 month-old baby being critically injured by a military grade flash grenade that police threw into his crib.  The grenade blew part of Bounkham "Baby Bou Bou" Phonesavanh face off and ripped his chest open to the bone.
At the time of the raid, Autry was working as a special agent of the Mountain Judicial Circuit Narcotics Criminal Investigation and Suppression Team (NCIS).
According to the indictment, Autry relied on information from a confidential informant (CI) that methamphetamine was purchased at that residence.  She confirmed there was heavy traffic going in and out of the residence.   She claimed the CI was reliable and had provided reliable information in the past that led to criminal charges on individuals selling illegal drugs.
All of these claims by Autry were proved to be false.
There was no probable cause for the no-knock warrant or to search the Phonesavanh home for drugs.  The civil rights of all the people present in the house were violated.
The suspected drug dealer the police were after, Wanis Thonetheva, Baby Bou Bou's uncle, was later arrested at a nearby house.
A state grand jury failed to indict the case, but a federal grand jury has now reversed that decision.
As reported earlier by Atlanta Progressive News, the police attack on Baby Bou Bou's has raised many issues including the militarization of police, the legality of no-knocks warrants, and the so-called war on drugs that has made the United States the number one jailer in the world.
http://atlantaprogressivenews.com/2014/06/07/rally-held-for-baby-injured-by-police-grenade-during-no-knock-home-invasion/
Since the May 2014 incident, Baby Bou Bou has undergone eleven surgeries and his medical bills have amounted to over one million dollars.
Earlier this year, Habersham County paid the family nearly one million which doesn't cover all the medical costs nor does it compensate for the trauma suffered by the family and Baby Bou Bou.
(END/2015)