Common Cause Files IRS Tax Fraud Claim against ALEC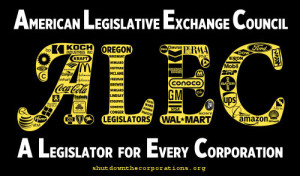 (APN) ATLANTA — The national organization Common Cause has filed a whistleblower Internal Revenue Service (IRS) tax fraud claim against the American Legislative Exchange Council (ALEC).
They are charging ALEC with falsely claiming to be a tax-exempt non-profit organization, to subsidize its lobbying and model legislation to benefit corporate interests.
The first complaint was filed against ALEC in April 2012.
A supplemental complaint was filed on May 12, 2015 by Common Cause and the Center for Media and Democracy.  The second complaint alleges that ALEC exists to provide a vehicle for corporations to lobby and influence state legislators.
http://www.commoncause.org/issues/more-democracy-reforms/alec/whistleblower-complaint/supplemental-complaint-2015/supplemental-complaint-2015.pdf
Atlanta Progressive News first wrote about ALEC in 2011, before the organization became widely known nationally.  APN exposed ALEC's repressive model legislation in Georgia including legislation opposing immigration, promoting stand your ground, furthering voter suppression, allowing guns everywhere, and opposing Medicaid expansion.
http://atlantaprogressivenews.com/2011/05/26/ips-prison-lobbyists-help-spread-anti-immigrant-laws-to-u-s-south/
http://atlantaprogressivenews.com/2012/05/23/ips-citizens-challenge-corporate-ties-to-alec-heartland-institute/
Model legislation is written by ALEC and corporate lobbyists; then it is given to state legislators, who introduce it into State House and Senate chambers to become law.  This process seriously undermines popular democracy in our state governments by excluding input from average citizens.
Some of the evidence against ALEC includes statements from twenty corporations that they joined ALEC to gain access to lawmakers and influence legislation.
Documents provided by Common Cause reveal that in 2011, ALEC spent 600,000 dollars to subsidize lawmakers' travel to luxury resorts, but they only reported 125,722 dollars.
http://www.commoncause.org/policy-and-litigation/letters-to-government-officials/joint-letter-to-irs-alec-tax-status.pdf
ALEC is a corporate lobbying group masquerading as a 501(c)(3) charitable non-profit, Common Cause claims.
ALEC submits annual reports to the IRS with zero filled in for the amount they spend on lobbying.
"They don't pay taxes, and a lot of groups that lobby don't pay taxes, but the problem here is that the companies that donate to ALEC, so they can function, get a tax deduction for their donations.  You and me and everyone else who is a taxpayer end up subsidizing their lobbying because that's tax revenue that the federal government isn't getting from them that we're making up," Dale Eisman, Acting Director of Communications at Common Cause, told APN in a phone interview.
ALEC apparently tried to fix their tax problems by creating an affiliated 501(c)(4) spin off, the Jeffersonian Project, that is supposedly now their lobby arm.
"The filings we've seen with the Jeffersonian Project indicate they haven't taken any tax write offs.  They fill in zero on a form which says how much have you spent on lobbying.  They continue to do lobbying kinds of activities through ALEC.  The scholarship fund to pay for legislators to go to these meeting is through ALEC and we think that is a lobbying function.  So they continue to do through ALEC what we consider lobbying and what we think the law is clear is lobbying," Eisman said.
Recently an investigative reporter with Atlanta's NBC 11Alive television news was kicked out of an ALEC meeting in Savannah, Georgia, by armed guards.
It was at this resort hotel that our elected officials and corporate lobbyists held secret meetings to decide on what legislation they want to become law in Georgia.
State Sen. Renee Unterman (R-Buford), in the 11Alive report, called ALEC a group of "angry White men," and said the organization that was once controlled by legislators is now "controlled by industry."  Sen. Unterman was once a member of ALEC but left the organization years ago.
11Alive also noted that the General Assembly is not subject to the Georgia Open Meetings Act or the Georgia Open Records Act.
The ALEC Exposed website has a list of ALEC's model legislation.
"If you lay them side by side with bills introduced by legislators, they are word for word, paragraph for paragraph identical," Eisman said.
"Lobbyists write these bills and then wine and dine the lawmakers behind closed doors.  They get them to introduce the bills and nobody's the wiser as to who actually is behind all this and that's not good for democracy," Eisman said.
http://www.alecexposed.org/wiki/ALEC_Exposed
ALEC bills are by and for corporations, and ALEC gives them more power to use their vast financial resources to influence elections and limit democratic participation.
Democracy is not only for sale, it has been sold.
The U.S. is rapidly becoming an oligarchy where economic elites representing corporate interests have too much influence in policy and laws that negatively impact the average citizen.
Below is a link to a list of Georgia politicians who are ALEC members, on the Sourcewatch website, published by the Center for Media and Democracy.
APN contacted CMD about how they update the list, seeing as how Sen. Unterman said she no longer was a member.
"We update the list on a rolling basis as we get new names to add, since ALEC does not publish a list.  We do note when a legislator leaves, providing we get a note from them in writing.  All of the names should be footnoted, so you can see sources and the date of the source," Nick Surgey, Director of Research, Center for Media and Democracy, explained to APN in an email.
http://www.sourcewatch.org/index.php/Georgia_ALEC_Politicians
(END/2015)