Fulton Commissioners Split on Denying Atlanta Annexation, Pass Resolution Expressing Concern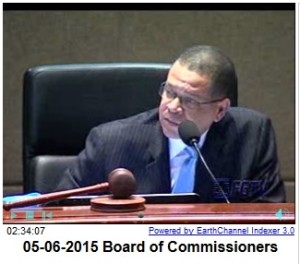 (APN) ATLANTA — On Wednesday May 06, 2015, the Fulton County Board of Commissioners met and discussed the attempts of three neighborhoods in south Fulton County–Sandtown, Loch Lomond and Southoaks–to annex into the City of Atlanta.
There were not enough votes to support motions by Chairman John Eaves (District 7) to deny the annexation requests.
On denying the first annexation, John Eaves and Lee Morris (District 3) voted yea, while Marvin Arrington Jr. (District 5) and Emma Darnell (District 6) voted nay.
In two votes on denying the second and third annexations, it was Eaves and Morris in favor, Arrington Jr. and Darnell opposed, and Bob Ellis (District 2) abstaining.
Commissioner Ellis offered a motion to communicate with Atlanta to delay moving forward with the annexations until an impact study is conducted on Fulton County's schools.  This motion was seconded by Commissioner Darnell and passed unanimously.
The public turnout for this county commission meeting was heavy, considering so much was at stake, according to the many public comments against the annexation of any of the three areas into the City of Atlanta.
At issue is concern that if these communities annex into the City of Atlanta, they will join the Atlanta Public School system instead of the Fulton County Public School system.
Many people in the audience attended with signs hoping to sway the Board of Commissioners.
State Reps. LaDawn Jones (D-Atlanta) and Robert Bruce (D-Atlanta) also testified, to the resounding support of the crowd.
"I am here today as a parent who has a child in Fulton County schools, who doesn't want their child's classroom to be over crowded.  I am here as a resident and as a legislator, to ensure this legislation does not hinder the communities and residents of South Fulton," Jones said, addressing the Commission.
Jones listed many reasons why the Commission should deny the three petitions.
"Section 36.36.34 of the Georgia code states that someone must determine compliance, that these annexations are popular.  Commissioner Arrington sent an email… the county can't legally do anything.  But the code said that you shall investigate, who does the investigation?  You all are the receivers to determine if the application complies with the requirements.  We still we need an investigation to be conducted; it has not been done," Jones said.
"Section 36.36.32, states that you must obtain a list of electors from the registrar's… petitions that were submitted by property owners.  The application must have a plan and report.  It must include a map of the municipality, adjacent boundaries… water mains, sewer receptors… a map proposed extensions of those mains.  There has to be a report… a plan for extending services. Are there plans to continue improvements?  Will Atlanta continue to improve those areas being improved currently?" Jones asked.
"This annexation cannot move forward legally because we don't have the plan or the report.  No verification has been made of the signatures," Jones said.
.
"I attended the last board meeting of Atlanta Public Schools… they had no clue what exactly we were talking about.  They don't have a plan, Fulton County schools doesn't have a plan.  Who is coming up with the plan for our children?  You must deny," Jones said.
The crowd cheered for Jones as she told the Commission how every last signature was checked by members of the community.
According to Jones, there are deceased voters on the lists, and some of those names have been duplicated.
Jones alleged in an interview with Atlanta Progressive News that some signatures were fraudulently added without the consent of the residents.
"This is the first time that I've seen so many people… children that will be negatively impacted by a decision that this Board and the City of Atlanta could potentially make," Bruce said.
"1,700 children being displaced, forced out of their communities, schools taken away from them. That is huge, we need to take this seriously…. This action is not helping anybody.  It's hurting a lot of children.  Communities are going to be disrupted.  Some subdivisions will split.  If this continues and people are not allowed to decide their own future… we'll have subdivisions in two different cities," Bruce said.
"The law requires that you get 60 percent of voters and landowners.  None of the areas that we are questioning today, meet the 60 percent; Sandtown is 42 percent, Loch Lomond at 50.9 percent, Southoak has 56 percent.  On that basis and that basis alone, you have the authority to challenge the annexation.  They have not met the minimum requirement.  You have a moral and legal requirement to deny it.  You have children and are members of this community.  All I ask is if your child was going to be negatively impacted by this, what would you do?" Bruce asked.
County Attorney R. David Ware answered questions about legality and compliance posed by Chairman Eaves.
"The City has a legal obligation to verify the signatures.  It must verify.  Also to have a public hearing.  If the Board's decisions today are to accept or do nothing, it will go the City for verification.  An arbitration meeting would occur to see if our objection would be valid.  The arbitration does not involve citizen input," Ware said.
Commissioner Arrington was clearly upset with Reps. Jones and Bruce, and said that his children have attended such Fulton County schools as Stonewall Tell elementary.
"I take great exception with leaders trying to pit citizens against Fulton County Commissioners. The law is very clear.  I feel for the citizens who have been misled, to think that the County Commission had the right to deny this petition.  The law is very clear!  The rights are with the municipal corporation, which is Atlanta," Arrington said.
"If there are people that don't like the law, like me, I don't like it… you need to get a lawyer who knows land use law, who can contest the land use request.  You can come down here and say what you want to to County Commissioners.  The County can only object on the grounds of three land use laws.  The use will remain the same.  These are single family homes we are talking about.  They aren't gonna change it to a cemetery.  The County does not have a legal obligation and if someone told you they did, they misled you," Arrington said.
The crowd showed their displeasure, which forced Eaves to ask for cooperation from the audience.
"I'm going to keep track of it, I'm going to fight because it's going to affect me.  If you want to fight it, let's follow the proper procedure.  Email your State Rep. and tell them to change the annexation laws.  And apparently they aren't familiar with them, cause they think the City's responsibility is the County's responsibility," Arrington said.
"If you have a problem with what's going on with this Atlanta annexation…review those petitions, I'm willing to help fight it in any way.  We need to unite people as leaders.  If you don't know how to read law and you're a state legislator, that's great.  Don't come in here and suggest we don't care about children cause you're quoting the wrong law," Arrington said.
"I… agree with Mr. Arrington.  I share responsibly in representing this area.  I let my record speak for itself.  The laws should be changed.  I believe that a law which takes into consideration an action that is land law, and not its impact on people, is a bad law.  The current law disregards any impact on children and schools.  It impacts our operations as well and the responsibly we have health and safety of all the people in Fulton county including South Fulton," Commissioner Darnell said.
"We had to enter into an agreement with Atlanta for fire services in South Fulton in 2007, yet we are responsible," Darnell said.
"Fulton County School Board is the richest body of government; they are responsible for a quality of education… Crowds don't bother me.  We can take a big crowd, we've had them before.  We have the responsibility for the protection for all the folks in that area.  Parks and fire services are the most critical," Darnell said.
"We don't like that 1,500 children will be displaced.  We can't operate based on how we want the law to be, but what the law is!  I'm not going to speculate on why lawyers and legislators would come here, when they wrote the law. I 've asked the same question, three different times [on other annexation attempts]… is there any legal basis where we can object?" Darnell said.
"I wish we could have had better communication with Atlanta so we can talk to them about the impact on people and our responsibility on people in Fulton County.  They did not choose to talk to us about it.  I wish Fulton County schools would have talked to us about this.  That's the way you work out things when you care about people," Darnell said.
"I do find this petition to be irresponsible.  I hope the tapes are sent to the City of Atlanta.  Time and resources were wasted on good people for bringing this forward.  I would encourage my Atlanta colleagues to give moral and ethical consideration a little more weight.  Withdraw it until their litigation is resolved.  This is uncharted territory [regarding schools and parks].  Two schools under state law would have to be closed.  54 million and an additional burden on Fulton County residents not in the City of Atlanta," Commissioner Ellis retorted.
"If there is a property that is no longer used, the municipality must buy it at fair market value. There's nothing to guarantee that Atlanta will purchase those [school] properties for a park, but they don't have to," Ware said.
"I won't be voting for it and I may not vote against it," Ellis said.
"The law is so draconian, annexation is so favored by state law," Ware said.
"I'm not going to approve these proposals for annexation. The process is flawed; it's a fairness issue.  I'm not going to support it.  This Board talks about moral grounds… it stinks… there are a lot questions of what has happened so far.  I want the citizens to keep fighting," Eaves said.
"The City of Atlanta has not been a fair and respectful partner in this process, this is a deliberate attempt to increase number of people in the City and tax digest at the expense of others.  The ramifications of schools systems is valid.  They have not reached out or made any collaborative attempt with the school system.  I have to go home and feel good about my vote.  I want citizens to feel empowered.  This is not the end to the story.  I'm going to make a motion to deny," Chairman Eaves declared.
The motion was seconded by Commissioner Morris.
"My votes have never been symbolic, I always vote by what the facts and the law indicate.  I'm not sure it would be an honest vote to say I'm voting to object.  When I know, when the people of my district know, there is no legal basis, unless the Planning Commission certified use of the land that is inconsistent with ours," Darnell said.
"The State legislature drew lines divided by race and class, where were they?  We charge Milton 2,500 for a park and Fairview two million… where was the fairness there?  Division in the community is another brilliant attempt to attack and destroy this community.  It's all about dollars, neighbors.  There has been a sustained movement in this County for twelve years to weaken this government.  All attempts, including redistricting, have failed.  This is another attempt to obliterate the county government.  We built that area out there.  Me and the parents. Redistricting didn't work, taking over our personnel system didn't work.  Now let's divide them.  I won't be fooled by it.  If the City of Atlanta continues down this path, we are going to be at risk… Let's be careful as the Bible said, not be high in our own eyes.  A house divided against itself can't stand.  If you think a threat about an election will keep me from doing what is right, you haven't been paying attention," Darnell finished.
(END/2015)