A "People's Tribune" Finds Several Police in Georgia Guilty of Murder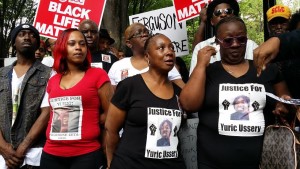 (APN) ATLANTA — On Tuesday, April 14, 2015, many Atlantans participated in a national day of resistance to police killings.
In Atlanta, the day started with a die-in at Georgia State University.
Then the activists marched to the Municipal Court of Atlanta, carrying a real casket and a Stolen Lives banner that documents victims murdered by police.  There, they denounced the hypocrisy of the system in sentencing teachers to prison for changing test scores, while police who have killed innocent people are still on the job.
The next stop was the People's Tribunal at Woodruff Park [also known as Troy Davis Park] to discuss the cases of several Black men in Metro Atlanta recently killed by police.
Family members were joined by about two hundred supporters, community activists, and students, who found the police guilty of murder.
The People's Tribunal was organized by Steven Benjamin, whose brother, Jayvis Benjamin, was killed by Avondale Estates Police on January 18, 2013.
The murder of Black, Brown and poor people by police is nothing new, except now it is being videoed and shared on the internet.  Today communication is instantaneous and more people are aware there is a nationwide epidemic of unnecessary police killing of innocent people for minor offenses or for no reason at all.  Almost always, the police are not indicted or held accountable for the murders.
"This is not about individual bad cops that had bad training or made a mistake.  This is about state-sponsored genocide.  The state refuses to do anything about these cops, even when they are caught red-handed on video.  These cops know they can murder with impunity," Dr. Makungu Akinyela, National Organizer for the Malcolm X Grassroots Movement, told the crowd.
"These solider cops are trained that you are the enemy, in a war they named the War on Drugs… they shoot you down like the Viet Cong, like a Muslin in Iraq or Afghanistan… We need to go to the United Nations and say genocide is being committed against us," Dr. Akinyela stated.
Grieving family members, of murdered Black men, shared their loved ones' stories.
Anthony Hill, 27, was a talented songwriter and musician.  He was a veteran in the grips of a mental health crisis the day he was shot by DeKalb County police officer, Robert Olsen.  Olsen claims he feared for his life from Hill who, at the time, was naked with no weapon.
http://atlantaprogressivenews.com/2015/03/14/rally-hold-for-dekalb-police-killing-of-anthony-hill/
"You can be disrobed, like my son, and still the police officer decided to end his life instead of helping him, which is what he was supposed to do.  He can't hide behind his badge, Black lives matter, all lives matter," Carolyn Giummo, Hill's mother, said.
http://atlantaprogressivenews.com/2015/03/23/feature-in-san-antonio-anthony-hill-wouldve-been-helped-not-shot/
"The love of my life was taken away from me by officer Olsen.  Anthony stopped his medicine ten days before he was killed.  On March 09, he was having a severe bipolar episode, he was running around his apartment complex not hurting anyone.  He needed help.  Why are DeKalb County police spending one half million dollars for tasers, if they are not going to use them?  Why does our country send our soldiers to war, but does not take care of them when they come home," Bridget Anderson, Hill's girlfriend, said.
Nicholas Thomas, 24, was killed on March 24, 2015 while at work by Kenneth Owens, a Smyrna police officer.  Thomas was working on a car and was already in the vehicle when police arrived, to serve him with a warrant for a probation violation.
http://atlantaprogressivenews.com/2015/04/02/1000-demand-justice-for-nick-thomas-slain-by-smyrna-pd/
"He was killed in the Massarotti that he was servicing.  He panicked when he saw the police and tried to get away and they killed him.  I loved my brother," T.J. Thomas said.
"I will close my son's casket, but this case will not close.  If it happened to my family, it can happen to your family.  My five month-old granddaughter will grow up without her father.  He did not die in vain, he died for change," Felicia Thomas, Nicholas's mother, promised.
"The day he was murdered by the police, he was not out in the streets robbing nobody, he was at his job working trying to provide for me and our daughter.  It is so hard to deal with this, he was such a good guy," Cajun Snorton, Nicholas's fiancee, said.
Kevin Davis, 44, called the police for help because a roommate cut his girlfriend.  DeKalb County police officer, Joseph Pitts, answered the call and, without understanding the situation, shot Davis, who later died in Grady Hospital.
http://atlantaprogressivenews.com/2015/02/05/protesters-camp-at-dekalb-courthouse-over-kevin-davis-police-killing/
"My brother called 911 for help and they came into his home and shot his dog and then shot him on December 29, 2014.  They held him in the hospital and would not let the family see him until after he died on December 31," DeLisa Davis, Kevin's sister, said.
http://atlantaprogressivenews.com/2015/02/28/kevin-daviss-girlfriend-april-edwards-talks-about-shooting/
Zaus Barnett, 30, was shot on May 31, 2013, in a parking lot where he was trying to break up a fight.  He was a college graduate, veteran of the U.S. Invasion of Iraq, and a military police officer.
http://www.wsbtv.com/news/news/local/mother-police-went-overboard-when-shooting-son/nYxYJ/
"We go out to the clubs on my 23rd birthday… there is a fight in the parking lot… My brother gets his registered gun out of the car… Two off-duty police officers shout, 'Drop the fu*king gun'…  Zaus turns around and got shot twelve or thirteen times and was in Grady Hospital for 21 days before he died.  We did not get to see him…. His dad, a police officer in New Orleans, came up and he got to see him," Gary Green, Barnett's brother, said.
Jayvis Benjamin, 20, was killed by Avondale Estates police over two years ago.  The investigation is still on going.  The family says they have been told there is a video from the police car and they want it released.
http://www.wsbtv.com/news/news/local/mother-wants-closure-sons-2013-shooting-death-poli/nhCNp/
"Jayvis was shot and killed by Avondale Estates police over two years ago and they have not made any charges or any kind of decision on the officer responsible for my brother's death.  They have suppressed all evidence connected to my brothers case," Steven Benjamin said.
Yuric Ussery, 22, was shot in the back seven times on April 08, 2015 while jaywalking in Atlanta's Mechanicsville neighborhood.
Two plain clothes police officers approached him for jaywalking and he ran.  The police said he pointed a gun at them, which they allegedly found later away from the place where Ussery fell.  He is alive and out on 10,000 dollars bail.
http://www.ajc.com/news/news/judge-grants-10000-bond-to-man-shot-by-atlanta-pol/nkwwM/
"They charged him with the same thing they charged Thomas and Davis with, aggravated assault against a police officer.  How are you going to assault a police officer when you are unarmed, at work, or call the police for help?" attorney Mawuli Davis, whose law firm represents Ussery, said.
Family members are asking for the police officers who shot and killed their loved ones to be held accountable for their actions.  At the People's Tribunal, they were: All the police officers were found guilty of murder by the two hundred people who heard the testimony.
After the People's Tribunal, people marched by the Five Points Metropolitan Atlanta Regional Transit Authority transit station, and at major intersections the crowd had a "die-in," shutting down traffic.  No one was arrested.
An American Civil Liberties Union (ACLU) report states over one hundred fatal police encounters have happened in March 2015 alone.  That is an average of more than three people killed each day by police in the U.S.
Too many of the victims fit a profile – unarmed men of color, some with psychiatric disabilities. This isn't a problem of a few rogue police departments; this is a systemic national crisis.
The Atlanta event was organized by the Stop Mass Incarceration Network and the Georgia Coalition to End the New Jim Crow.
Other actions to Stop Police Killings happened in New York; San Francisco, California; Los Angeles, California; Cleveland, Ohio; Chicago, Illinois; and twenty five other U.S. cities.
For more information on actions around the country: http://stopmassincarceration.net/
For national databases of people killed by police:
http://thefreethoughtproject.com/data-shows-1000-people-killed-cops-2014/
http://www.killedbypolice.net/
(END/2015)