Four Activists, Reporter Arrested in March to Valdosta for Kendrick Johnson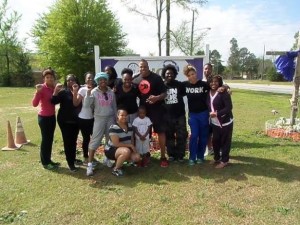 (APN) ATLANTA — Four activists and one reporter were arrested in Valdosta, Georgia, on April 06, 2015, after marching from Atlanta to seek justice for Kendrick Johnson.
The activists are Jakalia Brown, Jamel Cosby, Natalia Hall, and Harold Maze.
According to a tweet by Drum Beats for Peace, Erica Walker was arrested while there with WAOK radio "and was not bailed out by [the] station."  Drum Beats for Peace also noted that while Walker was arrested, WAOK did not post about the arrest or the rally in the station's Twitter feed that day.
Johnson was found dead in a rolled-up gym mat at Lowndes High School on January 11, 2013. The 17-year-old was a junior at the high school.
An autopsy by the Georgia Bureau of Investigations concluded that Johnson suffocated to death. The Lowndes County Sheriff's office ruled that the boy's death was an accident, surmising that he had gotten stuck in the mat while reaching for a shoe.
But an independent autopsy commissioned by the Johnson family found that the teen's death was the result of blunt-force trauma.
The second autopsy also revealed that Johnson's organs were missing and had been replaced with newspaper.
The funeral home that received Johnson's body after the GBI autopsy has stated that his organs were never returned.  [When body cavities are empty, it is typical for morticians to fill the space with another material.]
For many, the jarring revelation of the missing organs, along with other factors, has raised suspicion that officials are engaged in a homicide cover-up.
"We could be doing anything else, but we decided to walk.  We decided to march all the way to Valdosta, Georgia.  We do this to make it known that our brothers and sisters are being attacked," Queen K, a member of the civil rights group The CommUNITY said in a video recorded during the four-day walk.
Twelve marchers departed Atlanta on April 03, 2015 and walked seventeen miles a day,
one mile for each of the years of Johnson's short life.
Their mission was to deliver a letter to Lowndes High School with three requests: that an honorary diploma be awarded to Johnson; that his sister be allowed to receive it for him on graduation day; and that the school hold a moment of silence during the ceremony.
When marchers reached the high school on April 06, 2015, Lowndes County police were waiting for them.  Police forbade them from entering school property and directed them to the local school board.
The activists complied and walked to the school board office.
Again, police were waiting, and this time they arrested four marchers and one reporter, who was reporting on the march.
They were all released by the next day.
The CommUNITY plans to return to Valdosta on graduation day, May 23, 2015, to join the Johnson family and other organization in a rally outside Lowndes High School.
(END/2015)