Early Voting Laws Narrowly Escape Sine Die Intact (UPDATE 1)
With additional reporting by Matthew Charles Cardinale, News Editor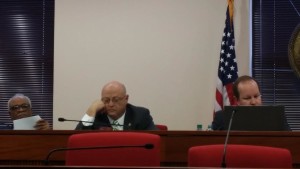 (APN) ATLANTA — On Sine Die, the last day of the Georgia Legislative Session, on Thursday, April 02, 2015, Georgians' already-reduced early voting period hung in legislative limbo with the possibility of it being further reduced from twenty-one to twelve days.  But ultimately the effort to reduce early voting failed.
HB 194, a bill to limit early voting, passed House Committee on February 11, 2015, but did not make it to a full House vote before Crossover Day, when any bill not passed by its chamber of origin is considered, for the most part, dead.
http://atlantaprogressivenews.com/2015/02/12/bill-to-restrict-early-voting-in-georgia-passes-house-committee/
But as for the impact of Crossover Day, "That's not the gospel truth until it plays out," Elizabeth Poythress, Director of the Georgia League of Women Voters, told Atlanta Progressive News.
There is always the chance that lawmakers will tack provisions from a failed bill onto other legislation.  In the case of HB 194, that is exactly what happened.
The bill's author, State Rep. Mark Hamilton (R-Cumming), took language from HB 194 and, as a member of the House Government Affairs Committee, offered it as an amendment to SB 127, which originally offered created a way for incumbent candidates who file late campaign finance disclosures to seek a waiver of the resulting fines.
SB 127 also would have required issue advocacy organizations to file disclosures regarding how they spent their funds, and where they got said funds.  This provision was opposed by some twenty conservative groups and raised First Amendment concerns.
The House passed the SB 127 with the anti-early-voting amendment, but when it ended up back in the Senate, legislators refused to accept it.
The House insisted on the version that included the early voting cuts, and a conference committee was formed to work on a compromise.
Meanwhile, the League of Women Voters of Georgia and other organizations scrambled to
convince key lawmakers that it would be a mistake to reduce early voting days from twenty-one days to twelve, which would include only one weekend instead of two, and only four hours on Sunday.
In 2011, the Georgia Legislature already reduced early voting from 45 days to 21.  Last year, in 2014, the Legislature attempted to give municipalities the option to reduce early voting even further, but the bill did not pass.
This year's bill, rather than giving an option, would have reduced early voting altogether.
"Coming into a Presidential Election year is not the time to limit early voting," Poythress said.
According to Poythress,  in the last presidential election, 44 percent of Georgia voters voted early, "and yet we still had long lines at the polls."
Interestingly, in Rep. Hamilton's own district, nearly 60 percent of voters voted early.
Yet Rep. Hamilton has claimed that the current early voting system lacks needed "uniformity" because Sunday voting is optional.
Eleven out of 159 counties now offer Sunday voting.
Efforts to eliminate or curtail Sunday voting are widely perceived a racially-motivated attempt at voter suppression.
"[Lawmakers] know there are a lot of African American communities that gather on Sunday and would have the opportunity to go to the polls, and that concerns some of them," Poythress said.
Rep. Hamilton's attack on early voting is at least the third time in the last four years that Georgia lawmakers have tried to roll back voting rights.
Ultimately, the final version of SB 127 failed to garner enough Senate votes, even once the House agreed to it.
Other controversial amendments in the bill included a transparency provision to require out-of-state donors to reveal their contributions to Georgia candidates.
A large coalition of organizations was involved in pressuring lawmakers to quash the attack on early voting.
Members of the coalition include the National Association for the Advancement of Colored People, the American Civil Liberties Union, Georgia Coalition for the People's Agenda, Georgia Association of Latino Elected Officials, Women's Action for New Directions, 9to5 Atlanta, Common Cause Georgia, Moral Monday GA, and the League of Women Voters.
They held two rallies at the Capitol during the legislative session.
"I just urge everybody to understand the importance of maintaining and using early voting, especially with municipal elections coming up," Poythress said.
(END/2015)
UPDATE 1: An earlier version of this article made an unclear reference in the first paragraph to "twenty-one days to twelve days."  The reference was to the proposed early voting reduction from 21 days to 12, and the paragraph has been restructured for clarity.