Georgia Legislature Approves Solar Power Financing Bill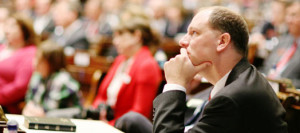 (APN) ATLANTA — The Solar Power Free Market Financing Act of 2015, HB 57, was passed by the House by a vote of 165 yeas and 0 nay on February 09, 2015.  It passed the Senate by a vote of 51 yeas and 0 nays on March 27, 2015.  It now waits Gov. Nathan Deal's signature.
The bill was authored and introduced by State Rep. Mike Dudgeon (R-Johns Creek), an electrical engineer.
http://atlantaprogressivenews.com/2015/01/15/legislature-may-approve-solar-panel-lease-financing-with-limits/
It will allow, for the first time, Georgia homeowners, businesses, and schools to enter into financing arrangements for the installations rooftop solar panels, instead of having to pay all the money up front.
The bill does not contain any tax breaks or credits for those who go solar.
If a customer generates more solar energy than they need, it will be sold back to Georgia Power.
As previously reported by Atlanta Progressive News, the solar industry in Georgia has previously been restricted by Georgia's Territorial Act, preventing households and businesses from participating in lease financing agreements.
"This bill will benefit consumers starting July 01, when free market solar companies will have the ability to finance solar power.  Other states who have seen this type of arrangement have seen an explosion in residential small business solar," Rep. Dudgeon told APN.
"It's a huge benefit to consumers to get solar without a huge up front cost or very minimal cost,"  Dudgeon said.
State Rep. Dudgeon; Rep. Don Parsons (R-Marietta), who chairs the House Energy, Utilities & Telecommunications Committee; and others worked for ten months on negotiations between Georgia Power, almost forty electric membership corporations (EMC), and solar companies to reach this historic agreement.
"Georgia Power and the utilities supported the bill because we made sure that their concerns about connectivity to the grid, safety, and sizing were respected.  They were worried about this being a back door to having somebody make a huge one megawatt solar installation and generate power for other people.  We made sure the financial arrangements are for use [of solar power] on the premises," Rep. Dudgeon explained to APN.
The bill has capacity limits for solar usage.  For a residential customer, it is ten kilowatts.  For commercial customers, it is one hundred and twenty-five percent of the expected maximum annual peak demand.
Twenty-two other states allow for third party financing agreements to lease solar panels and even more states do not prohibit lease agreements.
Georgia is one of the fastest growing solar markets in the U.S., and one of the top states in receiving solar energy.
"Georgia Power has to keep their other power plants up and available… Since solar is intermittent, you don't get anything at night or on cloudy days.  As we generate more solar they can scale down and turn off the coal plants and the gas turbines and let solar power provide the energy when it is available," Rep. Dudgeon said.
"I think that as solar get deployed more and more, and the utilities figure out how to better integrate solar into the grid, and as storage solutions develop, there will be less and less need for the idea that we need base load power from coal and nuclear," Colleen Kiernan, Georgia Chapter Director, Sierra Club told APN.
This bill will open the door for innovative solar companies to allow customers to choose clean energy alternatives.  It is a pro-business bill that will create well-paying and clean jobs for Georgia citizens.
(END/2015)