Teachers, Parents Challenge Deal's School Takeover Plan Ahead of House Committee Vote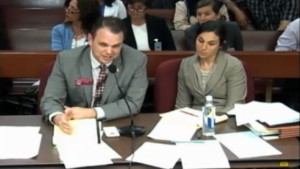 (APN) ATLANTA — The House Education Committee will soon decide whether to advance Gov. Nathan Deal's controversial proposal to allow the state to take over and privatize struggling schools.
At a hearing on Wednesday March 18, 2015, State Representatives and members of the public expressed both deep concern and some enthusiasm over the proposal, which, as Atlanta Progressive News previously reported, calls for the creation of a statewide Opportunity School District (OSD).
http://atlantaprogressivenews.com/2015/02/18/6288/
The OSD would take the place of local school boards in managing "failing" schools.  The Governor would have the power to appoint the OSD superintendent.
"I'm concerned with what kind of experience will be needed for that so-called Superintendent who answers only to the Governor," State Rep. Tommy Benton (R-Jefferson) said during the hearing.
"We get all bent out of shape when the federal government tells us what to do, and now we're trying to do that to the local systems," Rep. Benton said.
Benton has received over three hundred emails from constituents who oppose the OSD plan, saying it represented "one more poke in the eye for public education," he said.
The OSD is based on a model pioneered in New Orleans after Hurricane Katrina and touted by an education reform movement comprised largely of wealthy foundations, venture capitalists, charter schools, and education technology companies.
A constitutional amendment would be required in order to make the OSD a reality in Georgia.  To that end, SR 287 proposes to put the question to voters on the 2016 ballot.
Currently the ballot language reads: Shall the Constitution of Georgia be amended to allow the state to intervene in chronically failing public schools in order to improve student performance?
But the ballot language is incredibly simplistic compared to that of SB 133, the enabling legislation that actually outlines how the OSD would work.
At the hearing, State Rep. Christian Coomer (R-Cartersville) and Erin Hames, Gov. Deal's Deputy Chief of Staff, gave an overview of the current version of SB 133.
Under the plan, schools would be eligible for takeover if they scored an F rating three years in a row.  The Georgia Department of Education currently uses a rating system called the College and Career Ready Performance Index (CCRPI), which launched as a pilot in 2013 and has undergone changes since then.
However, the CCRPI uses number, not letter grades.  It also uses stars to indicate a school's "climate."  The legislation does not specify what number grade, or number of stars, constitutes an F when determining whether a school qualifies for OSD takeover.
According to the Governor's office, 139 Georgia schools are failing and eligible for takeover.
SB 133 stipulates that the OSD would take over no more than 20 schools per year and would have no more than 100 schools under its jurisdiction at one time.
Schools would remain in the OSD for a minimum of five years and a maximum of ten years, unless they managed to perform above an F rating for three consecutive years, allowing them to exit the OSD early.
Before taking over a school, the OSD would have to meet with the local school board to explore remediation possibilities and allow for input from parents and community members.
Upon takeover, the OSD could either directly manage the school, share governance with the local school board, turn the school into a charter and contract a private operator to manage it, or close the school if it wasn't enrolled at full capacity.
The OSD superintendent would have unlimited power to fire and hire principals, faculty, and staff; and to control finances, curriculum, and all other school operations.
Several Representatives pressed Rep. Coomer and Hames to specify what OSD or charter operators would do to improve schools that can't be done within the current structure.
"Are you going to put more computers in the class?  Are you going to feed the parents pizza every Thursday to get them to come?" State Rep. Wayne Howard (D-Augusta) asked.
In response, Rep. Coomer said that the OSD would enable teachers and parents of students at struggling schools "to go from having a mindset of, 'This is the way it's always been, this is the way it's going to be no matter what,' to having an opportunity for fresh minds and fresh ideas to come in and say, 'It doesn't have to be this way.'"
At least one teacher present at the hearing took offense to the implication that educators at low-performing schools are complacent.
"I'm highly insulted that anyone would suggest I don't have high academic expectations for my students.  I do everything I can for my students," said a kindergarten teacher from Midway, Georgia during the public comment period.
"Please don't add another bureaucrat telling me what I need to do for my babies.  I know what they need and I can tell you by name.  I need the resources and the help of those as committed as I am to do that," she pleaded.
"You have to look at the historical perspective of how education has been cut," State Rep. Mable Thomas (D-Atlanta) said.
A teacher from DeKalb County said that cuts to education disproportionately affect students of color.
"Our schools are in trouble because of concentrated poverty and segregation.  OSD is targeting African American students that are at or below the poverty line," she said, adding the State should "fully fund public education."
Twenty-six Georgians spoke during the public comment period.  Twelve were against the OSD proposal.  Nine were for it.  Three did not take an explicit stance, and two offered recommendations to improve the current legislative proposal.
Among those who oppose the OSD were representatives from the Georgia Association of Educators, the Georgia Federation of Teachers, the Georgia Parent Teacher Association, and the Southern Education Foundation; as well as Rep. Thomas, the Superintendent of DeKalb County Schools, two individual teachers, and two parents of students in Clarke County schools.
Opponents also argued that the Georgia Department of Education already has the authority to intervene in failing schools without taking them over.
Georgia's A+ Assessment Reform Act of 2000 established these rules, but the DoE has underutilized them, according to several speakers.
They also noted that school systems are already shifting governance models as a result of 2008 legislation requiring every district to choose among three models: Charter, IE2, or "Status Quo."
"We need to do everything we can to implement what's already there," Dr. Detrius Jones, a representative of Georgia Parent Teacher Association, said.
No teachers, and fewer parents spoke in favor of the OSD plan.
Those who supported it included a charter school founder, an education consultant who was hired to assist in Orleans Parish's conversion to a similar model, one parent, two after-school program directors, the Georgia Chamber of Commerce's director of public policy, and the state director of StudentsFirst.
StudentsFirst is an education reform organization founded by Michelle Rhee, who was forced to resign from her position as Chancellor of Washington, D.C., public schools after firing hundreds of teachers; shuttering 23 schools, mostly in communities of color; ramping up high-stakes testing; other data-driven measures like tying teacher evaluations to student test scores.
When she founded StudentsFirst, Rhee pledged to spend one billion dollars on replicating these reforms across the country, in large part by backing reformist candidates.
Georgia's StudentsFirst chapter got off the ground in 2012, when voters were faced with a ballot initiative proposing a constitutional amendment to enable the State Charter Schools Commission to override local school boards.
StudentsFirst poured over a quarter of a million dollars into a political action committee that spent 2.3 million dollars campaigning for the amendment, which passed.
Since then, StudentsFirst has spent over 300,000 dollars in campaign contributions to Georgia legislators.  It currently employs ten lobbyists in Georgia, including the state director, who delivered a public comment.  Their lobbyist registrations indicate that they each receive over 10,000 dollars per year for lobbying activities.
The House Education Committee is set to vote on SR 287 and SB 133, on Monday, March 23, 2015, at 3 p.m.
(END/2015)