State Senate Committee Passes Improved Cannabis Oil Legislation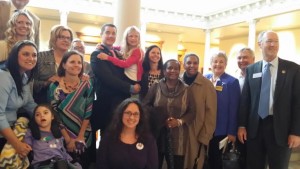 (APN) ATLANTA — The Georgia Senate Health and Human Services Committee, after over four hours of testimony, finally passed an amended Senate version, similar to HB 1, with bipartisan support.
The bill provides immunity from prosecution in the State of Georgia for patients who use cannabis oil, up to five percent THC in the oil, who received a doctor's prescription and are registered with the State.
It establishes within the Georgia Department of Public Health a Low THC Patient Registry for the purpose of providing a registration of individuals and caregivers who have been issued registration cards.
It provides civil immunity to health care providers, workers, and institutions against tort actions for allowing a patient or caregiver to possess, administer, or use low THC oil on the premises of the health care institution.
In addition to these components that had been part of HB 1, the Senate added a clinical trial for CBD oil.
The bill also provides a five-year study commission, the Georgia Commission on Medical Cannabis, to determine whether the State can regulate and control in-state cultivation.  The program is to be administered through the Board of Regents of the University System of Georgia.
The new Senate version removed fibromyalgia, but added Sickle Cell Anemia to the medical conditions that could qualify one to use cannabis oil.  The other medical conditions are cancer, Amyotrophic Lateral Sclerosis, seizure disorders, Multiple Sclerosis, Crohn's disease, and Parkinson's disease.
The new Senate bill is an improvement over the previous one, which only provided for a clinical research program.
"The bill that was passed out of committee should have no problem going through rules.  I hope we can add fibromyalgia back in, I know other senators want to see it back in.  We got Sickle Cell Anemia in because the Sickle Cell Foundation's testimony was powerful and emotional," State Rep. Micah Gravley (R-Douglasville) told Atlanta Progressive News.
State Rep. Allen Peake (R-Macon) favors getting the cannabis oil from two manufacturers in Colorado.  They are willing to ship their product, which is only three percent THC, to Georgia.
The bill "does not provide for the growth and production of the product in Georgia.  It says that if you can smuggle it from another state into Georgia, you will have immunity from prosecution," James Bell, Georgia Campaign for Access, Reform and Education (CARE), told APN.
According to the bill, possession of THC oil with more the 20 ounces allowed can result in felony charges with imprisonment and huge fines for individuals.
Any person possessing over 20 ounces but less than 160, it is a felony with one to ten years in prison and a 50,000 dollar fine.
Any person possessing over 160 fluid ounces but less than 31,000 fluid ounces is a felony trafficking offense.  It is punishable by five to ten years imprisonment and a fine of 100,000 dollars.
For above 31,000 fluid ounces it can be up to fifteen years in prison and a fine of one quarter million dollars.
The penalty is extreme, considering most of the fluid is coconut oil or olive oil not literally 31,000 ounces of THC.
The extreme penalties were put in the bill because we still have prohibition in Georgia.  Law enforcement fears a slippery slope to decriminalization, with this medicine, and say they need new guidelines to incarcerate people who possess more than 20 ounces of the oil.
"Prohibition is the experiment that has failed and has cost millions of dollars and lives destroyed [in prison], all for more prisons and a growing police state," Dean Sines, Deputy Director, Peachtree National Organization for the Reform of Marijuana Laws (NORML), said to APN.
"Penalties against possession of a drug should not be more damaging to an individual than the use of the drug itself; and where they are, they should be changed.  Nowhere is this more clear than in the laws against possession of marijuana in private for personal use," former President Jimmy Carter once said.
Anti-THC doctors with GW Pharmaceuticals took up a lot of the Committee's time railing against their perceived dangers of THC.  They worried about young people boiling down the cannabis oil to make a stronger more potent version of THC.
Finally, Vince Sievert, founder of Hope United, put the discussion in perspective.
"No kid is going to try to extract the THC out of this expensive product when for $20 dollars you can buy a joint with 15 percent THC on the street.  In the process of separating the THC from the oil base, you would destroy the THC," Sievert said to the committee.
"We took a giant leap today.  I'm happy for the seventeen medical refugees who may be able to come home.  Not having fibromyalgia in the bill is the biggest disappointment, but we got everything else – the eight diagnoses, the five percent THC level we need, immunity language, and support for the clinical trial process that Gov. Deal started.  We may have a bill done here," Rep. Peake said.
(END/2015)