Hundreds Rally Against Georgia's Religious Freedom Bill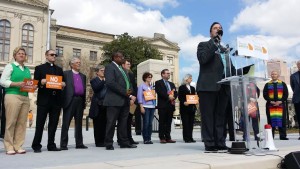 (APN) ATLANTA — On Tuesday, March 17, 2015, hundreds came to Liberty Plaza, across from the State Capitol, to oppose, SB 129, the Religious Freedom Restoration Act (RFRA) bill.   People from as far away as Columbus and Macon joined with folks from the Atlanta area to express their concerns to legislators that SB 129 could be a license to discriminate against the LGBTQI community and others.
It was a diverse coalition opposing the legislation, including faith leaders, the business community, the LGBTQI community, Black leaders, legislators, and even some Republicans.
Jeff Graham, of Georgia Equality and Georgia Unites Against Discrimination, explained to the gathering that it is not just Georgia that is battling the religious freedom bills, but also other states.
"More than 35 bills have been introduced in states to create or expand exemptions from following certain laws based on religious beliefs.  There have been 80 bills introduced around the country, that specifically target the gay and transgender community for discrimination," Graham said.
Georgia has a bad history of discrimination against homosexuals–driven by an animus that is often grounded in religious beliefs–including the passage of a state constitutional amendment banning same-sex marriage.
"If God wanted all of us to be alike, he would have made all of us alike.  Something is deeply wrong in a state where we would target and discriminate against a people in the name of religion," Rev. Timothy McDonald, Senior Pastor, First Iconium Baptist Church, said.
The question many are asking is, if the supporters of SB 129 truly believe that this bill does not discriminate, then why would legislators not allow language in the bill that clearly states that it will not discriminate?  Why did they want it engrossed so the language could not be amended?
"I will not let a small minority of Georgia Republicans hijack my state.  This bill will open the door to discrimination and close the door to business," David Bachman, a young Republican who worked on former U.S. Sen. Saxby Chambliss's (R-GA) campaign, said.
Delta Airlines, Home Depot, and Coca Cola are among corporations opposed to SB 129.  They know it will hurt business and the national reputation of Georgia.  The bill promotes the ugly stereotype of Georgia as a bigoted, religiously intolerant state.
The Human Rights Campaign has written an open letter to Gov. Nathan Deal opposing SB 129.
David Cook, a District Attorney with the Macon circuit, raised other concerns.
"This bill is a real danger for every child whose parents believe spare the rod and spoil the child.  It is a real danger for every woman whose husband believes that God ordained her submission, enforced by his hands," Cook said.
The last speaker was Rabbi Joshua Heller, with the largest and most conservative synagogue, Congregation B'nai Torah, in Georgia.
"I see a wrong being contemplated in the name of God, in the name of people of faith, and I cannot be silent and let that wrong come to pass; I say not in my name," Rabbi Heller said.
"As Jews, we do not have the hubris to impose our faith traditions on a larger society… We do not ask those with whom we come into contact to conform to structures of Jewish law," Rabbi Heller said.
So one wonders why a minority of fundamental Christians thinks they have the power to legislate their narrow interpretation of the Bible on the diversity of religious beliefs in Georgia.
The word on the street is that it will not pass the House.
"My question is, and the questions I've asked, is if a constitutional guarantee is not sufficient than what is this bill, this statute, going to do that our constitution doesn't do?" Speaker David Ralston (R-Blue Ridge) told Georgia Public Broadcasting in an interview.
"I've been having that discussion with people on both sides of the issue," Ralston said.
"I believe the constitution is the paramount legal document of this state and this country.  And if we need to codify those guarantees in terms of our freedom of worship, do we also need to do so for freedom of the press,freedom of speech, freedom of assembly, and all these other rights we have?" Ralston asked.
(END/2015)