Rally Held for DeKalb Police Killing of Anthony Hill (UPDATE 1)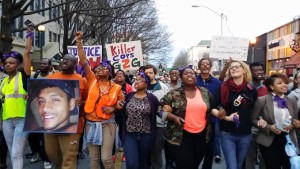 (APN) DECATUR — On Wednesday night, March 11, 2015, approximately two hundred people marched through the streets of Decatur and held sit-ins stopping traffic, as they protested the killing of Anthony Hill.
For the second time in less than eleven weeks, DeKalb police have shot and killed another innocent Black man   This time, they shot a naked, unarmed veteran of the U.S. Invasion of Iraq, who was suffering a mental health crisis, on Monday, March 09, 2015.
Anthony Hill was only 27 years-old, and an aspiring musician and songwriter who by all accounts was friendly and likeable.  On Twitter he described himself as bipolar.
Hill was running and crawling around on the ground naked in his apartment complex in unincorporated DeKalb, and someone called the police.
Officer Robert Olsen answered the call and had a taser and pepper spray, but did not use either.  Instead, he ordered Hill to stop.  Hill, who was obviously in crisis and needed help, did not follow the order, so Olsen shot twice and killed Hill.
This second needless killing by DeKalb police within recent weeks has inflamed the streets of Decatur yet again.
"We were here three weeks ago when Kevin Davis was killed.  There was little responsible for that murder and now here we are again to lift up the name of Anthony Hill.  Black people are perceived as threats.  It has to stop,"  Auriella Lucier, Founder and Executive Director of It's Bigger Than You, told Atlanta Progressive News.
As previously reported by APN, Mr. Davis had called 911 for help when his girlfriend was stabbed by a roommate, Terrence Hilyard.  DeKalb officer, Joseph Pitts, came and without understanding the situation, shot and killed Davis.
http://atlantaprogressivenews.com/2015/02/28/kevin-daviss-girlfriend-april-edwards-talks-about-shooting/
http://atlantaprogressivenews.com/2015/02/05/protesters-camp-at-dekalb-courthouse-over-kevin-davis-police-killing/
http://atlantaprogressivenews.com/2015/02/01/candlelight-vigil-held-for-kevin-davis-in-dekalb-county/
"The nation is noticing that Black men are being killed at an exceeding alarming rate.  It's worrying and scary for someone like myself, a young Black organizer, to watch again and again and again Black men's lives being devalued," Lucier said.
They chanted, "Who do you serve?  Who do you protect?" and "Send the killer cops to jail.  The whole damn system is guilty as hell."
"We need to have a complete system of overhaul with our police department.  They need training with how to deal with people who have mental health illness.  They need training on how to not shoot first.  We need to have officers take a implicit bias test to understand their bias," Nelini Stamp, Co-Director, Rise Up Georgia, said to APN.
Police officers who are hired after serving in combat "need to have a psychological review to see if they suffer from post traumatic stress disorder.  They come back and treat our community like a war, that's what we see happening," Stamp said.
"The question that needs to be asked of police officers and department heads is, what are the rules of engagement and when does logic come into assessing the situation?  There's a lot of things the police officer could have done – he could have tased, pepper sprayed, or called for backup," Colonel Amos King, a 28 year military veteran, told APN.
"There is no doubt in my mind Hill was suffering from a mental illness," King said.
(END/2015)
UPDATE 1 and CORRECTION: This article has been updated to reflect that the killing occurred in unincorporated DeKalb County, not in the City of Chamblee.  The name of the apartment complex includes the word Chamblee, but not because it is located there.