Georgia Removes Criminal History Question from State Job Applications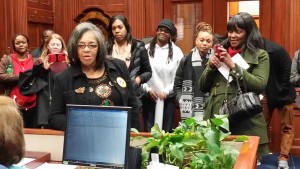 (APN) ATLANTA — Gov. Nathan Deal on Monday, February 23, 2015 signed the fair hiring policy, also known as "Ban the Box," which postpones questions on a job application about a person's criminal history until it is shown that the person is qualified for the job.
This prohibits an automatic disqualification for potential state employees.  It allows qualified applicants to explain in a face-to-face interview their past criminal history, any inaccuracies in that history, how they have rehabilitated themselves, and their past achievements and education.
If the conviction has no bearing on the job, then it cannot be used to disqualify the applicant.
"If a person is qualified to work, they should be allowed to work.  Statistics show that once we get jobs, we keep jobs and exceed expectations because we have a fear of losing a job," Marilynn Winn, co-founder and lead organizer with Women on the Rise, an organization for formerly incarcerated women, told Atlanta Progressive News.
http://atlantaprogressivenews.com/2014/06/06/activists-seek-to-expand-ban-the-box-ex-prisoner-employment-reform-in-georgia
"I took a job working eight hours a week for six dollars and 35 cents an hours.  My check hardly paid for my MARTA card.  I had a plan to establish a work ethic and today I sit on the Board of Directors of the place [Atlanta 9 to 5] that gave me eight hours a week.  I took those eight hours [a week] and made them into forty hours a week," Winn told APN.
Georgia is the first state in the U.S. South and the fourteenth in the nation to remove the "have you ever been convicted of a crime" question on state employment applications.
Currently 3.8 million people in Georgia have a criminal record, or one in every three Georgians, according to the Georgia Justice Project.
"The State of Georgia spends more than one billion dollars annually on costs for corrections, which includes probation, parole, and incarcerating people in prisons.  It's a very high proportion of our budget that we spend keeping people in the criminal justice system," Marissa McCall Dodson, attorney and Policy Director, Georgia Justice Project, told APN.
Georgia taxpayers are paying for county jails and state prisons.  Taxpayers are even paying private contractors, who enter into contracts with the government, to build more for-profit prisons.
Due to Georgia's history of incarcerating large numbers of people who are not a risk to society, some people were shocked and at first thought the news about the Governor signing "Ban the Box" was a satirical story, perhaps published by the Onion website.
Now, Georgia is starting to make some criminal justice reforms to save taxpayers money and give formerly incarcerated citizens better opportunities for employment and a more productive life.
When an individual is released from prison with no family support system, no job, no money, no place to live, the pressure to commit crime to survive is great and that often lands them back in jail again.
Research shows the most effective way to prevent recidivism is to help previously incarcerated people get stable employment.  Taxpayers pay more to re-incarcerate people–about twenty thousand dollars per person a year–who are unfairly excluded from jobs opportunities and from public benefits.
A strong and diverse coalition came together to Ban the Box.
"People with different self-interests came at this issue from different viewpoints, but there were a commonality of interests that created this victory," Janine Brown, with Atlantans Building Leadership for Empowerment (ABLE), told APN.
The coalition consisted of fiscally conservative Republicans who had an economic interest;  Libertarians who want smaller government with less interference in people's lives; people in the criminal justice system who saw mass incarceration was not working and destroying families; and people of faith who believe people should be forgiven and given a second chance.
Women on the Rise, a grassroots organization of women impacted by the criminal justice system, was very instrumental in helping to change the ban the box policy.
On Thursday, February 26, 2015, a victory celebratory press event was held on Washington Street across from the State Capitol.  Winn, the vision and energy behind Ban the Box, told those gathered she had been imprisoned six times, mainly for stealing, because she could not get or keep a job because of her criminal history.  She had to lie to get a job and when they found out about her background she was fired.
When a person is destitute and all doors are closed to them, sometimes crime is the only way to survive.  It is difficult for the privileged class to understand survival living.
"It was my goal to change that law in Georgia and remove the box, so people like me would not be discriminated against because of past mistakes," Winn said.
Attendees at the rally signed personal thank you cards to Gov. Deal, walked across the street to the Capitol, and delivered them to his office.
As previously reported by APN, Ban the Box has already been implemented in the City of Atlanta.
The policy has also been implemented in Metro Atlanta cities and counties, including the City of East Point; and Fulton, DeKalb, and Macon-Bibb Counties.
Also major private employers such as Home Depot, Target, and Walmart have removed the criminal history question from their initial applications, according to Georgia Justice Project.
(END/2015)