Bill to Restrict Early Voting in Georgia Passes House Committee (UPDATE 1)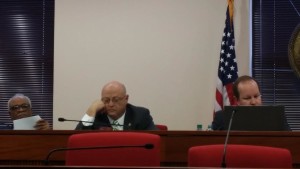 (APN) ATLANTA — A Georgia House subcommittee and committee have both voted to approve a bill, HB 194, that would reduce early voting from 21 days to 12 days.
The Governmental Affairs Committee voted yesterday, Wednesday, February 11, 2015, to approve the bill.
The Election Subcommittee vited Monday, February 09, five to one to approve HB 194.  State Rep. Tyrone Brooks (D-Atlanta) was the only member who opposed the bill.
http://www.legis.ga.gov/Legislation/20152016/146636.pdf
Early voting, prior to 2011, was 45 days.  In 2011, it was reduced downward to 21 days.  Last year, in 2014, the Legislature considered a bill to give municipalities the option to reduce early voting even further, but it did not pass.
Now, Republicans want to reduce it to only 12 days for all municipalities.
http://atlantaprogressivenews.com/2014/03/04/municipal-early-voting-reduction-bill-amended-passes-house/
"Is the goal to eliminate early voting?" Rep. Brooks questioned.  "It seems like we are going backward instead of forward."
State Rep. Mark Hamilton (R-Cumming) cited concerns about uniformity and cost for some of these elections as his reason for authoring the bill.
"This bill makes everything uniform… and applies to municipal elections and county, state and federal elections," Hamilton said.
HB 194 allows for early voting for ten consecutive days prior to election day, Monday through Friday, with Saturday voting from 9am to 4pm on the Saturday in between those two weeks.
The local election boards can also choose between one Sunday (noon to 4pm) after the all-day Saturday vote, or one Saturday prior to the first day or early voting from 9am to 1pm.
"Sixty five to seventy five percent of all votes are cast on Election Day, people like to pull that lever," Rep. Hamilton said.  [There actually is no lever, as voting has been electronic for thirteen years in Georgia.]
"I have some statistics from the Secretary of State's office that shows early voting… in the author of this bill's [Hamilton's] district, was 59.4 percent," Elizabeth Poythress, President, League of Women Voters of Georgia, told the Committee.
"For the third time in four years, we are told that saving money is reason enough to curtail the exercise of every Georgian's most basic right – the right to vote.  Every time elected officials chip away at citizens' freedom and opportunity to go to the polls to vote by limiting early voting, public trust is eroded," Poythress said.
"Almost fifty percent of the people vote early," Helen Butler, Executive Director, Coalition for the People's Agenda and member of the Board of Elections, told Atlanta Progressive News.  It is not immediately clear what can account for the difference in statistics offered by Butler and Hamilton.
"For small counties and big counties it provides an opportunity for people to correct problems that they may encounter on election day.  It makes it less hectic for people organizing the elections," Butler said.
The 2016 Presidential Election may find Georgians once again with even less time to vote, in addition to the existing restrictive voter ID laws; no voter verifiable paper audit trail on the E-voting systems; and myriad other voter suppression tactics to limit voter participation in their government.
"When you tamper with voting rights, you are tampering with an inheritance.  Folks have bled, suffered, and died for me to have the right to vote, and this bill is reducing that opportunity," Rev. Jeffery Benoit, President, National Action Network, said.
HB 164 was sponsored by State Reps. Mark Hamilton (R-Cumming), Jay Powell (R-Camilla), Ed Rynders (R-Albany), Buzz Brockway (R-Lawrenceville), Alan Powell (R-Hartwell) and Sam Teasley (R-Marietta).
Members of the Election Subcommittee of Governmental Affairs are Rep. Tyrone Brooks (D-Atlanta), Rep. Mark Hamilton (R-Cumming), Alan Powell (R- Hartwell), Darlene Taylor (R-Thomasville), Ed Rynders (R-Albany) and Buzz Brockway (R-Lawrenceville).
(END/2015)
UPDATE 1: A previous version of this article stated that early voting was reduced from 45 days to 21 in 2014; however, this occurred in 2011.