DeKalb's Medlock Park Left out of Annexation, Cityhood Plans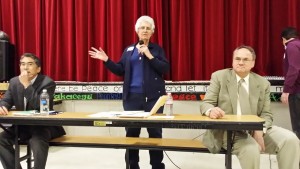 (APN) DEKALB COUNTY — On Thursday, January 22, 2015, the Medlock Area Neighborhood Association (MANA) held a special meeting to discuss whether to staying in unincorporated DeKalb County or whether to annex into Atlanta.
The nearby City of Decatur is looking to annex business areas, so to boost their tax base, but is not seeking to annex the residential neighborhood of Medlock Park.  Meanwhile, the residents of Medlock Park have said they do not wish to join the proposed new city of LaVista Hills.
Thus, if all the current annexation proposals go forward, including the City of Atlanta annexation of Druid Hills, then Medlock Park will be left as the last unincorporated neighborhood in that part of DeKalb County.
DeKalb County Commissioner Jeff Rader (District 2) and Atlanta City Councilman Alex Wan (District 6) spoke at the meeting.
MANA is concerned about losing Druid Hills High School if nearby Druid Hills and Clairmont Heights neighborhoods area successfully annex into the City of Atlanta.
"We have seen the proposed Atlanta annexation map and our closest neighbor Clairmont Heights and three of DeKalb County schools including Druid Hills High School will go to Atlanta.  Some feel we should stay aligned with them," Teresa Same with MANA said at the meeting.
Residents worried their children could not continue to attend Fernbank Elementary or Druid Hill High School, if Medlock was not annexed into Atlanta.
"There is no guarantee [that kids will stay in the same school] unless an intergovernmental agreement gets struck between Atlanta Public School and DeKalb County schools.  There is support for that option… Annexation without out an intergovernmental agreement is going to disrupt the attendance zones," Wan warned.
"The next fight is to keep the attendance zones together.  It is two different fights," Wan said.
Lots of questions were asked about the schools, but Medlock Park does not have a large school age child population.  Medlock Park does have a large senior citizen population.
But if Medlock is annexed into Atlanta, due to the loss of senior citizen property tax exemptions, seniors would see their property taxes skyrocket upward, leaving many elderly residents struggling to pay their property taxes each year.  Those on fixed incomes could possibly even lose their homes as a result.
For example, a 200,000 dollars home in unincorporated DeKalb County costs about 712 dollars per year in property taxes for seniors, but in Atlanta it would almost triple to 1,806 dollars.  Annexing into Decatur, although currently not an option, would also increase the senior tax rate.
Another concern of residents is that if Medlock stays unincorporated and becomes an unincorporated island, that politicians in the Legislature would assign Medlock to an existing or proposed new city without hearing the residents' preference.
However, Councilman Wan thinks there is no harm in waiting, and Medlock should keep all their options open going forward.
"I don't think you should worry that you will be forced, as a matter of being an island, into any particular jurisdiction," Commissioner Rader said.
The Medlock area is urban enough with an extensive road network that services will continue to be delivered.
"The cost of those services may go up as annexations and incorporations whittle away at the County's tax base," Rader explained.
On Medlock Park's west side is annexation into Atlanta; on the north side is the proposed city of LaVista Hills; on the south side is Decatur's plan to annex most of the commercial area adjacent to Medlock.
Many Medlock residents are upset that Decatur is taking the commercial area but does not want the residential area, and think this is unfair.
Commissioner Rader explains how Decatur is able to do this: "If it is less than twenty percent residential, they could do it without a referendum – just unilaterally say we are moving these areas into Decatur.  They are trying to thread the needle so they don't have to have a referendum."
"Decatur's argument is, we are so cash strapped that we need the commercial area in order to make our budget," Rader said.
Atlanta Progressive News submitted a written question to the panel: what is behind the rush to cityhood and annexation?
"In the case of our new cities and their boundaries and the annexations, it is the tax base.  It's that sucking sound when you see your tax base shifting over into another jurisdiction.  That I think is driving the big tensions over this.  If someone beats you to the target first, they are going to get the taxes," Rader answered.
Neighborhood surveys also show little support for proposed new cities or annexation.
All these new cityhood proposals and annexation is causing a feeding frenzy and has citizens running scared.
A new group DeKalbStrong.com is calling for a moratorium on cityhood and annexation proposals in DeKalb County to give citizens time to participate in a comprehensive and equitable process for improving DeKalb County governance.
The cityhood movement will have huge consequences for schools, quality of life, and taxes in all of DeKalb County, according to DeKalb Strong.
The sudden push for everyone to either join a proposed new city or annex into a city is fraught with misinformation, shifting boundaries, unanswered questions about taxes, broken school districts, split neighborhoods, duplication of services, and more bureaucracy; and takes money away from DeKalb County.
DeKalbStrong.com is concerned that the current push for new cities and annexations in DeKalb County is a frenzy of poorly planned land grabbing by a few small self-interested groups.
"Everything is in the hands of the State Legislature, in terms of moving a boundary, saying yes or no to authorizing a referendum on either annexation or the city.  The most effective thing citizens can do at this point is reach out to your State Representatives," Wan said.
Many citizens feel trapped that they are being forced to choose between new cities or annexation into existing cities – when they just want to remain in unincorporated DeKalb County.
Due to DeKalb Strong now citizens can have another choice: A moratorium to stop everything.
Yard signs were passed out by some residents, at the end of the meeting, to support a moratorium.
(END/2015)