Sen. Fort, Activists Unveil Law Enforcement Policy Reform Package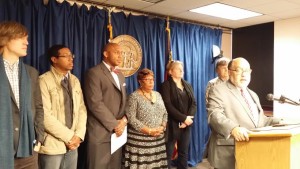 (APN) ATLANTA — On Tuesday, January 21, 2015, State Sen. Vincent Fort (D-Atlanta) today introduced to the public a broad Law Enforcement Reform package.  It is sponsored by a bipartisan group of Georgia legislators.
Events in the news have prompted an outcry across the nation for police reform and the demilitarization of the police: From the death of Michael Brown in Ferguson, Missouri; to the death of Eric Garner in Staten Island, New York – outrage has been growing at the unnecessary killing of Blacks by police in the U.S..
Sen. Fort authored the reform package, which he hopes will correct this problem in Georgia.
The Georgia Law Enforcement Reform Package includes:
SB 45, "Bou Bou's Law" – This legislation would restrict no-knock warrants unless announcing would pose a danger to human life or imminent danger of evidence being destroyed.
This bill is in response to a 2014 no-knock warrant in Habersham County, Georgia, that permanently disfigured Bounkham Phonesavanh (Baby Bou Bou).  The toddler's face and chest was partially blown away down to the bone by a police grenade. The no-knock warrant had the wrong house.
http://atlantaprogressivenews.com/2014/06/07/rally-held-for-baby-injured-by-police-grenade-during-no-knock-home-invasion/
"The Phonesavanh family is hopeful that this bill will prevent other families from having to experience what they experience, on a daily basis, because they are still impacted daily by the injuries suffered by their family.  The father still does not have full use of his arm and the child will be disfigured the rest of his life," Mawuli Mel Davis, an attorney for the family, said.
In 2006, another no-knock warrant left 92 year-old Kathryn Johnston dead in a hail of bullets.  This drug raid was based on falsified paperwork stating that illegal drugs were in her house.
SB 46, "Police Body Cameras" – This bill would require police officers be equipped with audio/video recording devices by 2017.  It is in response to an increasing number of Black and Brown people who are killed for minor offenses in police altercations.
As previously reported by Atlanta Progressive News, the City of Atlanta is currently implementing body cameras following legislation by Councilwoman Felicia Moore (District 9).
SB 47, "Hate Crimes" – This bill would increase criminal penalties for crimes committed against individuals because of race, religion, gender, gender identity, sexual orientation, or national origin.
SB 48, "No Guns for Violent Felons" – This bill would prohibit restoration of gun rights to convicted felons who have been convicted of violent crimes, sexual offenses, or crimes involving firearms.
SB 49, Repeal of "Stand Your Ground" –  A bill to repeal Georgia's Stand Your Ground law, a statute relating to no duty to retreat prior to the use of force.
http://atlantaprogressivenews.com/2014/02/04/moral-monday-movement-seeks-repeal-of-stand-your-ground-law-in-georgia/
SB 50, "Special Prosecutor for Police Cases" – A bill to require the appointment of a special prosecutor for cases when a police officer is charged with a felony or act of family violence.
Two other bills are pending: one to demilitarize the police and another to require police to report civilian deaths to the GBI.
"What we see in the United States when the police looks like the military, acts like the military, use weapons from the military, is communities feel… like they are occupied.  We support any effort to end tanks, machine guns, and heavy tear gas in our neighborhoods," Dianne Mathiowetz, with International Action Center Atlanta, said.
"In order to move Georgia forward, we've got to find a way to reform the system with more equitable law enforcement policies.  These six bills are not the answer to all of Georgia's problems, but they are a step in the right direction.  We plan to mobilize hundreds of people from across the state here on Monday, January 26 [2015] to support these six bills," Tim Franzen, with American Friends Service Committee Atlanta, said, representing Moral Monday.
Other state senators who sponsored at least one of these six bills include: State Sens. Steve Henson (D-Tucker), Gail Davenport (D-Atlanta), Horacena Tate (D-Atlanta), Valencia Seay (D-Riverdale), Gloria Butler (D-Stone Mountain), Emanuel Jones (D-Decatur), Nan Orrock (D-Atlanta), Michael Rhett (D-Marietta), Bill Jackson (R-Appling), Harold Jones (D-Augusta), and David Lucas (D-Macon).
(END/2015)