Moral Monday Activists Protest Gov. Deal's Policies at Inauguration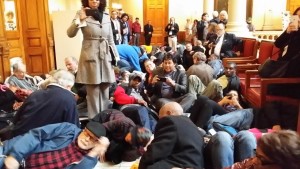 (APN) ATLANTA — On Monday, January 12, 2015, while Gov. Nathan Deal was being sworn in for his second term, hundreds of Moral Monday supporters laid down in the halls of the State Capitol to protest some of the Governor's policies.
Signs were displayed to express their concerns.  Without Medical expansion, an estimated over eleven hundred Georgians have died.  Meanwhile, 5,800 Georgia children are homeless, and Georgia is number two in police brutality.  These were a few of the issues Moral Monday plans to focus on during the 2015-2016 session of the General Assembly.
Earlier that day Moral Monday participants gathered at the Central Presbyterian Church, across from the Capitol, to hear The People's State of the State address.  The keynote speakers were Rev. Francys Johnson, President of the Georgia chapter of the National Association for the Advancement of Colored People; and Auriella Lucier, youth leader and founder of #ItsBiggerThanYou.
Rev. Johnson talked about the immorality of not expanding Medicaid and other programs that would benefit Georgians.
"Their Christian worldview is not very Christlike.  The Jesus I know, would not be opposed to Medicaid expansion, and never said a word about same-sex marriage, but said a lot about how to defend the poor.  This moral movement is necessary in the midst of this moral crisis," Rev. Johnson said.
Rev. Johnson gave examples of the hypocrisy of the Georgia Secretary of State's (SOS) office, which made registration more difficult and under the disguise of preventing voter fraud, thus suppressing the vote.
"While they were accusing us [NAACP and the New Georgia Project] of fraud, the Secretary of State was engaging in a cross check program that threw over one half million voters off the rolls.  Yet according to the Secretary of State, between 2012 and 2014, although our population significantly increased, our voter rolls decreased by three hundred thousand," Rev. Johnson said.
Lucier describes herself as a Black, queer woman artist.  She spoke about state-sanctioned, institutionalized, systematic violence against young Black and Brown people.
"If you live in Georgia and you are a Black youth between the ages of 14 and 23, you are thirty-one times more likely to be killed by a police officer than a peer who is White.  This is a scary statistic… when police officers are not trained to see me as a citizen, a human, or a kid, but trained to see me as a dangerous being who is worthy of how many bullets he decides," to shoot, Lucier said.
Again this year, Moral Monday will take to the streets and the halls of the State Capitol, and fill the jails for justice for poor people; homeless people; racial minorities; immigrants; homosexuals, bisexuals, and transgender people; and other disenfranchised minorities.
Some of Moral Monday Georgia's priorities are: to secure pro-labor and anti-poverty policies that ensure economic sustainability; promote healthcare access and environmental sustainability; provide a well-funded quality public education for all; address continued inequalities in the criminal justice system; and protect and expand voting rights, women's rights, LGBTQI rights, immigrant rights, and the fundamental principle of equal protection under the law.
Today more and more young people are coming into consciousness because of the inequalities, immortality, hypocrisy, corruption, and lies on all levels of our governmental institutions.
One would hope that change will finally happen in Aurielle's lifetime, but as an activist she has a long-term view.
"The laws I wish to change and the social consciousness I wish to shift does not apply to me, because it will probably happen and go into effect after my lifetime… but I am dedicated to resistance work," Lucier said.
(END/2015)