Atlanta's Ferguson Protesters Appear in Court, Several Cases Dismissed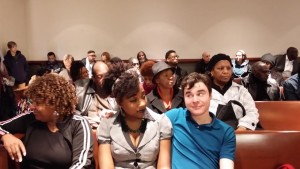 (APN) ATLANTA — City of Atlanta Municipal Court Chief Judge Herman L. Sloan's courtroom was filled to capacity on January 07, 2015, with social justice activists, their supporters, and their lawyers.  Numerous young activists faced various charges including obstructing traffic, obstruction of walkway, and disorderly conduct, stemming from their arrest on the night after the Ferguson, Missouri Grand Jury decision not to indict Darren Wilson for the shooting death of Michael Brown.
Over a dozen cases were dismissed because the officers who filled out the tickets made a mistake and/or omitted information.
Fifteen protesters will be going to trial on January 21, 2015, to determine who will go to trial and who will enter pleas.
#ItsBiggerThanYou,  #ShutItDownATL, Southerners on New Ground, Gen Y Project, and Malcolm X Grassroots Movement had organized a four hour speak out and rally at Underground Atlanta, the night after the Ferguson verdict.
Later a large number of people had decided to continue to express their First Amendment right of free speech by marching along Peachtree and Courtland Streets.
"Unfortunately at the end of the demonstration, participants who were non-violently assembled and protesting in Atlanta were arrested.  A lot of them were victims of snatch and grab.  Police went up on the sidewalks and dragged them into the street and then charged them with obstructing traffic or other various crimes," Aurielle Lucier, founder of #ItsBiggerThanYou, told Atlanta Progressive News.
Over forty attorneys have volunteered their time and support for this social justice movement.   A press conference was held outside the Atlanta Municipal Court House where several lawyers and arrestees told their stories.
"All lawyers wearing an 'Atlanta Lawyers Stand Up' button are standing up with the young people who have decided that they are going to protest the unjust shootings, racial profiling, mass incarceration of so many young Black, Brown and others," Mawuli Mel Davis, the lead attorney for the defendants, said at the press conference.
None of the protesters were charged with any counts of vandalism, nor were they blocking interstate traffic.
"As the night got later, we believe the officers got more and more frustrated and more aggressive.  They began to wear riot gear," Davis said.
A number of the protesters were injured.
Corey Toole, whose case was dismissed, suffered a chipped tooth and a head injury.
"I was there for justice for Michael Brown and Eric Gardner," Toole said.
Renzo Marches's case was also dismissed due to errors on the ticket.  He held up pictures of his face and leg injury.
"I had a scarf over my face because , I expected a gas attack and was arrested for wearing a mask, " Marches said.
Anthony Turner, with Cop Watch, was arrested.  He said Channel 11 television news has a video of his arrest.
Several of the attorneys, at the press conference, were legal advisors in Ferguson and said that what they saw in Atlanta was eerily similar to what they saw in Ferguson.
"Those who were the most vocal, those who were filming were the ones who were attacked and arrested by police," Shawn McCullers, an attorney for the defendants, said.
This is a movement because unfortunately more minorities are still being killed by a overly militarized police force in the United States.
Since Ferguson, police have killed more than a dozen teenagers; half of them black, and some were carrying toy guns, according to the Daily Beast website.
"We implore all attorneys across the nation to involve themselves in this movement and assist these folks who are being unjustly arrested.  It is a constitutional right and a constitutional guarantee to voice our distaste for the behavior of our government," McCullers said.
(END/2015)