Misdemeanor Fee-based Probation Tolling Ends after Georgia Supreme Court Ruling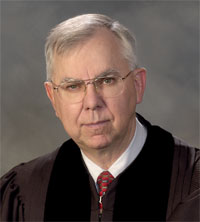 (APN) ATLANTA — The Supreme Court of Georgia unanimously ruled, on November 24, 2014, that courts are prohibited from lengthening a person's misdemeanor sentence beyond what was originally ordered by the sentencing court.  The opinion was written by Chief Justice Hugh Thompson.
The Supreme Court upheld a lower court's finding that private probation companies do not have the legal authority to put fee collections on hold–a practice called tolling–or extend a probation sentence.  There is a maximum sentence of twelve months for a misdemeanor conviction.
At least 25,000 Georgia misdemeanor probationers–many of whom are low-income and have difficulty paying fines–are impacted by the ruling.
The high court ruling stems from an earlier case from the Augusta Judicial Circuit back in 2012 [Sentinel Offender Services, LLC., v. Glover et al, (S14A1033 and S14X1036 et al.)].
In those cases, Jacob Martin Glover and twelve other plaintiffs sued Sentinel to recover fees they had paid, claiming that Sentinel did not have a valid contract with Richmond and Columbia Counties and violated their due process rights.
John Bell, an attorney for the Plaintiffs, explained to Atlanta Progressive News how private probation companies use "tolling" to exploit poor people on probation and also taxpayers.
"They like to lock people up and get the jail to enforce the debt," Bell told APN.
Bell continued to explain that if a person cannot pay a debt, even a small debt, a warrant is issued saying the person has absconded when they have not, in fact, gone anywhere.
The warrant just sits there until the person gets a minor traffic violation or something else; it could be years later.  Then the warrant pops up, so the person is hauled into jail and locked up on the outstanding warrant.  It costs the jail about fifty dollars a day to keep the person in jail and if the person has a job, he or she may lose it, or even their apartment.
"They have been locking people up because they are poor.  The Supreme Court says that is wrong and has made a major step in eradicating that practice," Bell said.
The transfer of misdemeanor probation supervision from the Georgia Department of Corrections (GDC) to for-profit private companies came about in 2000.
It was then that the Georgia Legislature passed a bill that made it constitutional for state courts to contract with private probation companies for the supervision of people on probation for misdemeanors.
The Plaintiffs, in the Sentinel case, questioned the constitutionality of the state law that allows counties to contract with private probation companies.
They also questioned allowing private companies' employees to act as officers of the court–when their loyalty is to their employer–using threat of jail to collect fees, putting people in jail who could not pay the probation fees, and extending sentences beyond the term ordered by the court.
The Plaintiffs argued Sentinel's revenues are tied to how long people are kept on probation with many conditions tied to the probation.  Probationers often must pay for electronic monitoring, and drug and alcohol testing.
They claimed the courts improperly imposed electronic monitoring at Sentinel's urging, and from which Sentinel profited.
The Supreme Court ruled that judges do have the authority to impose electronic monitoring on misdemeanor defendants as a condition of probation.  They also found that the Plaintiffs were not harmed by the private probation company, but rather from wrongful acts allegedly committed by Sentinel employees.
"Under Georgia law, a private probation company can act as a probation provider and its employees may serve as probation officers only if the company complies with the terms and provision of the private probation statute [Official Code of Georgia 42-8-100]," the ruling states.
In Columbia County, there was never an approved valid contract for probation services between Sentinel and the Columbia County governing authority.  Therefore, they had no right to collect probation supervision fees from the plaintiffs, the opinion states.  However, in Richmond County there was a valid contract.
The Supreme Court is sending the case back to the trial court, with directions to resolve several issues, including which individual probationers have the right to recover fees from Sentinel that the company was never authorized to collect, the opinion says.
The Plaintiffs sought to establish a class for a class action lawsuit, which could allow non-parties to the lawsuit to become parties, and thus recover back-fees from Sentinel as well.
"I like the decision.  I think it is very scholarly and well-written," Bell said.
The largest of the private probation companies is Sentinel.  They originally began operating in Georgia.  Today, Georgia has over sixty-five percent of Sentinel operations; and more than seventy percent of their staff resides in Georgia.  The total number of Georgia courts using Sentinel are over ninety.  In 2012, they had gross revenues of more than 5.5 million dollars.
It is a private company mainly owned by Robert Contestabile and his son Mark.  Robert was the president of Wackenhut Monitoring Services, which he later purchased and renamed Sentinel.
Private probation companies will be lobbying hard when the Legislature goes back into session for favorable laws that benefit their financial bottom line.
"The fight is not over.  The next phase will be [private probation companies'] efforts to purchase the Legislature," Bell predicted.
As previously reported by APN, last year the legislature passed, HB 837, to expand authority for private probation companies.  Fortunately, Gov. Nathan Deal vetoed the bill, saying it lacked transparency and would keep secret how many people the private companies supervise and how much money they collect in fines.
http://atlantaprogressivenews.com/2014/04/18/gov-deal-may-veto-bill-expanding-private-probation-debtors-prisons-in-georgia/
Sentinel is a part of the mass incarceration industry that specializes in poverty capitalism or making profits off of poor people by shifting costs of essential government services to the poor.
"Cash register justice is bad justice.  These private probation systems see how much money they can take out of poor people.  They care little about the more esoteric aspects of helping people placed on probation," Bell said.
Human Rights Watch (HRW) cites a case in Georgia where a man stole a can of beer and was fined two hundred dollars.  He was ultimately jailed for failing to pay over a thousand dollars in fees to his probation company.  His entire income from selling his blood plasma was less than what he was being charged monthly in probation fees.
HRW cites another case where a probation officer in Georgia told how she obtains the arrest of offenders who fall behind on their payments: she tells family members that it is up to them whether their relative comes home that night or spends the week in jail awaiting a probation revocation hearing that could land him or her behind bars for weeks or months.
For an in depth analysis HRW 2014 report, Profiting from Probation, can be accessed at the link below.
http://www.hrw.org/sites/default/files/reports/us0214_ForUpload_0.pdf
(END/2014)