APN Releases Atlanta Council Scorecard for 2014 Year-End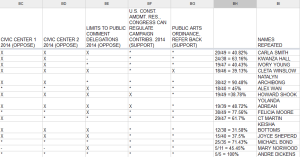 (APN) ATLANTA — With the exception of Cleta Winslow (District 4), Howard Shook (District 7), and Yolanda Adrean (District 8), Atlanta's City Councilmembers saw improvements in their progressivity score during the third and fourth quarters of 2014.
Atlanta Progressive News has updated its Atlanta City Council Scorecard, adding two votes: specifically, the vote on whether to approve a resolution in support of an amendment to the Constitution of the U.S., clarifying the ability of U.S. Congress to regulate campaign contributions, which APN supported; and the vote on whether to refer a controversial public arts ordinance back to Committee, a referral which APN supported.
The Constitutional Amendment resolution was introduced by Councilman Michael Julian Bond (Post 1-at-large), and drafted by APN's News Editor, following two years of APN coverage of the nationwide movement to amend the Constitution of the U.S. in response to the controversial Citizens United and McCutcheon rulings.
All Councilmembers supported the resolution, except for Adrean and Shook.  Bond, who sponsored the resolution, actually did not vote.  Bond tells APN he was in the hallway, escorting senior citizens who had just received a proclamation.  Usually, Scorecard records are based on votes, but APN is making an exception for Bond, given the fact that he clearly supported the resolution.
The public arts resolution was referred back to the Community Development/Human Resources Committee for further deliberations.  Only Winslow opposed the referral.
Councilwoman Mary Norwood (Post 2-at-large), who recently re-joined the Council, after previously serving, saw a significant increase in her score, due to the fact that her prior score was only based on nine votes.  Her score increased from 33.33 percent, to 45.45 percent.
Accordingly, Norwood's placement rose from fourteenth place, to eighth place.
The Scorecard has a total of 49 votes, dating back to 2003, and one extra credit item for Councilmembers who spoke during the Ben Howard proclamation of 2013.
Newly elected Councilman Andre Dickens (Post 3-at-large) has a perfect score of five out of five, or one hundred percent.
Other votes on the Scorecard for 2014 include two votes on whether to allow the sale of Civic Center, which APN opposed; and whether to limit public comment delegation speaking time, which APN opposed.
The Scorecard is available online at: http://bit.ly/1jwEHB8
The Councilmembers' current scores are:
ANDRE DICKENS        100
NATALYN ARCHIBONG       90.48
FELICIA MOORE        77.56
MICHAEL BOND        71.43
KWANZA HALL        63.16
C.T. MARTIN            61.7
YOLANDA ADREAN        48.72
MARY NORWOOD        45.45
ALEX WAN            45
CARLA SMITH            40.82
IVORY YOUNG        40.43
CLETA WINSLOW        39.13
HOWARD SHOOK        38.78
JOYCE SHEPERD        37.5
KEISHA LANCE BOTTOMS   31.58
(END/2014)