Brookhaven Annexes Executive Park, Children's Healthcare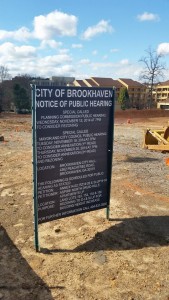 (APN) BROOKHAVEN — On December 08, 2014, the recently incorporated City of Brookhaven annexed the Executive Park area that includes many office buildings and hotels, as well as Children's Healthcare of Atlanta (CHOA), by way of a vote of the Brookhaven City Council.
The Executive Park area is bounded by North Druid Hills Road to the northeast, I-85 to the northwest, Briarcliff Road to the southeast for most of the annexed area, and a jagged southwest border that extends to Chantilly Drive at its furthest point.
The area arguably could have been annexed by City of Atlanta instead.  Anne Torres, a spokesperson for the City of Atlanta, did not respond to an email seeking comment.
"There were a couple of different things going on, when Executive Park was announced on October 20," 2014, Catherine Bernard, Chair of the Brookhaven Redevelopment Referendum Committee and a criminal defense attorney, told Atlanta Progressive News.
Bernard ran against State Rep. Mike Jacobs (R-Brookhaven) in the May 2014 Republican Primary Election.
"We were in the heat of the redevelopment laws campaign," Bernard, who opposed the Redevelopment Power law, said.  "The concern is the timing.  That piece of land [was] in play for many of the cityhood efforts.  It need not be a political football for LaVista Hills, Druid Hills, and Atlanta."
A Brookhaven referendum on whether to pass the Redevelopment Powers law failed during the November 2014 General Election, by a margin of 60.07 percent no, to 39.93 yes.
The law, if passed, would have allowed the Brookhaven City Council to create a Development Authority–similar to the Atlanta Development Authority–and to create tax allocation districts, obligating the city to pay of bond debts, without direct citizen approval.
Jacobs "was very involved in the creation of Brookhaven.  He shoved it down their [citizens'] throats.  It was rammed through a very quick process.  The cityhood vote was much closer–55 percent to 45 percent–than most cityhood efforts," Bernard said.
"Brookhaven continues to need a citizen watchdog group; we are struggling to keep up and let others know what's going on.  The way Brookhaven has been doing business is not good.  They're not transparent about how they are going about making decisions," Bernard said.
"They tried to sneak it [the Redevelopment referendum] by us.  It was a lot of work by volunteers; it was a real battle," Bernard said.
"The frustrating part is that area [Executive Park] is under a DeKalb County tax allocation district. It was voted on in 2007.  There is no tax allocation bond in place, but it is designated.  We just voted, very decisively, that we don't want the tax allocation and here they are trying to annex a tax allocation district!" Bernard said.
"Petitions were brought by both parties.  They did their due diligence and met all the requirements of the application.  There was no feasibly study or discussion on the numbers," regarding revenue, Michael Lee, Communications and External Affairs Manager for the City of Brookhaven, told APN.
"Children's Healthcare likes the way we operate and do business.  The annexation will provide for two police officers.  I believe they will start right away.  A few Brookhaven residents and [those in the proposed are of] LaVista Hills wanted Executive Park in their jurisdiction.  It would take away that revenue base for them [LaVista Hills]," Lee said.
"We are disappointed, of course, but we respect the process.  In fact, we look at this effort by commercial property owners to opt for city zoning and permitting as an endorsement of the need for cityhood to promote smart growth for the entire county," Allen Venet of the LaVista Hills effort told APN.
"I really think that adding Executive Park and CHOA for Brookhaven is for expanding the tax base, it's not about job creation anymore, now it's just about expanding the tax base.  CHOA is a renowned organization that Brookhaven would like to be associated with," Bernard said.
Under the new annexation agreement, both Executive Park and CHOA will make payments to the City instead of paying property taxes.  Children's Healthcare, by definition as a non-profit corporation, does not pay taxes.  Executive Park, on the other hand, has many businesses, including small businesses tucked into the area just east of I-85, just south of North Druid Hills Road.
It will cost almost 700,000 dollars to pay for services to both Executive Park and CHOA.
"The City has not been transparent about that deal and what CHOA will pay," Bernard said in the weeks leading up to the Council vote.
"The agreement for CHOA is that they will pre-pay $342,500 by December 31, 2014.  Moving forward, CHOA will receive a credit against what they owe each year, until the $342,500 prepayment is used up," the Brookhaven Post reported.  Executive Park will use TAD funds to pay for their share of services, the Post added.
"I don't know if they are trying to conceal something, or if elected officials aren't paying attention to the details.  We have an inexperienced group of city officials, directed by the city manager and other people who have a career in this area.  It's not a lack of ability, but local government law has gotten so big and so complex that you can't wrap your arms around it.  City Council is relying on the city manager, who has a large salary and doesn't live in Brookhaven.  Not everything is getting scrutinized as it should," Bernard said.
Messages left for Marie Garrett, City Manager of Brookhaven, were not returned.
"I don't mean to condemn them full scale.  A lot of things are going on that call into question how the City was formed and who is benefitting.  With the redevelopment powers law, the way it was brought up was sneaky.  Jacobs introduced it the evening of Crossover Day and did not solicit any input from the public.  The whole process was top-down, 'here's what we're putting on the ballot, whether you like it or not,'" Bernard said.
"There is a rash of development laws being passed in cities; it does appear they are being pushed by people who have an interest in big developers.  Developers like it because cities can take out massive bonds without the referendum process.  It puts cities into debt without allowing citizens to vote on them," Bernard told APN.
"According to Sharon Gay of McKenna, Long and Aldridge, the annexation is not in conflict with the TAD [tax allocation district].  I don't know if I completely agree with that.  There are some questions about how that will work in practice.  This is the first City to defeat the redevelopment powers law.  My own city is trying to pull shenanigans!" Bernard said.
(END/2014)