Atlanta's Public Safety Committee Hears APD Body Camera Study
(APN) ATLANTA — On Tuesday, December 09, 2014, the Public Safety/Legal Administration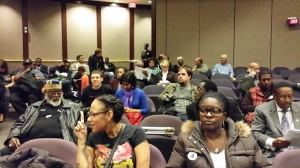 Committee of the City Council of Atlanta heard from the Atlanta Police Department regarding legislation by Councilwoman Felicia Moore (District 9) that had called for a ninety-day study regarding the feasibility of APD body cameras being implemented for all officers.
Activists, including millennials and veteran civil rights advocates, left the streets, to take their demands for police accountability to City Hall.  The meeting was so well-attended it had to be moved from Committee Room 2, to Council Chambers.
The Gen Y Project, #itsbiggerthanyou, National Action Network, American Friends Service Committee Southeast, and others presented a list of protocols for the police to follow when using body cameras to ensure police are accountable to the communities they serve.
Some of those protocols include:
violators whose video stops recording will be suspended or fired,
make disciplinary actions publicly available,
cameras are to be on at all times unless stipulated in the policy as agreed,
Independent Citizens Review Board will have access to recordings for investigative and complaint purposes,
raw video must be stored at a neutral location, where police can't tamper with evidence,
GBI and Independent Citizen Review Board will have access to review the video,
civilians have a right to sign a waiver declining their right to be recorded.
Some activists fear that if body cameras are set up without the proper protocol, it could have a harmful effect on the community.
"When I presented that [my legislation], they said they had already started some pilots.  I want them to come back after their post pilots and give us some cost figures and a report on how they are going to roll it out," Councilwoman Moore told Atlanta Progressive News.
"I think body cameras are one tool in the toolbox; it's not the answer to all things, but it's a great start," Moore said.
Approximate one hundred activists listened to Atlanta Police Chief George Turner tell the City Council about plans for Atlanta to roll out body cameras, as soon as the first quarter of 2015.
He estimated the cost will be 1.2 million dollars, plus three hundred thousand more for storage the first year.
Many social justice activists say the problem is deeper than body cameras.  It is how Black, poor, and disenfranchised people's lives are not valued.  They point to a criminal justice system that is flawed with institutionalized racism and apartheid policies, resulting in a double standard of justice.
"The Grand Jury system is very flawed… It's a high rate of true bills, meaning indictments, that come down, when it does not involve a police officer.  It's a low rate of true bills when it involves a police officer, so they are not indicted… If a police officer can appear in a Grand Jury, then a citizen should be able to appear, but that's not the case," Mawuli "Mel" Davis, Davis Bozeman Law Firm, told APN.
"What people don't realize, in most instances, in the State of Georgia, no questions can be asked of the officer.  They tell their version and it goes unquestioned.  Without cross-examination, you cannot seek the truth," Davis told APN.
Sixteen people spoke during the public comment portion of the Cmte Meeting.  Many said that Black people are afraid of the police who are supposed to be protecting them.
"America is a culturally diverse nation and police need cultural sensitivity training about the communities they are serving… Police are afraid of Black men because of cultural bias… Placing police on the force who are culturally ignorant about the culture they serve is useless," Rev. Elijah Hill said.
Others spoke about losing democracy and civil liberties to an increasingly militarized police force, where the law justifies the killing of civilians.  One woman said the courts are protecting murderers when they are police officers.
The recent killing of Eric Garner was filmed, but that did not deter the legal system from letting the killer–a New York police officer–go free.
Still others point to the criminal justice system with its mass incarceration of Blacks, poor people, homeless people, addicts, mentally ill people, and other marginalized citizens who cannot get jobs or find resources to escape the revolving prison door, and are locked up again and again.
"When everyone else is trying to reduce mass incarceration, Atlanta continues to increase the number of people behind bars," Xochitl Bervera, Co-Director of the Racial Justice Action Center, told the Committee.
"This country, and especially the young people, have taken to the streets because of the flaws and the failing of the criminal legal system that has inherent racism and bias," Bervera said.
Tim Franzen, American Friends Service Committee, told the Committee that police were targeting organizers in Atlanta and putting them in jail.
Franzen has been, more than once, picked out of a crowd and apparently targeted for arrest because he is a known organizer.  As previously reported by APN, Aurielle Lucier was recently arrested at a protest at Atlantic Station, while other protesters were left alone.
"I feel this is designed to have a chilling effect on young organizers [like Lucier] that are putting themselves on the front line and don't feel safe anymore," Franzen said.
After the meeting adjourned, Councilman Michael Julian Bond (Post 1-at-Large) gave parting advice.  "Those of you who are activists, this should not be your last stop, go on to the District Attorney's Office, the courts, and continue your activism all the way up the chain," Bond said.
U.S. Rep. Hank Johnson (D-GA) has introduced two bills HR 5830 and HR 5831.  HR 5830, the  Grand Jury Reform Act, requires a special prosecutor to determine probable cause for criminal action by state when a law enforcement officer used deadly force.  HR 5831, the Police Accountability Act, creates a penalty for violent crimes by state and local law enforcement officers.
(END/2014)