Opacity, Public Exclusion Seen in Mayor's Statements on Turner Field Redevelopment
With additional reporting by Matthew Charles Cardinale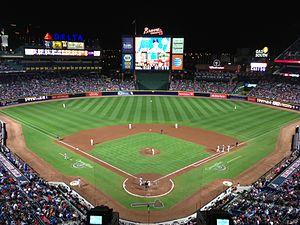 (APN) ATLANTA — The pending sale of the land underlying Atlanta's Turner Field, just south of Downtown Atlanta, has been a point of contention for most of the year.
Mayor Kasim Reed made controversial statements to WSBTV Channel 2 on or around November 11, 2014, that Turner Field could be sold "very soon," possibly to Georgia State University.
These statements are quite troubling given the facts that (1) the Braves are still in a lease agreement through 2017, having until December 2015 to give notice to renew or terminate; (2) Councilwoman Carla Smith (District 1) and other stakeholders are still organizing to decide what they want to happen with the land, if the Braves do vacate; and (3) there is pending litigation that could stop the Braves from relocating to Cobb County.
Turner Field is at least the third example of top-down, opaque land deals in the City of Atlanta, following the authorization for sale of the Atlanta Civic Center with little community input or acknowledgement; and the fast-tracked, taxpayer-unsupported construction of a new Atlanta Falcon's Stadium also moving forward this year.
As previously reported by APN, the original construction purchase of Turner Field over fifty years ago decimated several square blocks of mixed-race, working-class neighborhoods.  It is unclear whether working class families will be able to return now that the bait-and-switch is in the switch phase, or whether working class families will benefit from any new development.
Moreover, there is currently a revenue stream from the parking ticket sales around the stadium that for years has gone to the neighborhood associations.  Such revenue is set to cease streaming when the parking tickets are no longer sold.  It is unclear whether there will any new ongoing revenue source for neighborhood associations to replace the current one.
All eyes are on City Hall for answers to these questions.
According to protocol, the entities who have a say in the sale of Turner Field are the City, Fulton County, the Atlanta Fulton Recreation Authority, and perhaps the Atlanta Development Authority.
Given Mayor Reed's tendency to unapologetically disregard City Council, county officials, community groups, and department heads, the need for transparency in this transaction is an understatement.
Violet Ricks, Executive Director of the Recreation Authority, told Atlanta Progressive News to go elsewhere for information.
"All inquiries and/or information regarding the sale of Turner Field should be directed to the following entities: City of Atlanta, Fulton County," Ricks said in a statement.
The Mayor has said that what Fulton County Commission Chairman John Eaves has discussed with the Braves is inconsequential.
The Mayor said Eaves's discussions with the Braves "have nothing to do with any decisions I make," according to Athleticbusiness.com.
"The County needs to be a player as they review this process.  The County is recognized as a stakeholder in any transaction," like this one, Eaves told APN.
"The City of Atlanta's Dept. of Planning in coordination with Invest Atlanta has submitted an application (Monday, Nov. 10) to the Atlanta Regional Commission (ARC) for a Livable Centers Initiative (LCI study) of the Turner Field Stadium neighborhoods.  The study will include Summerhill, Peoplestown, Mechanicsville, Pittsburg and Grant Park neighborhoods," Anne Torres, Communications Director for the Mayor's Office, told APN.
With the goal of promoting growth and redevelopment, the City and the affected neighborhoods have an opportunity to develop a shared vision and plan for the neighborhoods surrounding Turner Field after the Braves relocate, Torres said.  That is, if the powers that be allow meaningful public input.
The Department of Planning is requesting 275,000 dollars from the Atlanta Regional Commission for the LCI study.  If approved, funds will be used to conduct a market study; transportation plan; strategies to repurpose the stadium; and recommendations on housing, zoning, urban design, land use, and economic development, Torres said.
Eaves has written letters to the Mayor and the Recreation Authority and has spoke out publicly about the desperate need for transparency.  Eaves and Reed have gone to battle a few times this year over a variety of issues.
In addition, Councilmember Carla Smith (District 1) has held a number of community meetings around the future development of Turner Field.
"We haven't gotten that far," Smith told APN when asked whether the new plans will include appropriate affordable housing or community benefit components.
"We've applied for an LCI grant, then that will become part of the Community Benefits Plan," Smith said, noting that Georgia STAND-UP and the Casey Foundation are currently working on formulating a plan based on community input as well.
"We're trying to work on a redevelopment plan so that everyone can be included in the plan," she said, referring to the neighborhoods.
"What I want, is the neighborhood to tell us what they want.  I want to make sure the neighborhood is represented.  The task force that I'm doing, we did a work session at the very first meeting we had, to ascertain what the group wanted, and people came from all over the Metro Area," Smith said.
"We broke out into working group tables of ten.  What we really figured out at that meeting is the neighborhood and community wanted to have a say in what should go there, wanted to have input on what should go there," she said.
Explaining the LCI process, "They do what I call community outreach – we just had a meeting this last Tuesday night, where we went through and explained what an LCI is and what it does.  There's many components, and a process.  The main process is community meetings, breaking up into what I like to call 'charrettes' – they ask the neighborhood probing questions on transportation, land use – you compile it all it into a working document and then you codify it at City Hall," Smith said.
"They also have implementation steps that you can work through," Smith said.
When asked about Reed's statement that a sale was near, "I don't know where all this is coming from.  He's with us on our group," Smith said.  The City of Atlanta Planning Department and the Atlanta Development Authority are the ones who worked on the application and invested matching money," Smith said.
"Recommendations from those meetings will be strongly considered as a sale is finalized," Torres said.
But some are saying the meetings are a show, a farce, and a pretext to give the Mayor and the ADA cover to do whatever backroom deals the powers that be have already decided upon anyway.
Robert Welsh, who ran against Smith in 2013, is organizing around a Community Benefits Statement that he and other stakeholders plan to present to developers.
"There has been a pattern of investment behavior and the end result a lot of development trauma.  Neighborhoods have not been made whole over the years.  Surprise, surprise around Turner Field.  Last year a lot of people were very disappointed," Welsh told APN.
"I have gone to Carla's meetings… she's doing the best she can to keep the neighborhoods unified.  Those meetings were not designed to be a community engagement mechanism.  They were more to disseminate information and issues," Welsh said.
"The Mayor is kind of using Carla as a proxy… it was put together as a reaction achieving nothing proactive… The community didn't have a true voice at the table.  We don't want to feel that we are getting run over or it put down our throats," Welsh said.
Welsh told the Atlanta-Journal Constitution the Mayor was "ramrodding" his agenda.
"The most important thing is that the process is transparent and collaborative.  All parties, the communities, Atlanta [Fulton County] Park [and Recreation] Authority, the Mayor and Fulton County Commissioners.  It's not fair to have the community play second fiddle… cause the Mayor wants to unilaterally control this thing," Welsh said.
Councilman Kwanza Hall (District 2), however, is optimistic, as usual.
"This is a great time to look at it freshly.  Georgia State could be a good choice because they already use the facility.  Connecting the neighborhoods on Memorial Drive, the [Braves] stadium and the Capital Center would be a great thing.  Putting in mixed-use, allowing people to walk to the store and surrounding areas would allow them to drive less.  There is a high premium on job creation.  It could resemble something similar to Atlantic Station," Hall told APN.
(END/2014)