Avondale Estates Pursuing Growth through Annexation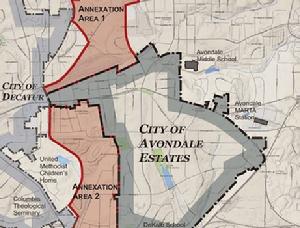 (APN) ATLANTA — On October 27, 2014, the Avondale Estates Board of Mayor and Commissioners had a Work Session on the annexation of Stratford Green Townhomes into the City.  Stratford Green includes 154 townhomes and would be pursuing a 60%/60% annexation attempt, denoting that 60 percent of the residents and 60 percent of the resident electors in the area must apply.
State Rep. Karla Drenner (D-Avondale Estates) had introduced a bill in the last Legislative Session to expand the boundaries of Avondale Estates to include neighboring areas unincorporated DeKalb County.
But she tells APN that while she attended the October 27 Work Session, she has not taken a position on annexation and has not yet decided on what legislation to reintroduce next Session, if any.
Drenner said that local news outlets in DeKalb County had been taking her involvement out of context.  "I'm frustrated about the erroneous information out there," she said.
"I introduced a bill last Session.  There simply wasn't enough time on the docket to see it through Committee.  I don't have a bill drafted for this year yet; I attend community meetings and talk with residents…to see what is going on and what the best route to take is with any future legislation," Drenner told Atlanta Progressive News.
On Friday, November 15, 2014, the DeKalb County Delegation met with all cityhood and annexation efforts for a "map check."
"To my knowledge, the map of the proposed City of LaVista Hills does not overlap with any areas being considered for annexation by either Avondale Estates or Decatur.  There are LaVista Hills  supporters close to Avondale, including quite a few who tell us that they want to be included in our new City, but at this time, that is not a viable option for a number of reasons.  Principally, in drawing a map we must adhere to the 'no islands' rule of the Georgia legislature," Allen Venet, who is active with the new City of LaVista Hills effort, told APN.
Earlier this year, APN reported on the cityhood efforts of Lakeside and Briarcliff, which were at odds with one another over boundaries.  As APN reported earlier this week, a new proposed boundary set been set for LaVista Hills, to take the place of both the Lakeside and Briarcliff proposals.
With Avondale Estates, the Board of Mayor and Commissioners decided to collect more data from residents and have more conversation, instead of pushing for a vote, according Mayor Pro-Tem Giager said during the Work Session.
The City Manager assessed that all requirements were met by Stratford Green, and on November 17, 2014 the BOMC held a special meeting for public comment.
"Things are getting a little crazy with our surrounding areas – Stratford Green wanting into A.E. [Avondale Estates].  College Heights wanting OUT of A.E. annexation, and even Druid Hills moving into Atlanta might affect us, since we are zoned for Druid Hills High.  Also, I have a hunch that if A.E. loses the Dekalb Farmers Market and Rio Circle, they may not be wanting so much residential area anymore," Jessica Parilla, Treasurer of the Forest Hills Neighborhood Association, wrote in an email to APN.
"Many people are afraid that since so many other areas are leaving unincorporated Dekalb to form their own cities, that if we waited too long, we would be left behind.  Commissioner Kathy Gannon assures us that there is no 'City of DeKalb' being formed, but other politicians have hinted that there is movement toward that.  Many residents are absolutely against being in a City of DeKalb.  So they think the faster that they move on annexing into Avondale Estates, that this would ensure we do not get trapped into a City of Dekalb," Parilla said.
Indeed there is more than just talk around a City of Dekalb as residents in South DeKalb have already started having community meetings about incorporating.  Stay tuned to Atlanta Progressive News for more.
A master map of Avondale's proposed annexation from last year can be found here: http://www.avondaleestates.org/resources/pdfs/annexation-master-plan-2014-map.pdf
It appears likely that Stratford will be annexed, but for other areas like College Heights, their fate has yet to be determined.
(END/2014)