Some Citizens Say Cityhood, Annexation Efforts Mislead on Full Options
With additional reporting by Matthew Charles Cardinale, News Editor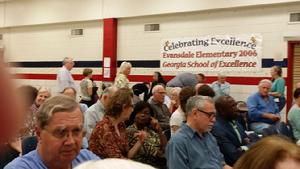 (APN) DEKALB COUNTY — Some pro-annexation and pro-cityhood advocates in south Fulton County are misleading citizens, who currently live in unincorporated areas, about their full range of options–saying that staying unincorporated is not an option–one south Fulton resident has told Atlanta Progressive News.
A similar theme emerged at a recent pro-City of Briarcliff meeting in unincorporated DeKalb County, where at least one pro-cityhood advocate was overheard by an APN reporter telling residents that they only have two choices: either annex or become their own city.
"We are hearing one side from the pro-new city people, and one side from the annexation into the City of Atlanta people, but both are insistent that there is not an option to stay unincorporated, which is false," Steve Little, a homeowner in south Fulton, told APN.
"There's a lot of misinformation that's scaring people into making a decision that they should not have to make with erroneous information," Little said.   "People are telling me they would rather stay unincorporated, but are told that is not an option."
In north DeKalb, people also have the options to join an existing city, to incorporate and form new cities, or stay unincorporated.
The rush to cityhood in DeKalb continues, fueled by corruption and scandal in DeKalb County government.  Elaine Boyer, a former DeKalb County Commissioner, pleaded guilty to federal criminal charges of mail fraud conspiracy and wire fraud, while Burrell Ellis, the former Chief Executive Officer of DeKalb County, was indicted–although not found guilty by a jury–on criminal theft by extortion.
There have been ongoing meetings all around north DeKalb on three different proposals for cityhood: City of Briarcliff, City of Lakeside, and City of Tucker.
Stakeholders from the proposed Briarcliff and Lakeside cities have been meeting and, as of today, November 17, 2014, have proposed a new map for a combined city called LaVista Hills.
One recent Town Hall meeting was hosted by State Rep. Scott Holcomb (D-Atlanta) at Evansdale Elementary School to update his district, House District 81, on what is happening with the cityhood proposals.
In the 2014 legislative session, the effort to bring cityhood bills forward failed because the borders were overlapping and a vote for one was a vote to eliminate the other two.  Legislators who live outside of DeKalb County were uncomfortable making that decision.
A decision had been made by the House Governmental Affairs Committee to move forward by appointing a signatory person from each of the three groups.  They had been charged with getting together and agreeing on a map, without overlapping borders, before November 15, 2014.
They have come up with the LaVista Hills proposal, stretching from the Druid Hills neighborhood near Atlanta and beyond the intersection of I-285 and I-85.
There is also a proposal for Tucker that is going forward.  The proposed Tucker border overlaps the LaVista Hills proposed border at Northlake Mall and other areas surrounding Interstate 285.
"If this effort is successful, I think we will see two potential cities in a referendum; and one will definitely be Tucker and the other will be something else," Rep. Holcomb said.
"This is a hundred year decision and we get to make it now.  I don't think this process should be a partisan process or a political process.  This should be about what the community wants in terms of its future," Rep. Holcomb said.
(END/2014)