Eight Activists Arrested during Protest at Secretary of State's Office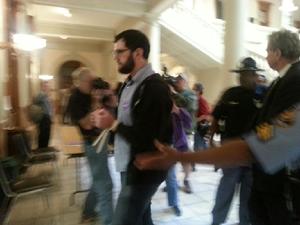 (APN) ATLANTA — On yesterday, Monday, October 27, 2014, eight activists were arrested after a sit-in staged in the office of Georgia Secretary of State Brian Kemp, in protest of what voting rights organizations say are 40,000 missing voter registration applications.
Chants of "We will not be silenced!" and "Let Us Vote!  Let Us Vote!" rose from citizens and activists as the arrests took place.
Those arrested for not leaving the office after it closed at 5 p.m. include Kathy Acker, 62; Greg Ames, 66; Lorraine Fontana, 67; Daniel Hanley, 33; Peggy Marx, 58; Kevin Moran, 66; Joel Solow, 27; and Molly Swann, 62.
At 4 p.m., Civil rights leaders including the head of the Georgia State Conference of National Organization of the Advancement of Colored People (NAACP); and community organizers of Moral Monday, American Friends Service Committee (AFSC), Georgia Women's Action for New Directions, and others, gathered inside the Capitol for a press conference.
The civil disobedience action was organized by Moral Monday Georgia.
Eight participants delivered a letter alleging that more than 40,000 Georgians do not know the status of their voter registrations due to problems in the state office and were arrested after refusing to leave until they had answers.
"This is nothing short of a crisis of Georgia's democracy.  Forty thousand, mostly young, mostly from communities of color are being left off the voting roll.  Today, brave Georgians took a stand and put their own freedom on the line to shine a spotlight on the predicament that Kemp's office has caused," Tim Franzen, Organizer for AFSC, said.
"Ironically, they [the arrestees] have been charged with disrupting government business while trying to demand the right to engage in the people's most sacred business – voting," Franzen said.
Public pressure continues to mount following a hearing last week in Fulton County Superior Court Judge Christopher Brasher's chambers, on a writ of mandamus sought by New Georgia Project (NGP) and other voter advocacy groups in regards to the alleged missing voter registration forms.
(END/2014)