Young Activists Blockade I-75/85 in Ferguson Solidarity Action
By Anna Simonton, Staff Writer (October 27, 2014)
(APN) ATLANTA — On Wednesday, October 22, 2014, activists shut down four lanes of
northbound traffic on I-75/85 for more than half an hour.  The action was part the 19th annual National Day of Protest to Stop Police Brutality, Repression, and the Criminalization of a Generation.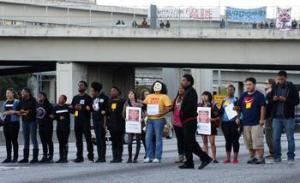 It was also part of a week of action called for by the national network, Black Lives Matter, in response to the August 2014 murder of an unarmed Black teenager, Mike Brown, by a White police officer in Ferguson, Missouri.
Black Lives Matter put forth five demands, including the arrest of the officer who shot Brown; demilitarization of police forces nationwide; and the redirection of law enforcement spending to employment, housing, and education.
The Atlanta action was organized by Southerners On New Ground (SONG) and #ItsBiggerThanYou, a campaign that brought five thousand people to the CNN Center in August to protest media misrepresentations of Brown and other victims of police brutality.
Around 4:30pm, people started gathering downtown, in Woodruff Park, for a rally that lasted an hour.
Then the crowd marched to the Freedom Parkway bridge over the interstate.  They hung banners on the chain-link fence on the side facing northbound traffic.
The banners read "From Ferguson to Atlanta, Fuck the Police," "My Skin Color Makes Me a Target 4 InJustice––Black Lives Matter," "From Atlanta to Palestine, End Police Brutality," "All Black Lives Matter––Solidarity With Ferguson––Queer and Trans People of Color," and "Blacks are Targets Every 28 Hours."
The latter refers to a 2013 study by the Malcolm X Grassroots Network that found that 313 Black people were killed by police in 2012––or one person every 28 hours.
As they rallied on the bridge, drumming and chanting, four cars heading north on the interstate slowed to a stop one by one, allowing protest marshals in reflective orange vests to walk onto the road.
The marshals gave a signal and demonstrators from the bridge began to make their way down to the entrance ramp and onto the highway.
Soon there were about thirty young people, the majority of them people of color, congregating across four lanes, cheered on by dozens on the bridge.
Police officers arrived, but kept a distance and communicated with the group through one activist who served as a liaison.
Many of the protesters moved onto the highway shoulder, though over a dozen remained to risk
arrest.  They stood in a line behind a banner, spread on the ground, with the words "Black Lives Matter," spraypainted on it in black and red.
Two people in the line had bullhorns and they led a call and response: "We fired up," "Can't take it no more!"
They all threw their hands up and called out, "Put my hands over my head, please don't shoot me dead!"


"I love my people. I need my people," they also chanted.
Mary Hooks, a field organizer for SONG, spoke with reporters.
"When communities are under attack we have to resist… Ordinary people get fed up.  Ordinary people need to be heard.  Because Black lives matter.  Trans [transgender] lives matter.  Queer lives matter.  Undocumented folks' lives matter.  People should not be detained and deported by the thousands on a daily basis.  People deserve more than that and we need the people who  are making decisions over our lives to bring us to the table and create a space so that we can begin to interrupt those conversations that have nothing to do with us.  There will be nothing for us without us.  Black lives matter."
The group held the highway for more about thirty minutes and then marched peacefully off.  No one was arrested.
O22 rallies and actions took place in more than 80 cities across the U.S.
(END/2014)