Documents: Only One Incident Report Prompted Kemp's NGP Probe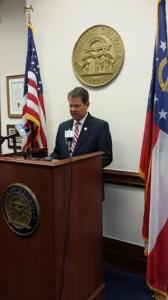 With additional reporting by Matthew Charles Cardinale
(APN) ATLANTA — On October 10, 2014, Atlanta Progressive News submitted an open records request to Secretary of State (SOS) Brian Kemp's office seeking copies of all complaints received by the SOS regarding the New Georgia Project (NGP) from all Georgia counties during 2014.
However, the SOS office sent APN only one complaint from Butts County, Georgia, dated May 13, 2014.
"The records you have requested are exempt from disclosure under O.C.G.A. 50-18-72(a)(4) as they are records of a pending investigation," David Dove, Deputy General Counsel for Kemp's office, wrote in a response to APN dated October 16, 2014.
"However, to be helpful, I have attached to this email a copy of the initial incident report for the corresponding case, SEB Case No. 2014-000014," Dove wrote.
The Butts County complaint–the document is labeled complaint, even though Dove has referred to it as an incident report–is the same complaint sent to Marjorie Snook, a research librarian, who, as previously reported by APN, earlier made a similar open records request to Kemp's office.
The Complainant is listed as Ava Smith, Butts County Election Director.
"Complainant reported that individuals were canvassing voters and telling voters that they were required to re-register to vote.  Wanted people and parolees were allegedly participating in the registration drive," the complaint states.
According to State Rep. Stacey Abrams (D-Atlanta), head of NGP, Abrams went to Kemp personally and told him there was a problem in Butts County, prior to Kemp's office issuing a subpoena demanding all of NGP data.  However, she maintains that any problems have nothing to do with NGP.
Kemp has repeatedly stated that his investigation started at the county level because of numerous complaints tied to NGP.
However, open record requests have only produced a single complaint that instigated the subpoena, but it does not show any misconduct on the part of NGP.
After the SOS subpoena was issued, NGP delivered dozens of boxes containing the remaining hard copies of voter registration applications that they had, which was over 51,000, to the SOS office.   NGP says they have yet to see all of those voters on the voter rolls.
NGP's ability to determine if people are on the voter rolls, however, is dependent on the SOS office.
"Each week we request a pending file and a voter file and we run that against our matching software,"  Rep. Abrams said.
"We continue to get reports from different counties about suspicious registration forms and they are all linked to NGP," Kemp said at a media advisory meeting responding to NGP's lawsuit against Kemp and five Georgia counties, on October 16, 2014.
"Fourteen or fifteen counties have sent complaints to our investigators… it is over one hundred complaints," he said.
So where are these complaints?  Why does an open record request only produce one complaint when Kemp says there are over 100 complaints?
It is not immediately clear whether the missing complaints are being withheld by the SOS office because the office claims they are subject to an exemption to disclosure under the Georgia Open Records Act.
The exemption cited by Kemp's office is as follows: "Records of law enforcement, prosecution, or regulatory agencies in any pending investigation or prosecution of criminal or unlawful activity, other than initial police arrest reports and initial incident reports…"
The exemption further states: "however… an investigation or prosecution shall no longer be deemed to be pending when all direct litigation involving such investigation and prosecution has become final or otherwise terminated."
Moreover, if they indeed exist as claimed by Kemp, it is further unclear what the "over 100 complaints" are about; or whether they are related to NGP, voter registration, or complaints about other issues.
APN has left several voicemails, on both Thomas's office and cell phone, and sent emails to Thomas seeking clarification on the apparently missing complaints–as well as the apparently missing voter registration applications–but not received replies.
For example, APN left a voicemail for Jared Thomas, Chief of Staff & Press Secretary for the SOS office, for clarification on the "over 100 complaints," and to ask which counties are reporting these complaints linked to NGP.
APN left another voicemail asking why APN did not get copies of these new complaints with APN's open records request.
"The lawsuit filed by Third Sector Development is frivolous and without merit and the claim that there are 40,000 unprocessed voter registration applications is false," Kemp told the media at his press conference.
Kemp accused them of playing politics with the lawsuit: "This is a Democrat leaning group that is represented by a Democrat-leaning law firm," Kemp, a Republican, said.
When asked where are the 40,000 applications, Kemp explained they did matches off the list they received Friday.
"We got matches for 39,276 voters that are active voters.  We had 9,990 records that matched pending voters and 6,500 matches for cancelled voters," Kemp said.
At a media advisory meeting at the State Capitol on today, Monday, October 20, 2014, with Rep. Abrams, former Gov. Ted Strickland of Ohio, State Rep. Scott Holcomb (D-Atlanta), and Rep. Al Williams (D-Midway), Abrams questioned from which list did those new voters Kemp mentioned come.
Kemp indicated new voters had been processed.
"Where did those voters come from; which list were they on, because earlier he indicated that he was unable to use our requested list to demonstrate that those voters were now on the rolls," Rep. Abrams said.
Not only are the complaints unclear, the list of voters that the SOS recently processed is also unclear.  Were they the 40,000 unprocessed applications from NGP, or were they part of the 70,000 voter applications Kemp said the "Ga votes" mobile phone app generated, or were they other unprocessed voter applications?
The Lawyers' Committee for Civil Rights Under Law–the law firm representing the NGP and other co-Plaintiffs–issued a letter on Friday, October 17, and an Open Records Request on Thursday, October 16, to Kemp, demanding clarification on the confusing numbers released to the public.
Kemp has still not explained the large number of people who, according to NGP, are still not accounted for in the system, even though early voting has already started in Georgia.
The letter asks questions pertaining to which applicants have and have not made the voter rolls, specific details pertaining to why, as well as additional questions on how the voter registration system works.
NGP responded to Kemp's media advisory meeting with a statement: "The SOS has announced a batch of newly processed voters, and we are pleased that progress is finally being made on voter registration applications submitted months ago."
"I am saddened that we had to move to litigation to force Secretary Kemp to share information.  We know through our investigation that problems of matching are occurring, but we remain steadfast that every vote matters and every vote counts," Rep. Abrams said in the statement.
Kemp wants Third Sector Development (the parent organization to NGP), NGP, the Lawyers Committee, Pastor Raphael Warnock of Ebenezer Baptist Church, U.S. Rep. John Lewis (D-GA), and anyone else who accused the counties of voter suppression, to apologize to them and withdraw the lawsuit.
Until all the missing and/or unprocessed voter application are listed on the voter rolls, the above-mentioned people, plus others, will continue to push the SOS for transparency of their voter registration process and system.
Former Gov. Strickland from Ohio said during the press conference today that other U.S. states are also disenfranchising voters, including Arkansas, North Carolina, Ohio, Wisconsin, and Texas.
"There has been a purposeful effort to find ways to limit access to the ballot by qualified American citizens.  I call those actions Unamerican," Strickland said.
"We are concerned about the United States because when people lose confidence in the election process, that is a threat to our democracy," Strickland said.
Section 5 of the Voting Rights Act of 1964 required preclearance, and gave an extra layer of protection to those engaged in the act of voter registration and the act of voting, based on a definition in Section 4 recently struck down by the Supreme Court of the U.S.
"In the absence of Section 4 of the Voting Rights Act, we anticipated there would be some activity that would try to stop our efforts, so we were prepared for it… and the SOS subpoena did not stop our efforts to register voters," Rep. Abrams said.
Historically, minorities have died for the right to vote.  "Kemp has focused his attention on areas that are valid but not as urgent as the issue of making certain that every voter is on the rolls by Election Day," Rep. Abrams said.  


A hearing has been set in Fulton County Superior Court, in Christopher Brasher's chambers, at 9 a.m. on Friday, October 24 to address the Writ of Mandamus sought by the co-plaintiffs.
(END/2014)