Beaty: "Angels" Are Helping Homeless Task Force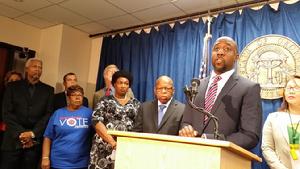 (APN) ATLANTA — Anita Beaty, Executive Director of the Metro Atlanta Task Force of the Homeless, tells Atlanta Progressive News that "several angels" have been helping the shelter. The Task Force was able to pay approximately 580,000 dollars in past due water bills to the City of Atlanta last week, on Friday, September 26, 2014.
Beaty said the angels have also expressed interest in the Task Force's master plan for redevelopment. As first reported by APN in 2006, the Task Force has a master plan for retail shops managed by homeless people; shelter with expanded services; and transitional housing component.
The Task Force had hoped to fully pursue its master plan once the current legal dispute is resolved, if, as it expects, a jury awards them millions of dollars in damages from the people and entities who conspired against them, such as Central Atlanta Progress, Manny Fialkow, and others.
Beaty will not reveal the donors' identities.
"We're protecting them because any time the names of donors and supporters get out, they get attacked and harassed by the tiny-minded folks on the other sides of our lawsuits," Beaty told APN.
Beaty described the donors as "angelic," "amazing," "surprising," and "committed."
When asked what she would say to them, she said, "You've changed our lives, you've changed the game, you've changed everything about our struggle. Because we are getting stable, and we're stronger than ever."
"This miracle has given the people at Peachtree-Pine, the residents, such hope and the sense that they're valuable," Beaty said.
Beaty reiterated that the Task Force disputes the amounts that the City said were due.
"We still want those amounts to be documented. We didn't want to take a chance on demanding that," Beaty said.
Beaty said that Mayor Kasim Reed has been making defamatory statements about the Task Force in the press. When asked if the Task Force is planning to sue Reed, Beaty said the Task Force has its hands full with other litigation.
"The mayor is out there saying 'that place should close down,'" Beaty said.
Reed has accused the shelter of harboring drug activity, a claim that Beaty denies.
"We don't get any assistance from the City to get rid of the drugs, because it makes it so much easier for the folks on the other side to make us seem as unpleasant as possible, when it's not us," Beaty said.
"It's very difficult when you have the City and the police making it worse instead of better," Beaty said.
"We were told that, that there were times they [Atlanta Police Department officers] were told to leave us alone and let us seem as bad as possible," Beaty said.
"He also said there was a TB [Tuberculosis] outbreak there, and there's no such thing," Beaty said.
"It seems to us there are politics surrounding us all the time and we know Emory [University] is buying up property and the Civic Center is being sold. RFPs [requests for proposals] are out, and the way Atlanta does business, there is probably already a deal afoot. There are a lot of folks circling the wagons around us purchasing property that contiguous to the streets that boundary us," Beaty said.
Beaty said that even if they had not come up with the money to pay the water bills, and if the City had shut off the water as they had promised, that they would have been able to still operate.
The Task Force received a "truckload filled up with one hundred cases of bottled water from Hosea Feed the Hungry," Beaty said.
"And we are working hard to get the water catchment system… it will probably take us a month," Beaty said.
"We didn't believe we would ever be closed down, because we know the need for what we do is enormous and growing all the time, and the City is denying and exacerbating it," Beaty said.
"These angels are committed to doing whatever is necessary to get us stabilized, we want to show everyone we have a plan for the building," Beaty said.
Beaty said the Task Force already has 82 raised beds of vegetables on the rooftop garden.
"Half a dozen men are caring for the crops and we're harvesting them. We've harvested bushels of cabbage. We take them to the Cathedral of St. Phillips. Twice they've made huge batches of slaw. It's just wonderful," Beaty said.